Welcome to the Wrens
Year 1 at Greenfield
Wrens are the year 1 class at Greenfield School. During year 1, we work hard to transition from the early year's curriculum to more formal learning while developing routines to help us begin to establish our independence. Year 1 is a very exciting year as the Wrens experience many things for the first time, have ample opportunities to challenge themselves and start to discover their own skills and talents.
During year 1, we work hard to learn new skills with a particular focus on phonics, reading, writing and maths. The Wrens also enjoy the opportunity to focus on individual subjects such as history, geography and science for the first time as well as broadening their social skills in PSHCE. Wrens continue to reflect on the school values and how they can fully embrace them both at school and home.
Homework in Wrens is a weekly learning log which aims to inspire the children to embrace their creativity while either consolidating knowledge gained through the term or as a starting place for a new unit of work. We have spellings to learn each week which are generally based on the phonics we have been learning in class. Reading daily at home is recommended and is crucial for developing our fluency and comprehension skills.
Our PE lessons are led by Premier Sport on Wednesdays and Thursdays.
If you have any queries, questions or concerns please don't hesitate to phone or email the school office who will pass any messages on to me.
Many Thanks for your continuing support of your child and our school.
Class Teacher - Mrs O'Dell
Wrens Curriculum News Summer 2 2022
In Wrens this half term we have had lots of fun with our learning! In Science, Geography and English we covered different aspects of information for the seasons and talked a lot about the weather (a skill for life!). This ranged from the children being TV weather reporters, performing a weather poem as a whole class, discussing suitable clothing for each season to understanding how the seasons also affect animals.
For our Art lessons this half term you hopefully will have seen some of the children's work up in the window, cheering up the passers-by. We have been learning about abstract artists and the work that they famously produced. It has taught the children about primary and secondary colours, as well as ways to enjoy art and express themselves with colour!
Here is the colourful view that we have in our classroom since the Mondrian collages went on display. It makes a lovely atmosphere for our reading and reflection area!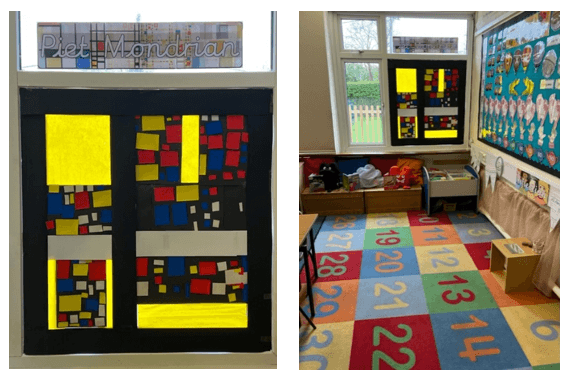 Spring Term 2
This half term Wrens have had a lovely end to each week with our Teddy Bear's Picnic themed DT lessons! It's been very interesting, educational and TASTY!! After receiving a letter from Mr Bear, we have been researching which food would travel well for a picnic, while learning about having a healthy plate as well as kitchen safety and food hygiene skills too. We made rainbow omelette cakes, had a general taste testing week, a week making teddy bear biscuits and a week making fruity kebabs – yum!
Autumn Term 2021
Wrens have been working hard since the beginning of term and they have all settled into their new class well. In Geography the children were looking at their local area, they were identifying features of their local area and studying where they live. In History, the children learned all about the relevance of Guy Fawkes. In Religious Education, the children have been learning about Christianity and beliefs about God and also thinking about why Christmas is important to the Christian faith. In Science, the children were learning about everyday materials, they investigated some different materials and their properties. The children had fun testing to see whether certain materials were waterproof and which materials would float or sink. Leading up to Christmas the children enjoyed making stained glass windows, Christmas tree decorations and also making a Christmas angel.