Welcome to the Wrens - Year 1
The Wrens are taught by Miss Harris.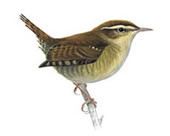 The Wrens are in Year 1 which is the first year of Key Stage 1. In the Wrens we continue to develop confidence and independence therefore we encourage the children to enter the classroom on their own, bringing their belongings with them.

Phonics continues to be an integral part of our daily learning in order to aid the decoding of words so we can become confident readers and writers. Children have a reading book in the Wrens and once it has been read twice, either with an adult at school or at home the book will be changed for a new one. Regular reading and discussions about books will help to develop confidence, decoding skills and the understanding of the text they have read. Throughout the year a range of practical based activities are used in order to help with learning across the curriculum. The children still have opportunities for choosing time throughout the year too.

P.E is on Wednesday and Friday but it is essential that P.E kits are in school everyday because we like the opportunity to take part in extra physical activities when we can. Learning Logs are our weekly tasks to be completed at home along with learning spellings. They support the learning in the classroom and provide the opportunity for the children to show their own creativity. Homework is issued on a Friday and is to be returned, completed on the following Wednesday.
All children have the opportunity to earn smiley faces which is our school reward system. Children can earn these individually as well as a whole class. We have a smiley pyramid in our classroom and when we receive 15 we get to choose a special reward as a class. Values is encompassed within our learning and we strive to do our best to live the values.
Click here to see our latest news.
Click here to see our timetable
Click here to see our curriculum news