Wrens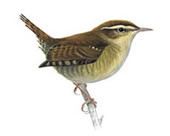 The Wrens are taught by Mrs Pickering and Mrs Wardell.
The Wrens are assisted by Mrs Jones in the mornings and by Mrs Fryer in the afternoons.
Mrs Myers teaches us ICT.
Here are some things you may like to know about being in the Wrens:
We are Year 1, the first year of Key Stage 1.

In the Wrens we continue to develop independence, we therefore encourage the children to come into the classroom on their own in the morning and bring in their own bags and letters.

We still have choosing time and practical based activities in the Wrens. We have time most days in the Autumn term, most weeks in the Spring Term and a few sessions each half term during the Summer term.

Phonics plays a very large and important part of everything we do to help us become confident readers and writers.

We have talking partners to share our ideas. We use them in all the different subjects and we change our partners regularly.
P.E. is on Wednesday and Friday but have your PE kit here everyday as you never know when you might need it!
We change our reading books on a Monday, Wednesday and Friday and when we progress onto Accelerated Reader we change books once we pass the quiz.
We have a silent reading session every day.
Click here to see our latest news.
Click here for Summer Curriculum news