Latest News
Outdoor Classroom Day
Jane Lambourne, local naturalist, enthralled us with stories inspired by our natural environment.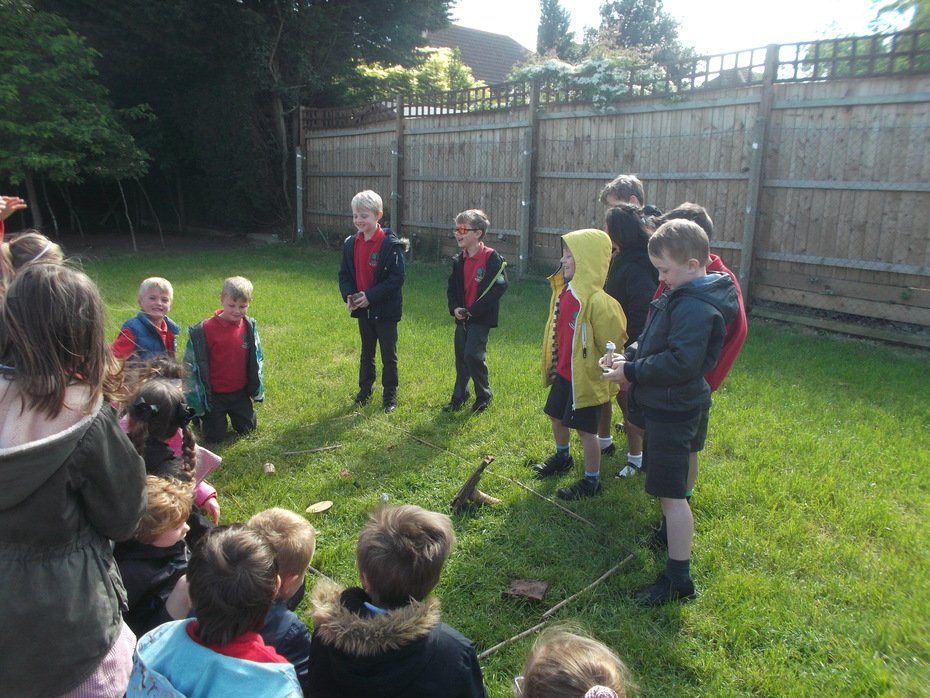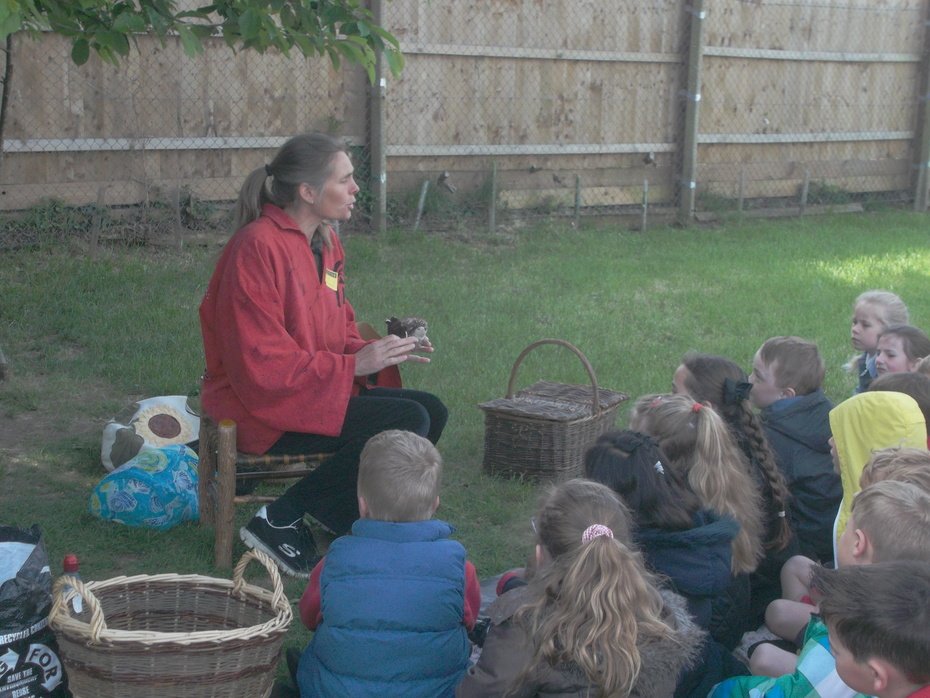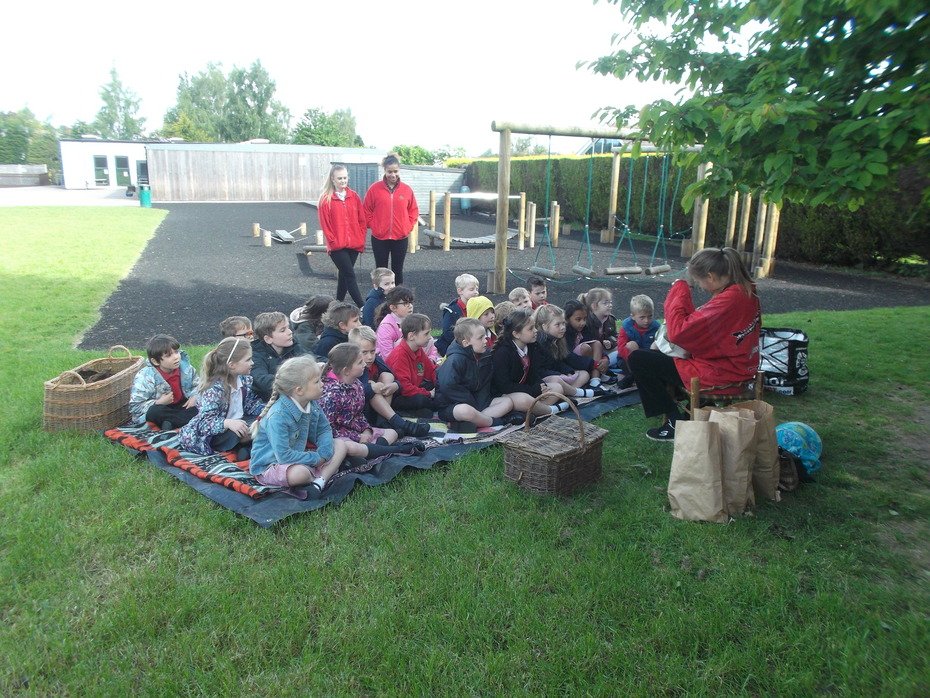 Ducklings - Growing Plants
Our Nursery children are very proud of the outside classroom flowers they planted. Look how beautiful they look! The children water them daily as part of their routine.
They can't wait to eat the tomatoes!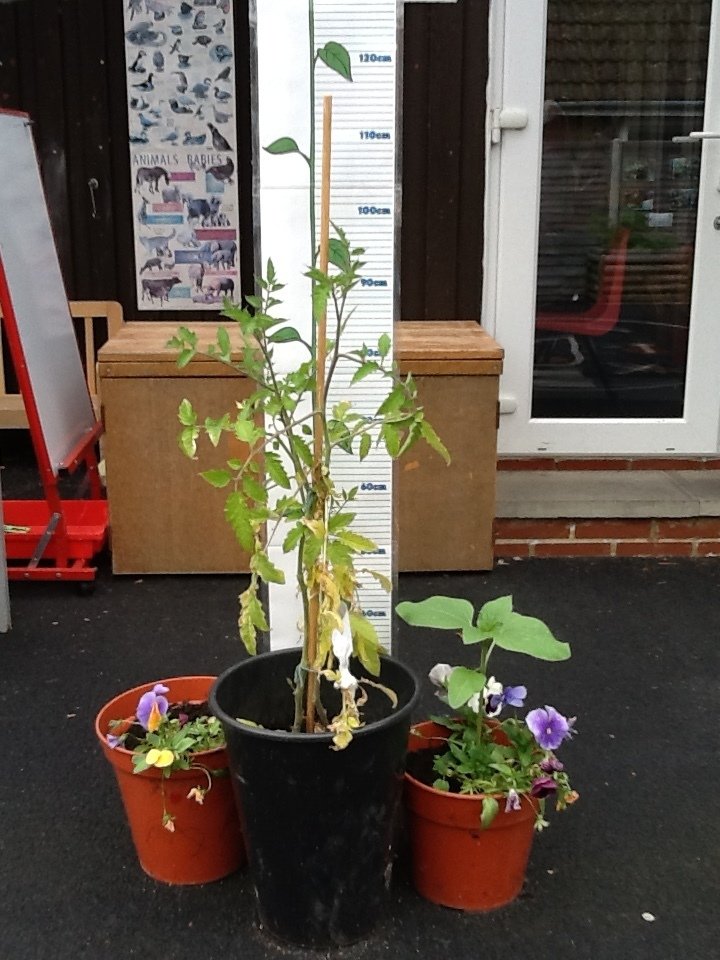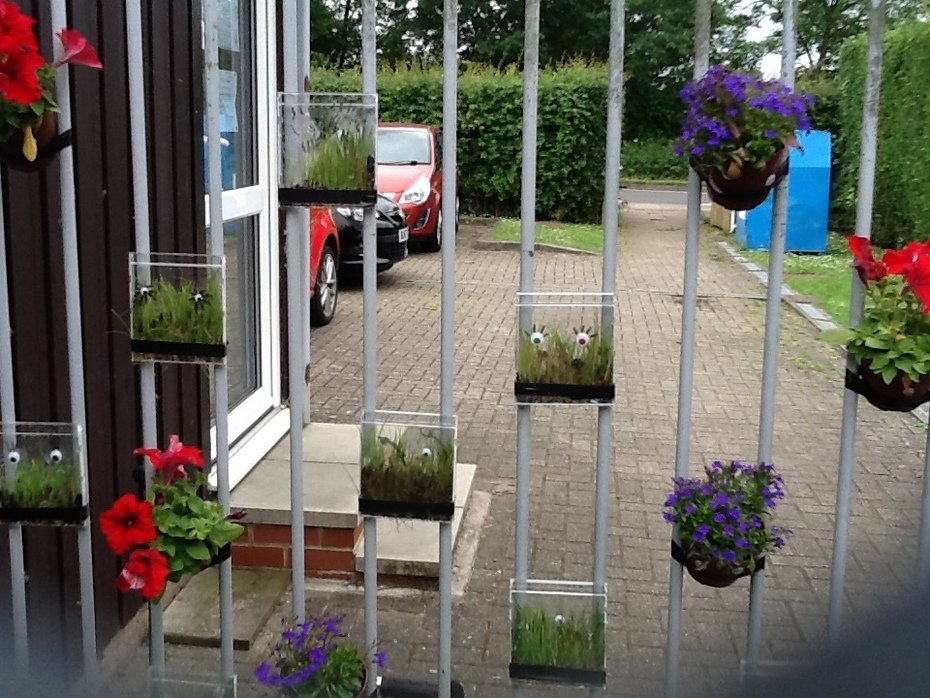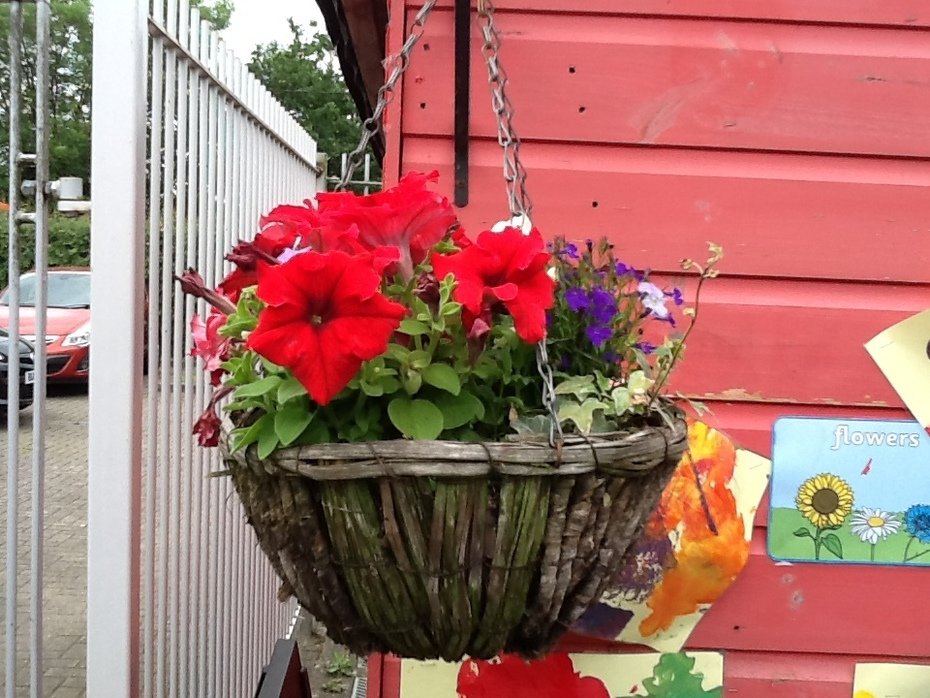 Robins - Wind turbines and sea pollution
Our topic is water and we have been learning all about eco energy and water pollution.
The children have been really interested in learning about wind turbines. They are very worried about our oceans.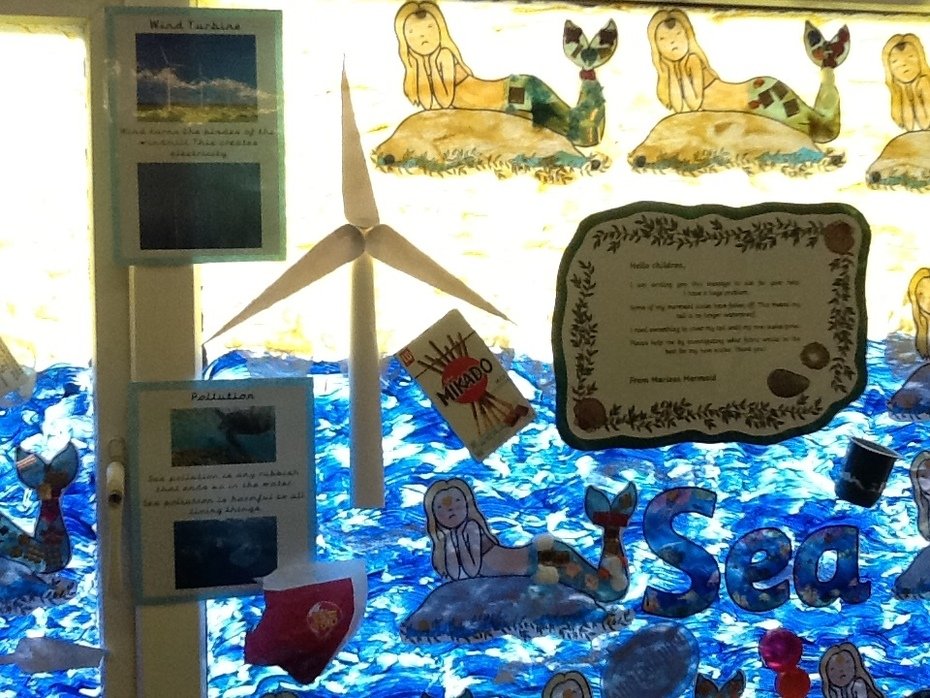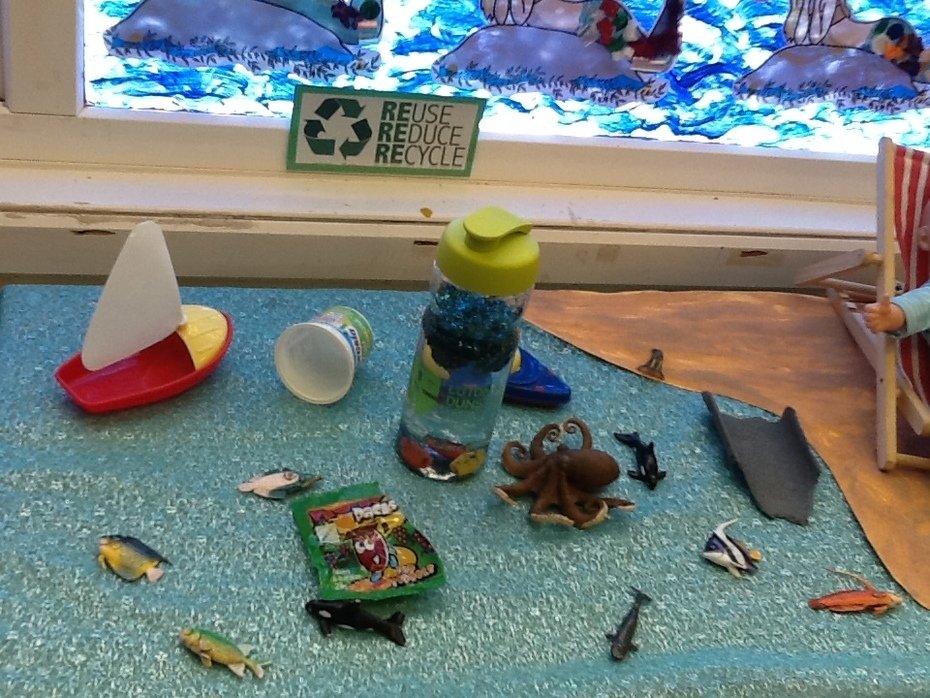 Eagles and Dragonflies get together for Eco Activities
Whilst some of the year 4s were on a trip to the Isle of Wight, those who remained spent the week together at Greenfield School. There were lots of eco activities including bird cake making, bug hunts, weeding, planting and making two wonderful bug hotels - one for each school. Mr Staff constructed the hotels for us using wooden pallets and we all brought different materials into school with which to fill them! It was great fun and we hope that the insects will love living in the new cosy hotels! We spent an afternoon exploring and orienteering around Centenary wood. We were in groups of four with an adult and had to use a map of the woods to find 8 hidden checkpoints. It was easy to get lost as there were so many different footpaths, but our map reading skills were good and each team worked together well and succeeded.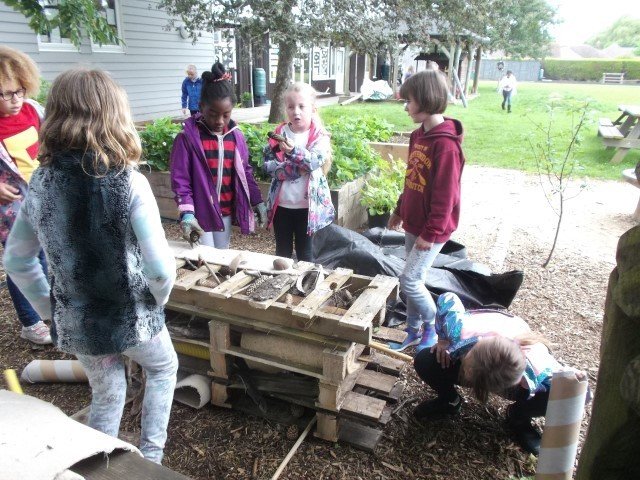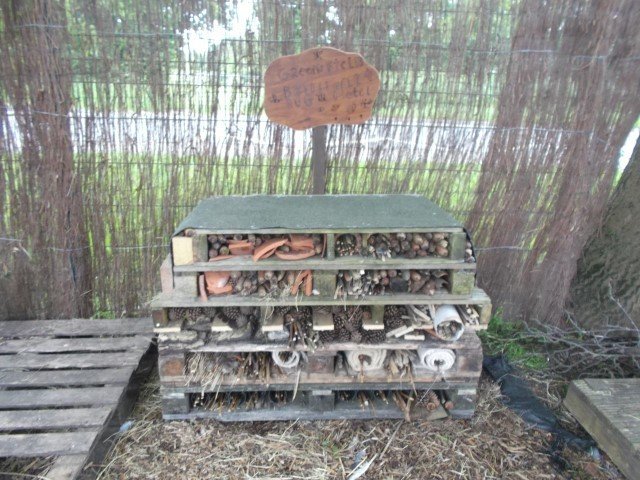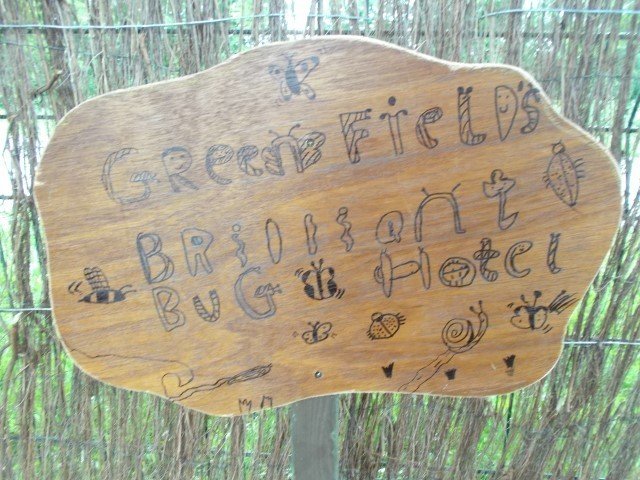 Year 4 visit to Centenary Wood
Look at the Eagles' page to find out about their trip to Centenary Wood.
Year 3 Visit to Stibbington
Look at Herons' page to find out about all the different eco activities which the herons did on their three day residential at Stibbington.
Wormery
Mrs Fryer and the Eco committee have set up a wormery in the corner of our school garden. They put rotted leaves in the bottom of the wormery, then coir soil and tiger worms on the top. then put the lid on. We are hoping to be able compost our school garden waste alongside fruit and vegetable waste and make our own fertilising liquid to use in the garden.
Eagles Class Litter Pick Around The Village
The Eagles Class have been out picking up litter around the village. They split up into 6 groups so that they could cover a large area. The children had litter pickers and recorded the different types of litter which they collected. They picked up over 500 pieces of litter! Here are some of the children's comments.
Oliver W. - We found lots of plastic, metal, glass, paper, food waste, fabric and cigarette ends.
George - We had a brilliant time collecting the litter but it wasn't good that there was so much.
Ruby - We had lots of fun doing it and we got lots of thank yous from people.
Charlie - My group found 182 pieces of litter. We learnt how to tally so we could easily count it all.
William - I learnt that people are so careless when it comes to litter. I even saw a man throw an empty coke can out of his car window.
Hugo - I found a £5 note in a ditch!
Joel - I loved the litter pick especially jumping into the ditches where there was lots to collect.
Jessica - Mrs Shuttle came and told us that a man had rung the school to say thank you very much for picking up the litter. I am very proud.
Lukas - I have learnt to not drop litter and to stop people littering as well.
Lyla - Wow! So much litter! Why do people just drop it? We drew graphs of all the litter in our maths books and also on the computer.
Yili - We are an Eco friendly school. I hope we can get the Green Flag Award again this year.
February Walk to School Day
The theme for our walk to school day this half term was wear odd shoes. This was popular with the children and the number of children walking to school rose from 50% to 62%. Well done to all those who walked.
Food Waste
The Eagles Class are working hard to reduce food waste at Greenfield School. They have been working with the school cook and dinner ladies monitoring school dinner waste by weighing food that is not eaten by the children and noting which foods are least popular. The amount of food being wasted is reducing. Eagles Class are also concerned about the amount of school fruit which is wasted. They have noticed that some children just take one bite of an apple and then throw it away. In order to monitor and reduce this, they have decided that each class will have a separate bin for their fruit waste. The year 4 children researched food waste and were staggered about the amount of food that our country throws away each day. They led an assembly and shared the facts they had found with the rest of the school and spoke about reducing the food which is wasted at our school.
The Big Garden Bird Watch January 2018
We have taken part in the Big Garden Bird Watch. Two weeks ago, the Eco Committee made bird seed cakes which they put around the school grounds to encourage birds. Children from all the classes took turns to watch out for birds and record the largest number of a specie that they saw at any one time. Unfortunately, they did not see as many as they hoped. Perhaps the birds did not like the weather which was very windy. This is what they recorded: 3 blackbirds, 2 wood pigeons, 2 robins and 4 crows.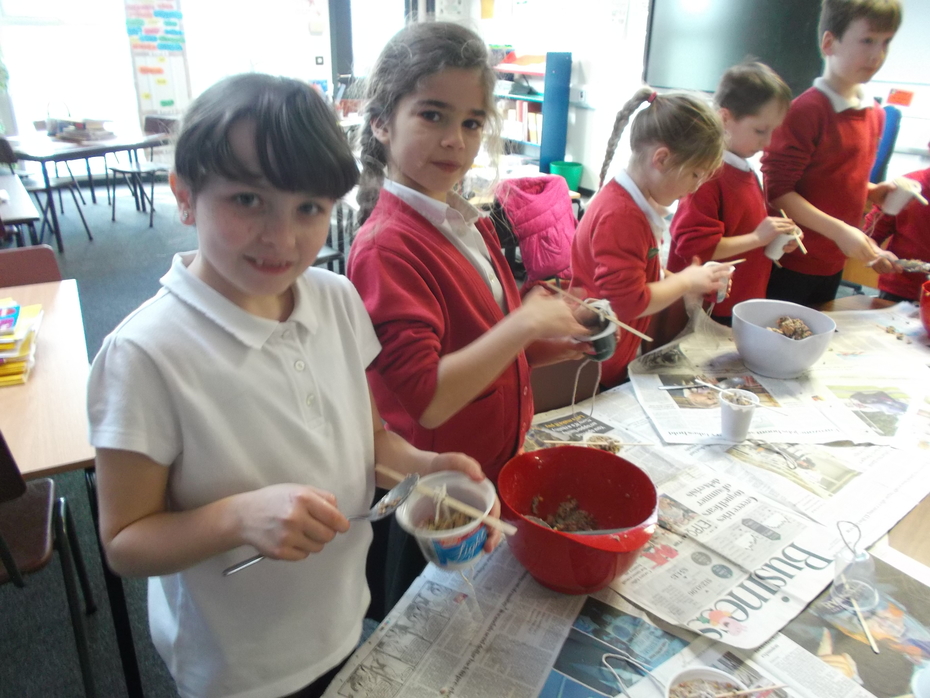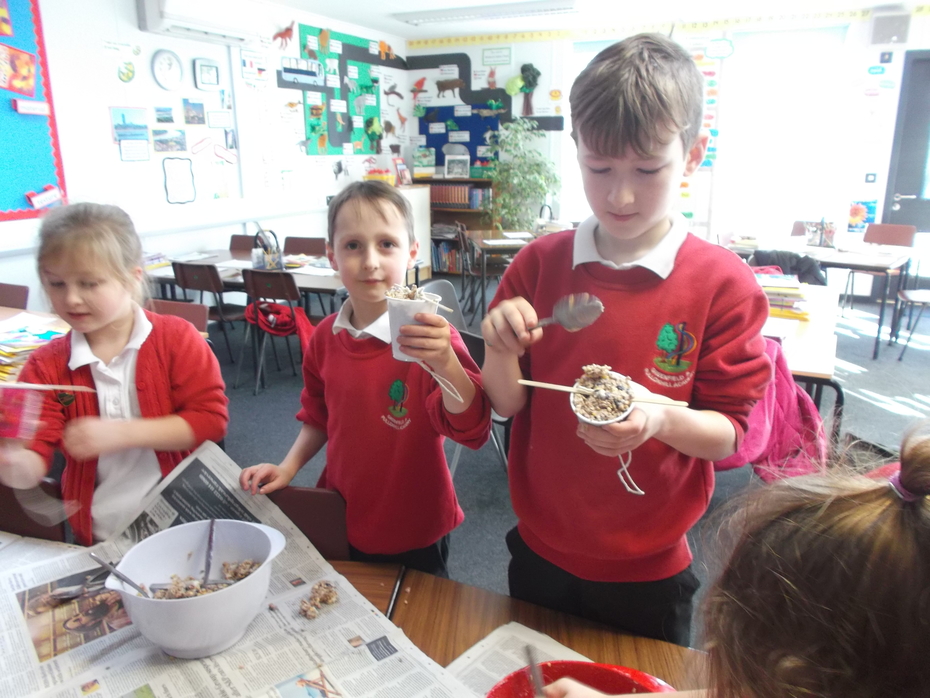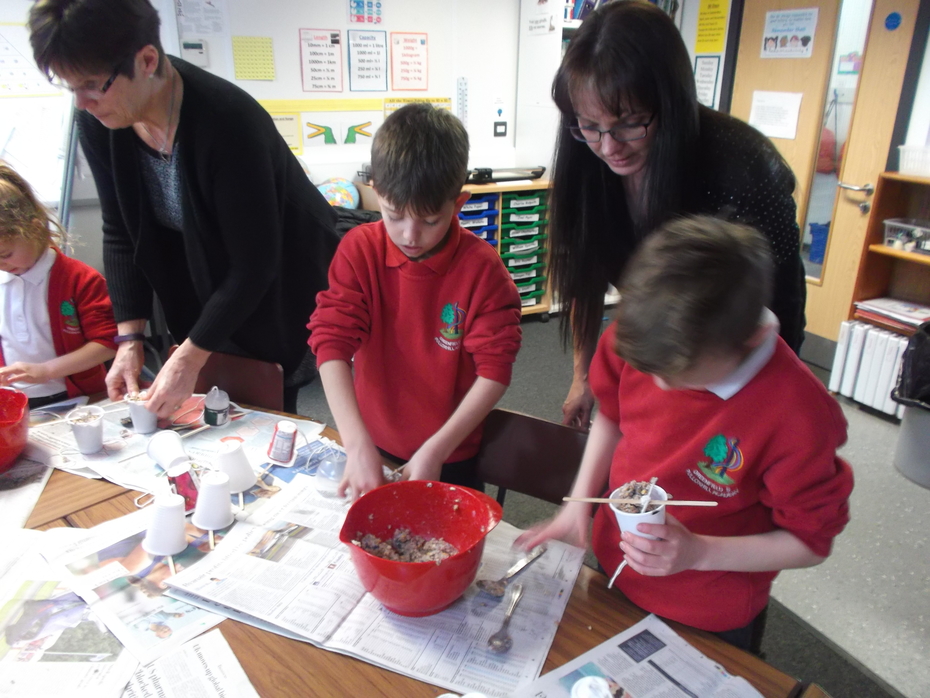 Tree Planting
We have been very fortunate to receive 30 hedge saplings from the Woodland Trust which the Eco Committee and some of the older children have planted around the edge of our school field. There was a lovely mixture of hedge plants including dog rose, downy birch, hawthorn, dogwood and hazel. We supported them with a cane and carefully put plastic guards around them. We are looking forward to seeing them grow and hope they will provide a habitat for lots of different wildlife.
Litter Picking
The Eco Committee have been picking up litter in the school grounds. They are pleased to report that there was not much litter, however we do all need to be more careful to make sure that our playtime fruit waste goes in the bin and doesn't fall onto the ground near the bin.
The Big Bird Watch January 2017
The whole school participated in the RSPB's Big Bird Watch. A few weeks ago the eco-committee made bird seed cakes and hung these up around the school grounds. We stood very quietly looking out towards the front of the school where Mrs Green has been particularly good at encouraging birds with lots of different seeds.
We recorded seeing up to 7 sparrows and dunnocks at any one time, 2 robins, 4 ,crows, wood pigeons and blackbirds, and 1 rook, magpie and pied wagtail.
Autumn 2016
The Eco committee have planted winter flowering pansies in the pots around school. They look nice and colourful. They have also been out collecting litter around the school site.
Greenfield School has been awarded its 6th Green Flag
Congratulations to the Eco Committee who have worked with Mrs Staff and Mrs Brown to achieve this award. Thanks to Mrs Dunger and Ms Harris, our parent committee members. The Eco Committee have led assemblies and helped the whole school to work towards this achievement.
Mr Huckle who inspected our school said, " Thank you to the children and staff of Greenfield academy for showing me all the work you have been doing to improve your Eco-School. The Eco-Committee had a lot to show me and talked about their projects, like the new school garden and energy and water monitoring, with much understanding and enthusiasm....Congratulations on the renewal of your Green Flag - it is well deserved."
For their homework, the Eagles Class produced some newspaper reports about our Green Flag award. Here are just a few of them.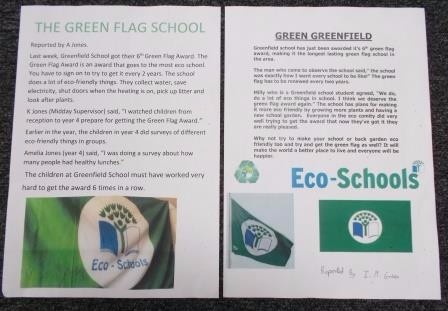 The Big Pedal 18th - 29th May
We are taking part in The Big Pedal- a national initiative to encourage more children to cycle or scoot to school. Each day we are recording the number of children who have cycled or scooted to school and the number of parents/carers and non-Greenfield School siblings who have also cycled or scooted. On Monday we were delighted to discover that we were the 5th best school out of 760 primary schools. Keep cycling and scooting! Let's see if we can get any higher!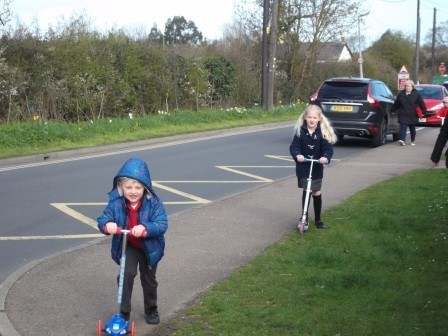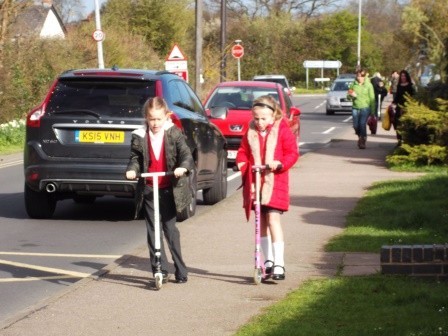 'Clean for The Queen' 4-6th March
Wrens and Eagles Classes participated in 'Clean For The Queen'. The Wrens children picked up litter in the school grounds whilst the Eagles Class went around the village collecting litter. They enjoyed being allowed to climb into the ditches where most litter was to be found. The year 4 children were out litter picking for about 1 1/2 hours and in that time they picked up over 1500 pieces of rubbish! They recorded all the rubbish they collected and discovered that most litter was made of plastic but there were also a huge number of cigarette ends! Interesting finds included a selection of balls, a sheet/valance, a child's coat, a pair of trousers, a car number plate, wheel trim and a scrubbing brush!
Trainer Tuesday
Well done to all those who walked or scooted to school on Tuesday. It made the road much clearer outside school and we had lots of alert, healthy children in school. Twenty more children than the previous day walked or scooted to school. 74% walked to school - a fantastic result!
WaterAid
Mrs Sue Whittaker from WaterAid visited Greenfield School and talked to everyone about people around the world who do not have clean, safe water to drink. She taught us about the work of WaterAid and showed us pictures of the filthy water that some people have to use and drink.The charity is helping the 748 million people around the world who live without safe water and the 2.5 billion people who live without a toilet. It made us all appreciate how fortunate we are to have taps in our homes and schools with clean water and nice toilets to use. Each class participated in different water activities which they found very interesting. The Eagles Class made Sewage Soup and learnt all about the different things which go down into the sewers.They investigated how much water they use each day. The younger children talked about how they use water and how they can avoid wasting it. The Robins Class experimented with carrying buckets of small bricks on their heads and discovered that they would not like to have to fetch the water for their families to use! They also experienced washing fruit, clothes and even babies!
Save Your Stamps This Christmas
We are now collecting stamps for the RNIB (Royal National Institute for the Blind) charity. Please save your stamps, cutting them off the envelopes with a 1cm border and then send them into school. Thank you.
Greenfield School Eco-Committee lead an Eco Assembly
The Eco-committee planned and led assembly to remind everyone about our Eco-Code and what we do at school which is eco-friendly. They asked the rest of the school for ideas of other ways which we could be even more environmentally friendly.
Recycling at School
We would like to make you aware of all the different things which we recycle at school. Please help us by recycling as much as possible.
Food Waste is Minimal!
Well done to everyone who has school dinners at Greenfield School. You are throwing away only a very small amount of food. Our school cook has been congratulated by her boss on how little food is wasted! The Eco-committee members have been weighing the food that is thrown away. Our best day was 5.11.15 when 105 children ate a school dinner and only 900g was thrown away! Well done children and well done to our school cooks for making the dinners so delicious!
Food Waste
We want to try to reduce the amount of food which we throw away at lunchtimes. We are lucky that our school meals are delicious and we do not throw a lot away. The Eco-Committee is monitoring how much food we do waste by weighing it every lunchtime. Hopefully, we can throw even less away.
Bird Seed Cakes
The Eco-Committee have made bird seed cakes to feed to the birds this winter.
The Big Pedal
Well done to all children at Greenfield who scooted or cycled to school for two weeks during the Big Pedal. The road outside school was less congested and the participating children benefited from fresh air and exercise. Hopefully the better weather will encourage the children to continue scooting and cycling to school.
Litter Pick
Greenfield Eco-Committee have been litter picking outside school. What a lot of litter they found! Most of it was hiding under the hedge where it had blown and in the ditch where people had thrown it from their cars.