Owls Latest News
History
Find out about The Great Fire of London and the effects it had on the people of the time.
Look at our amazing buildings!

We had our very own Pudding Lane in our classroom!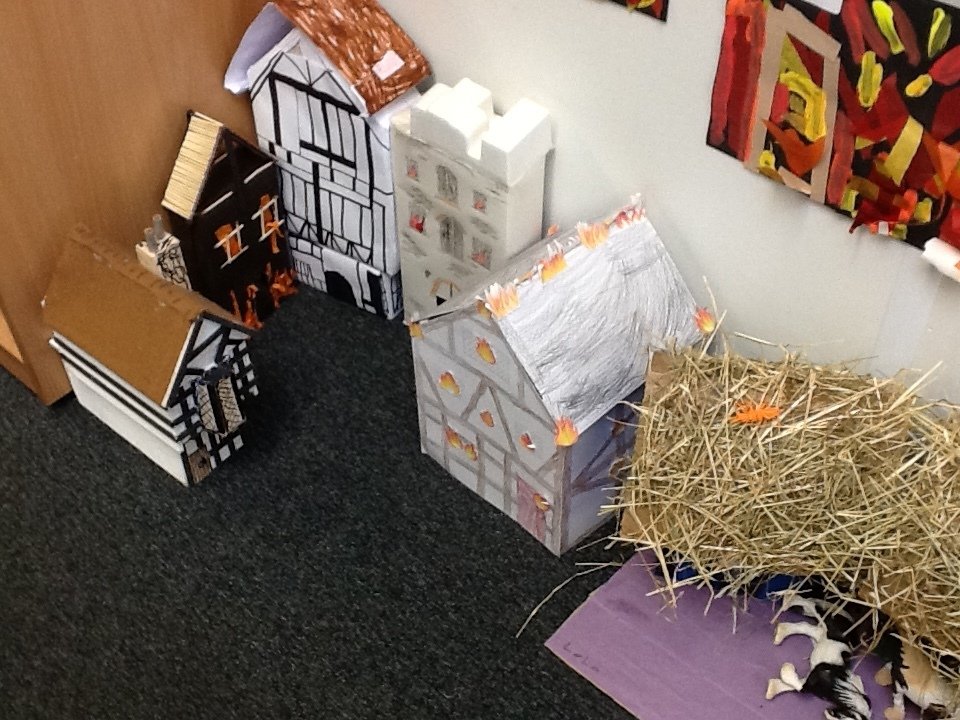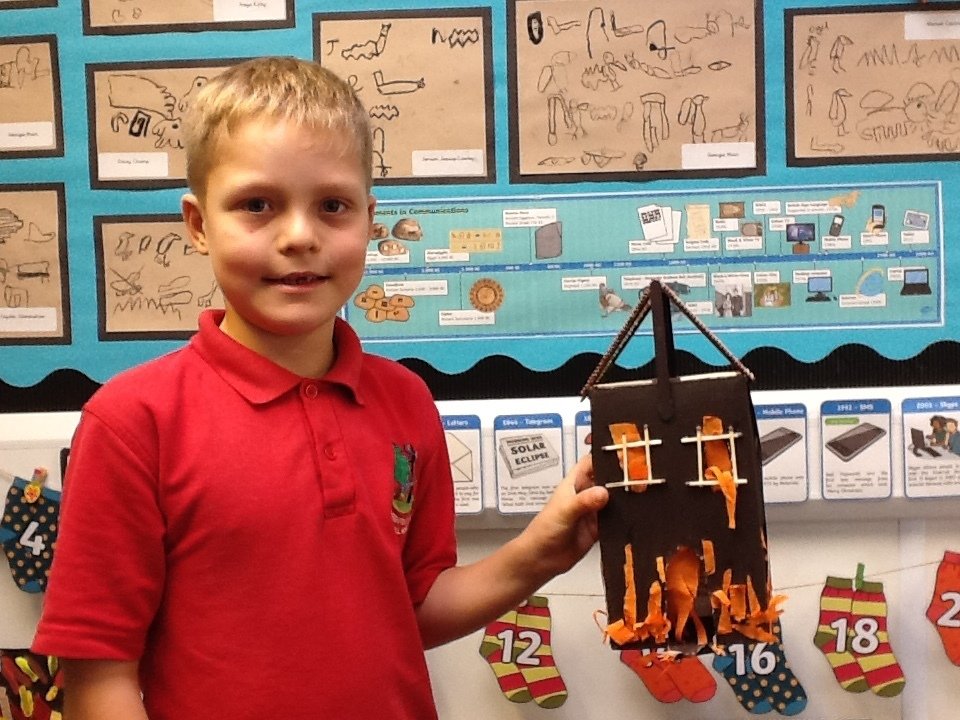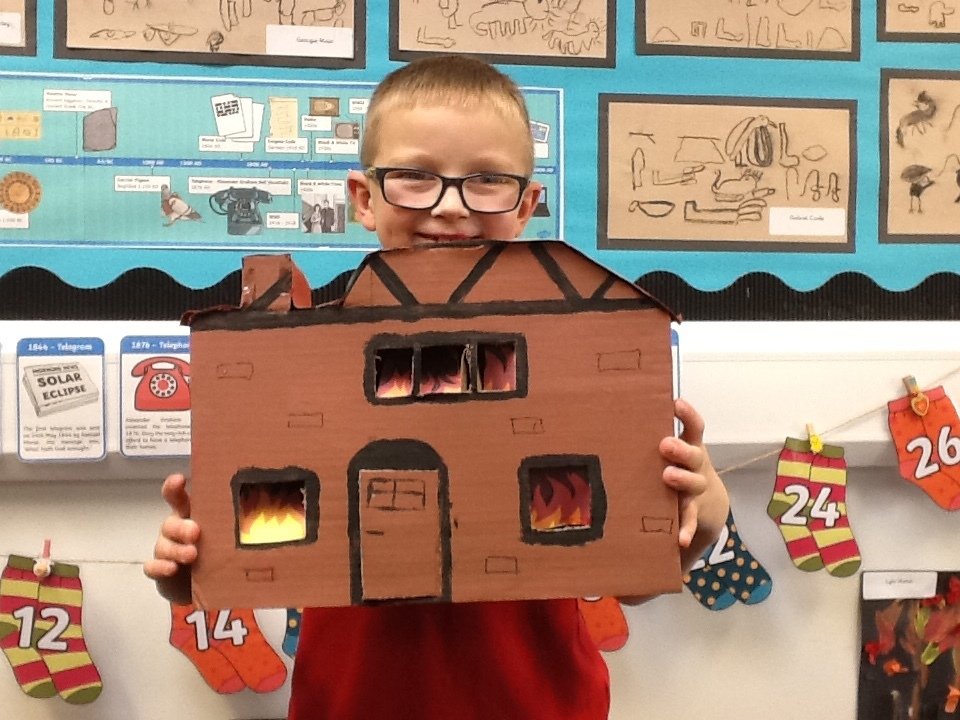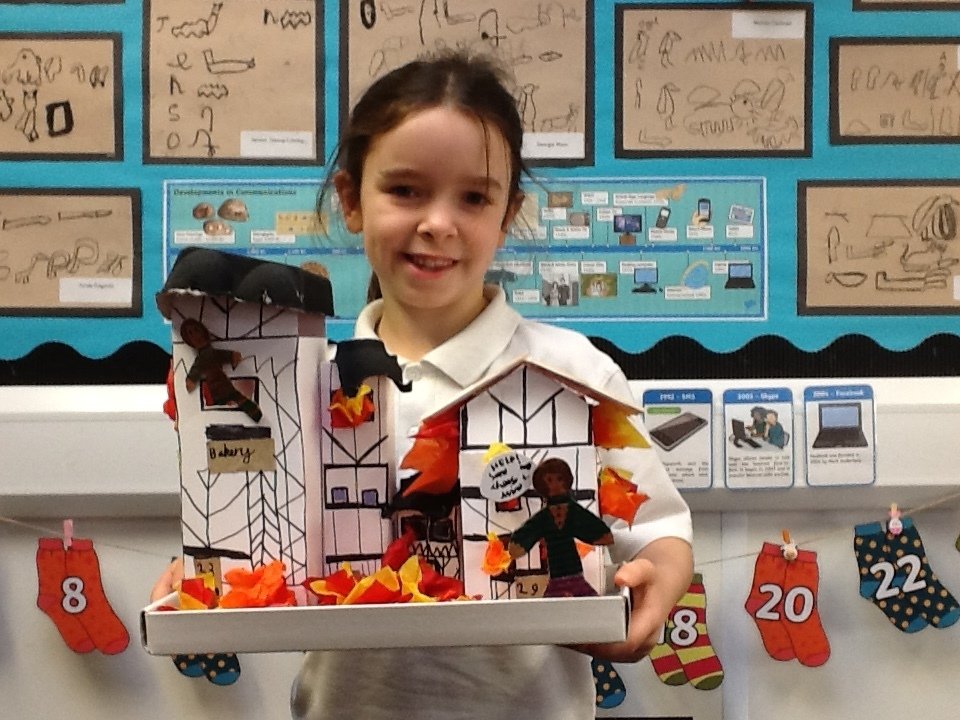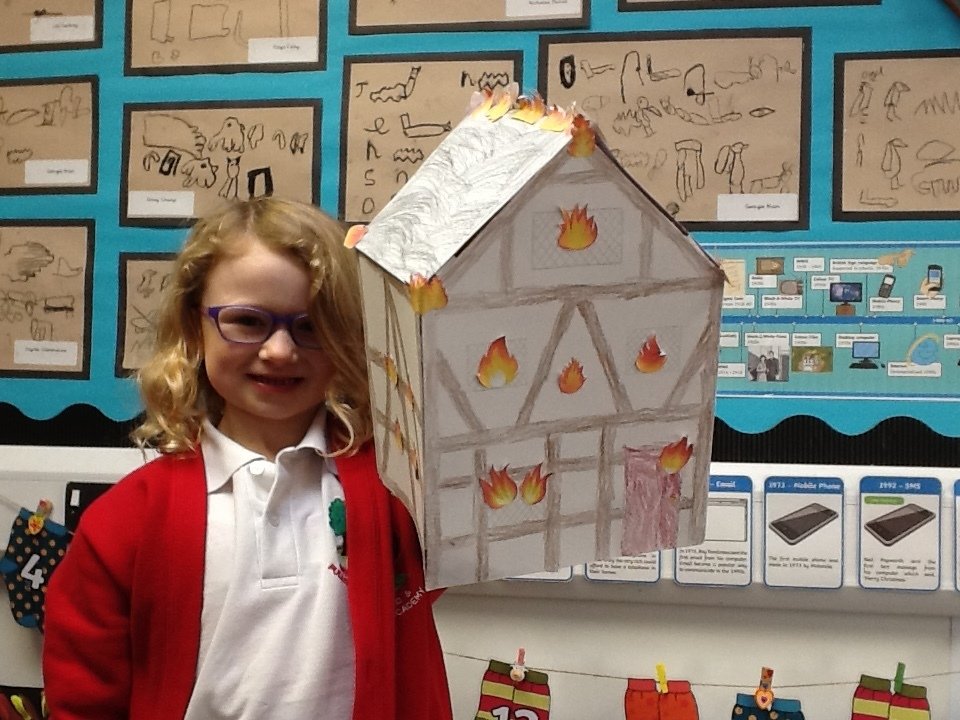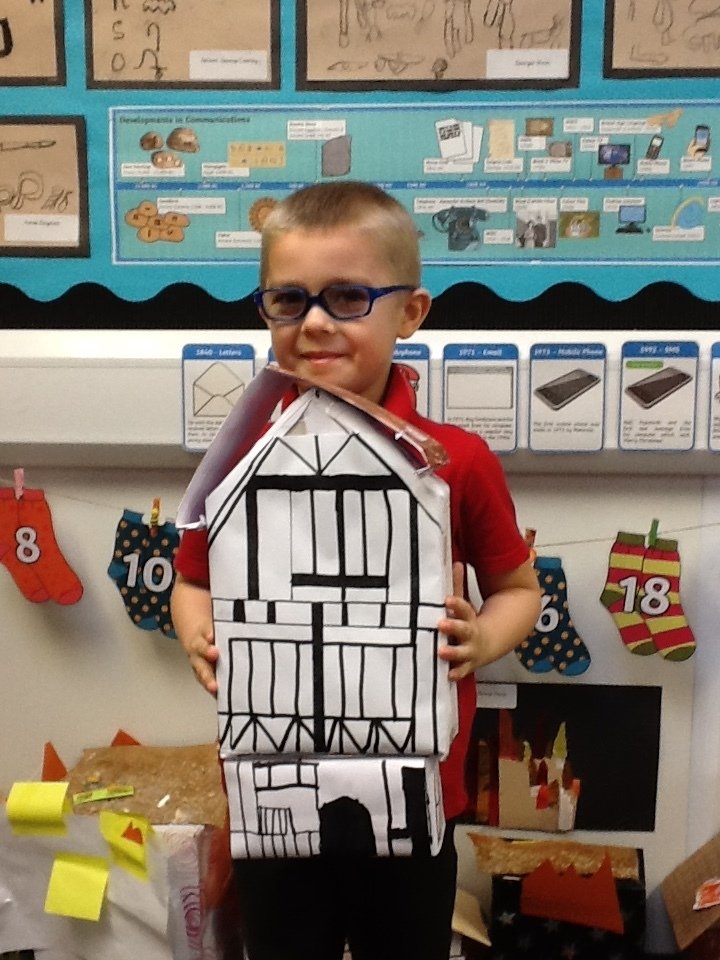 Science
Exploring Everyday Materials
Properties and characteristics of materials.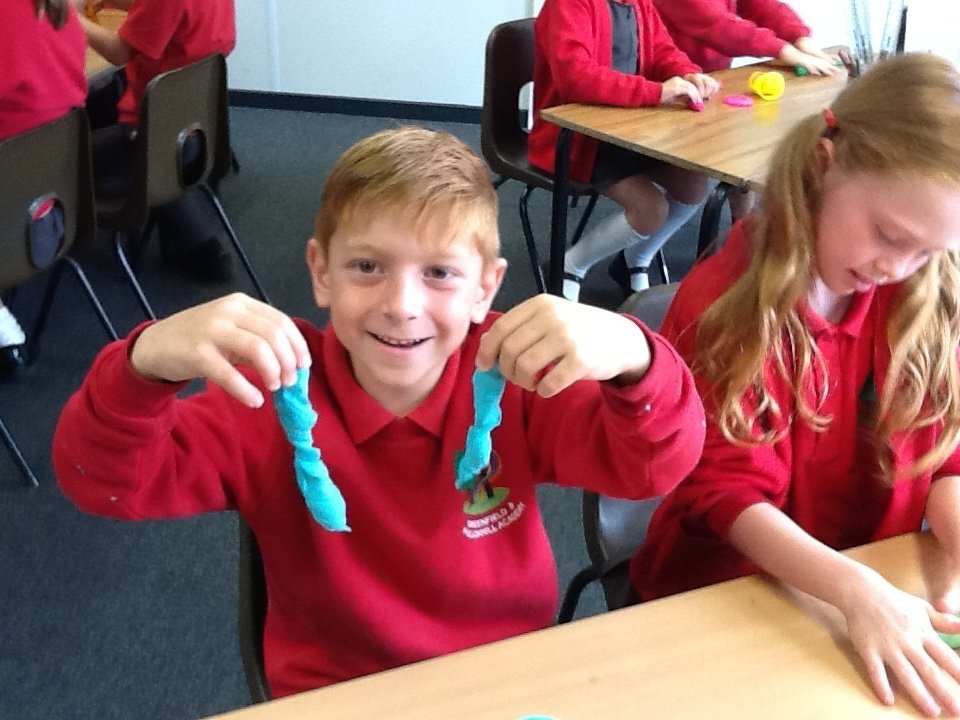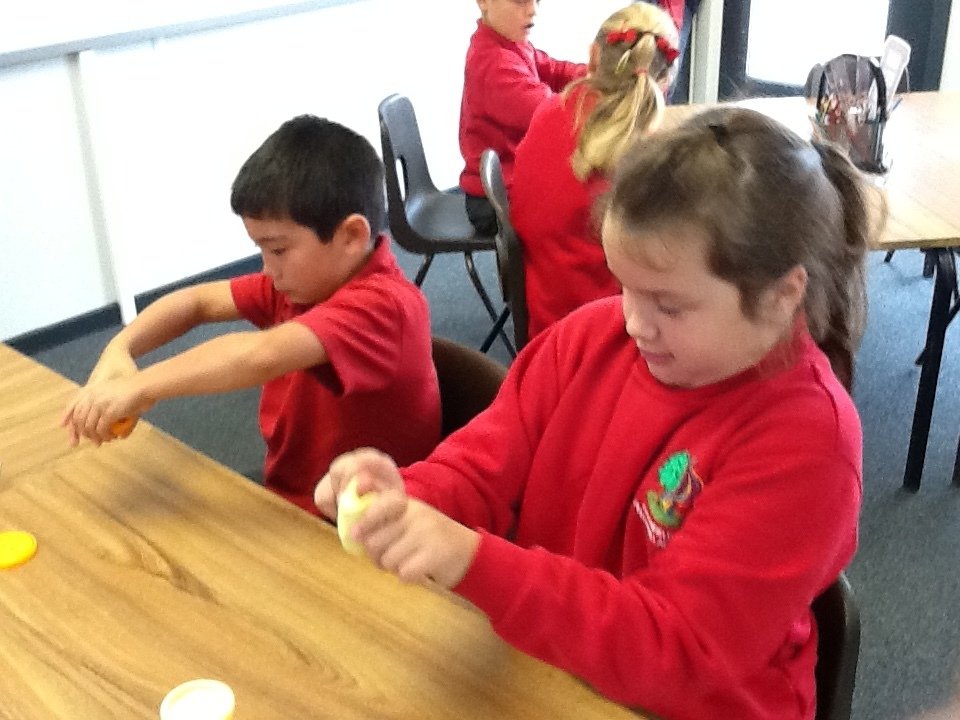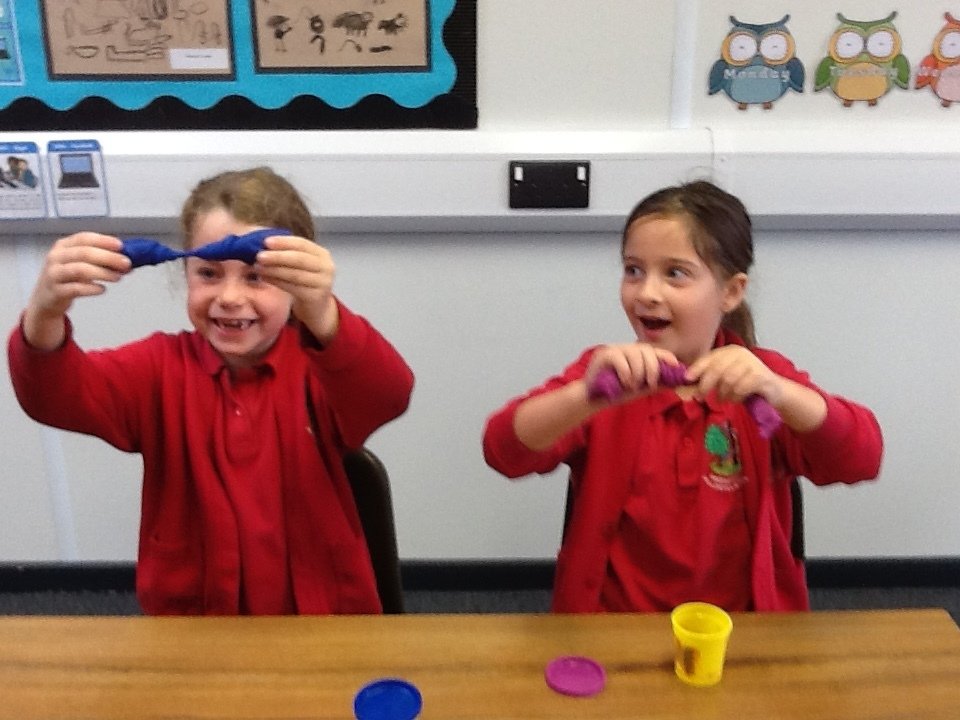 Art & Design
Decorations (Textiles)
Skills – Sewing

Colour creations

Christmas art and design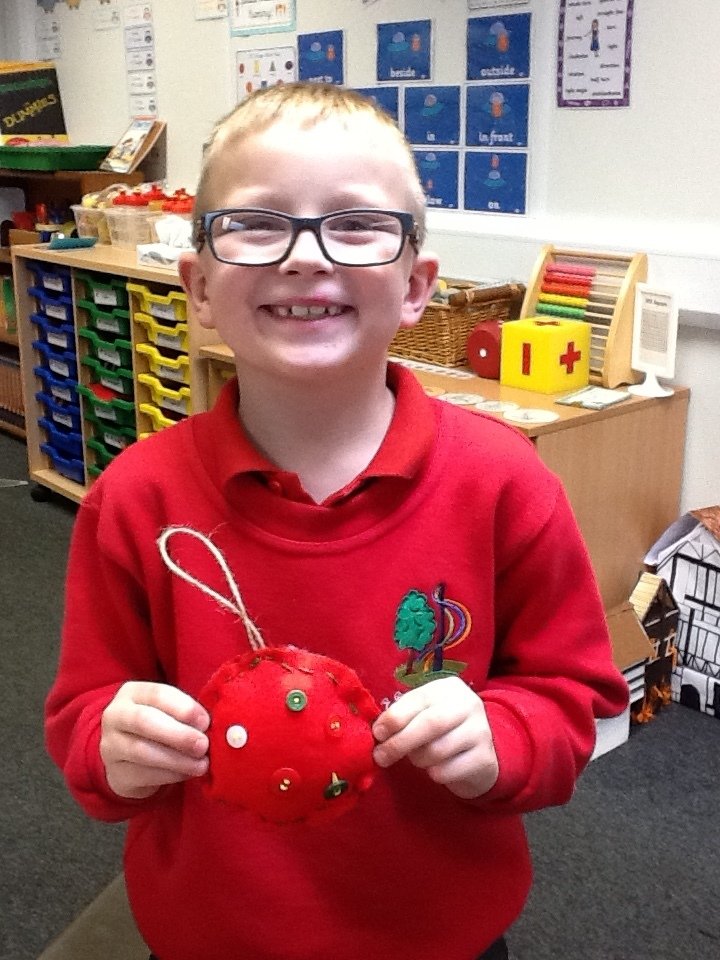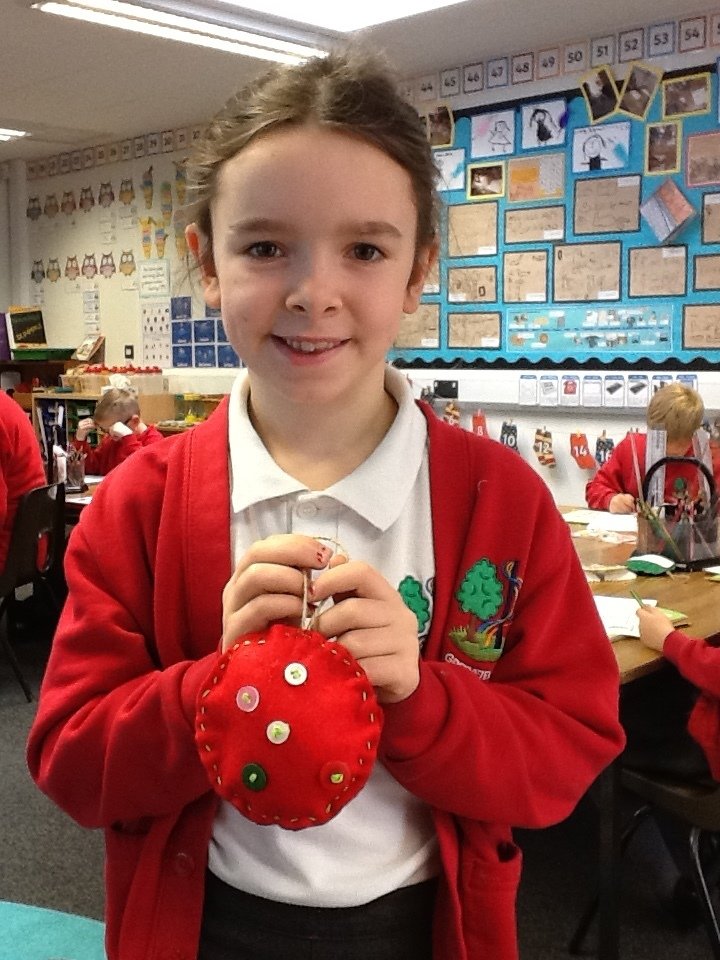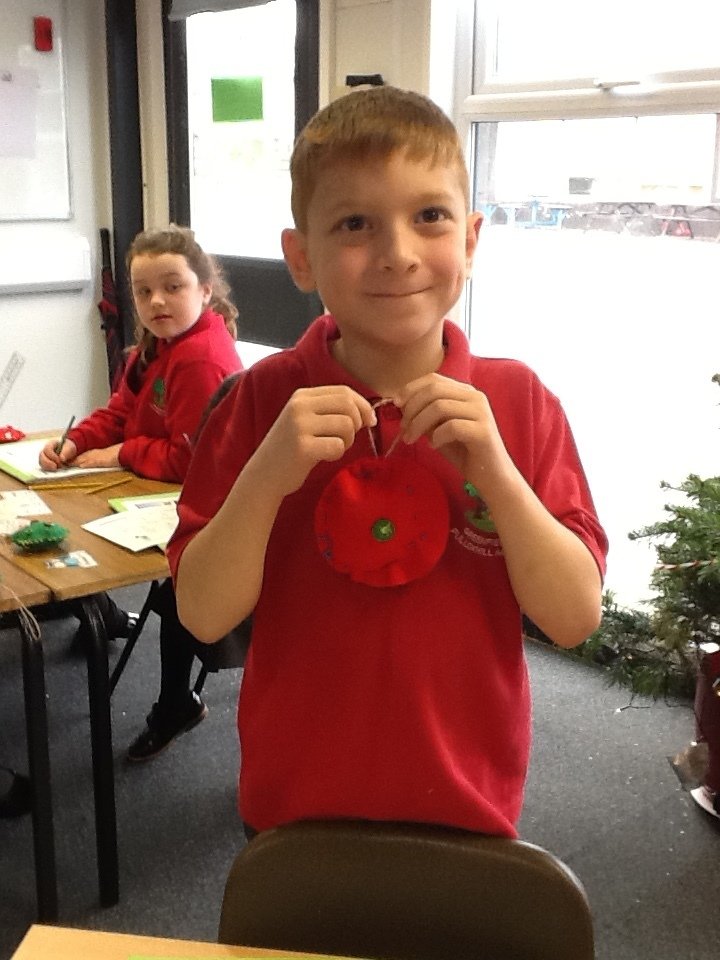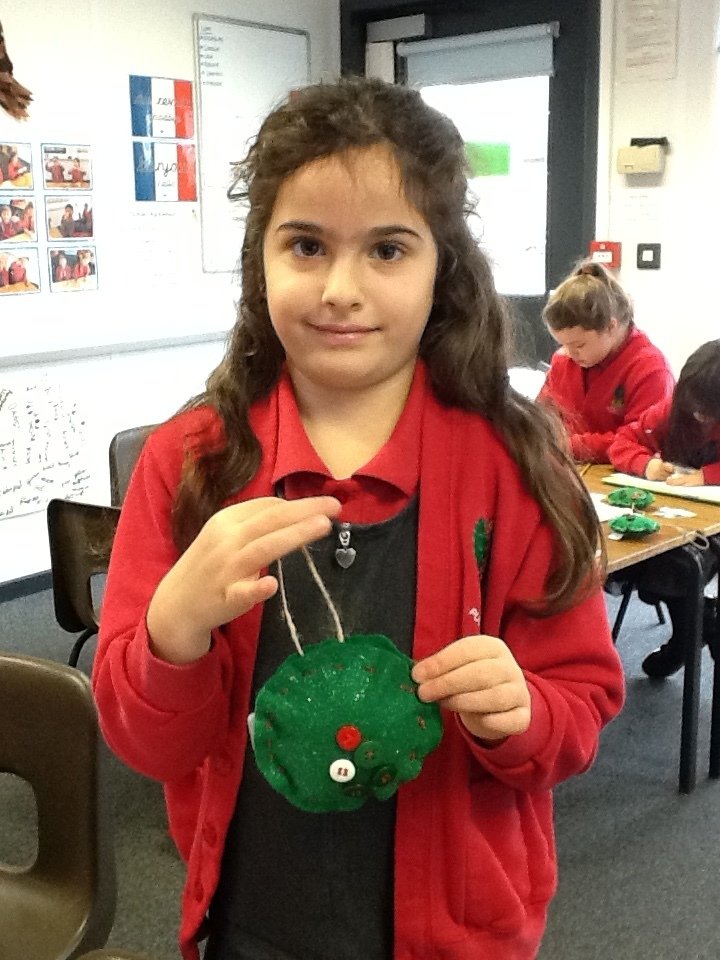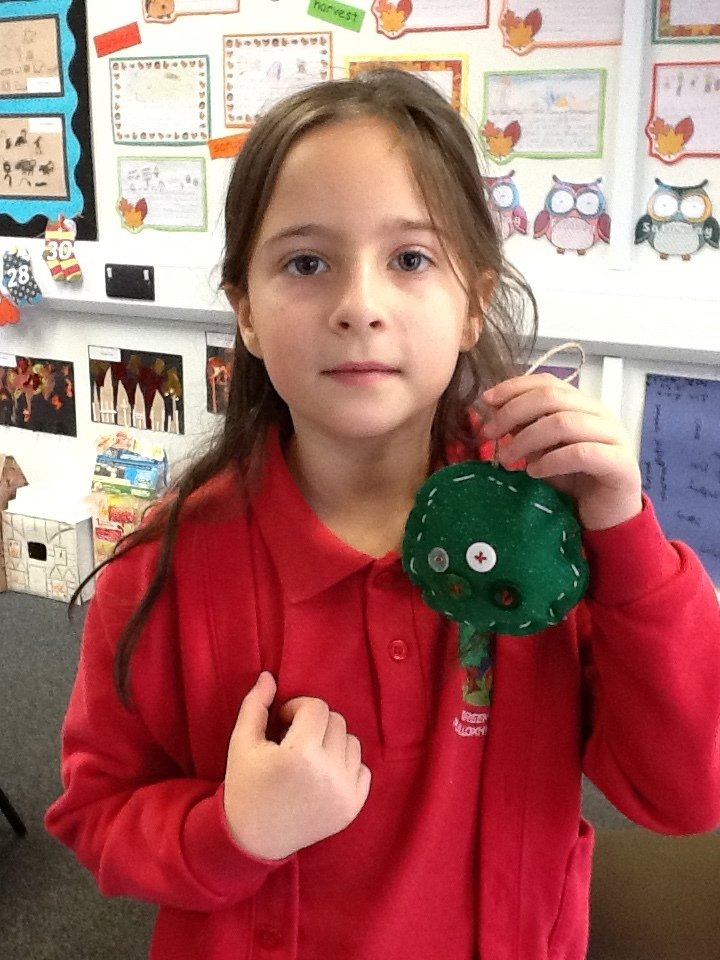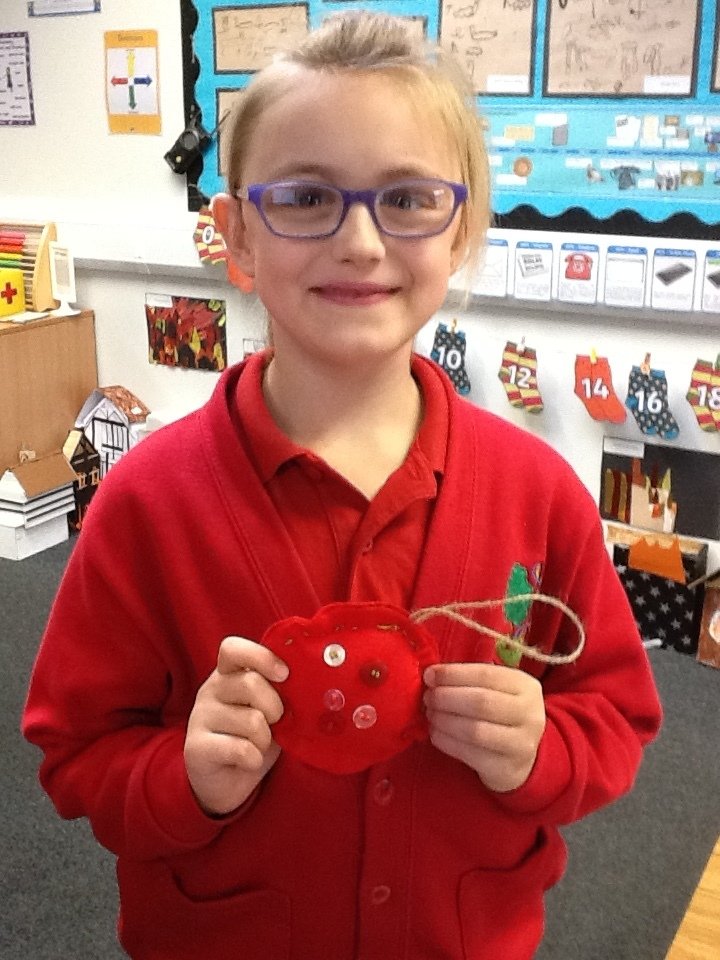 Design Technology
Perfect Healthy Pizzas (Food)
To understand the need for a variety of food in the diet.

To understand that all food has to be farmed, grown or caught.

We are learning to design a balanced healthy pizza.

To use a range of cookery techniques to prepare food safely.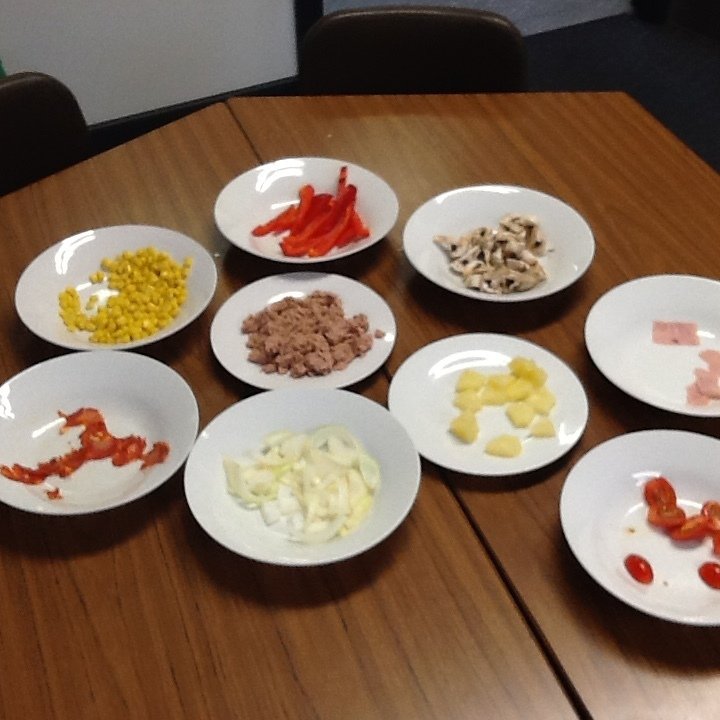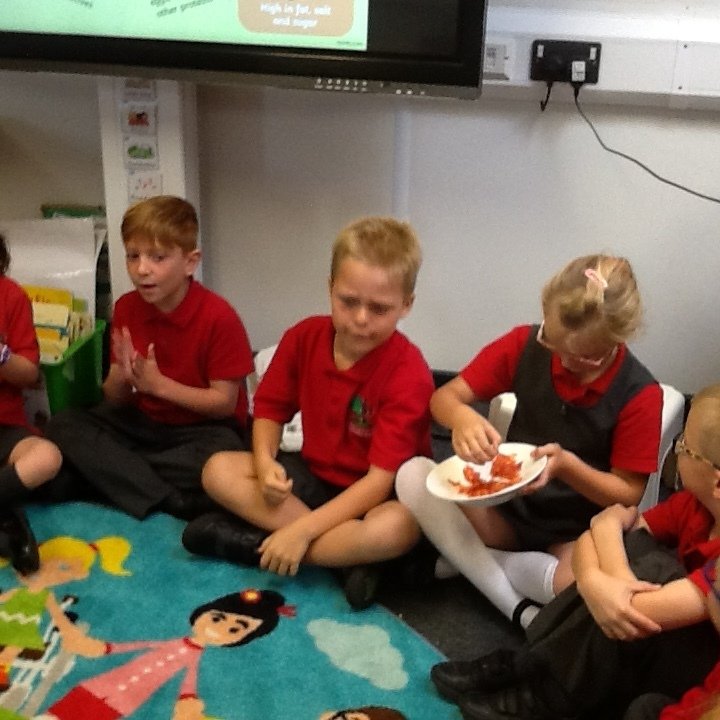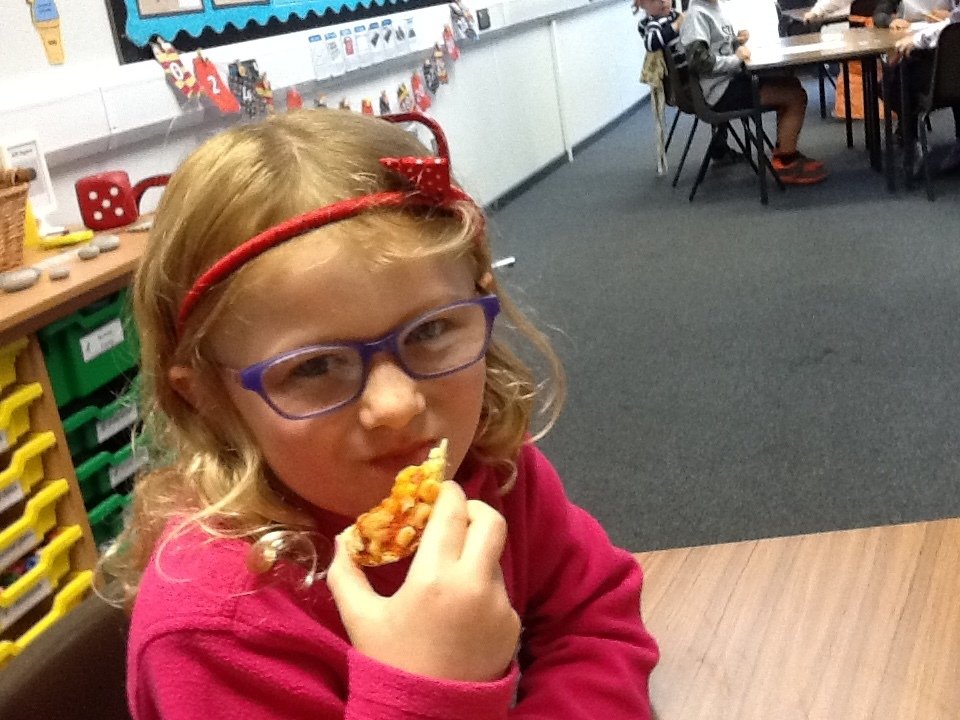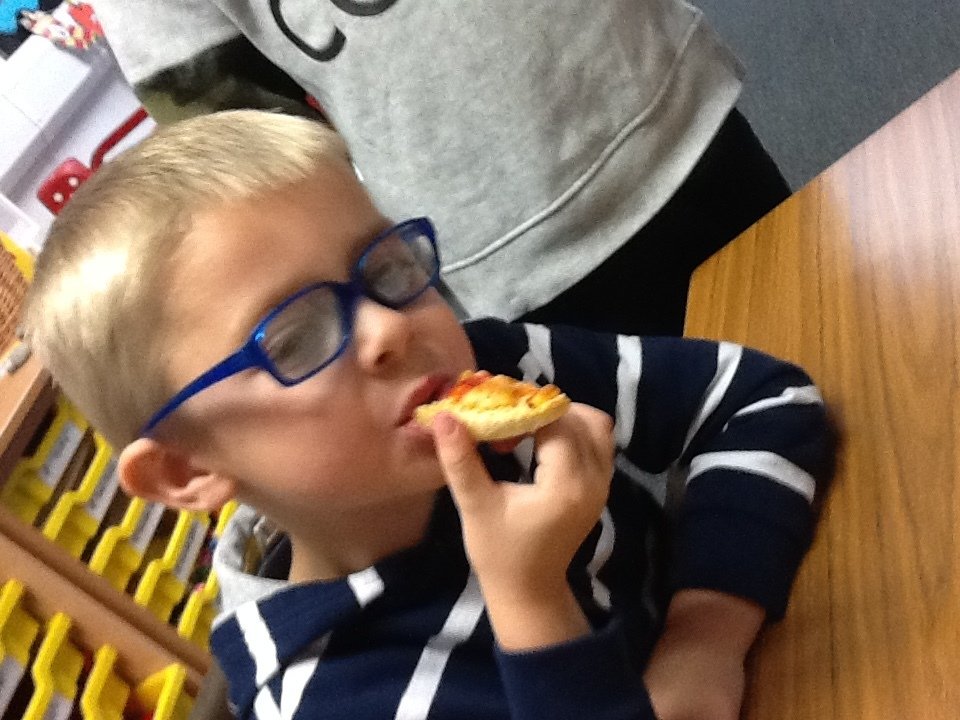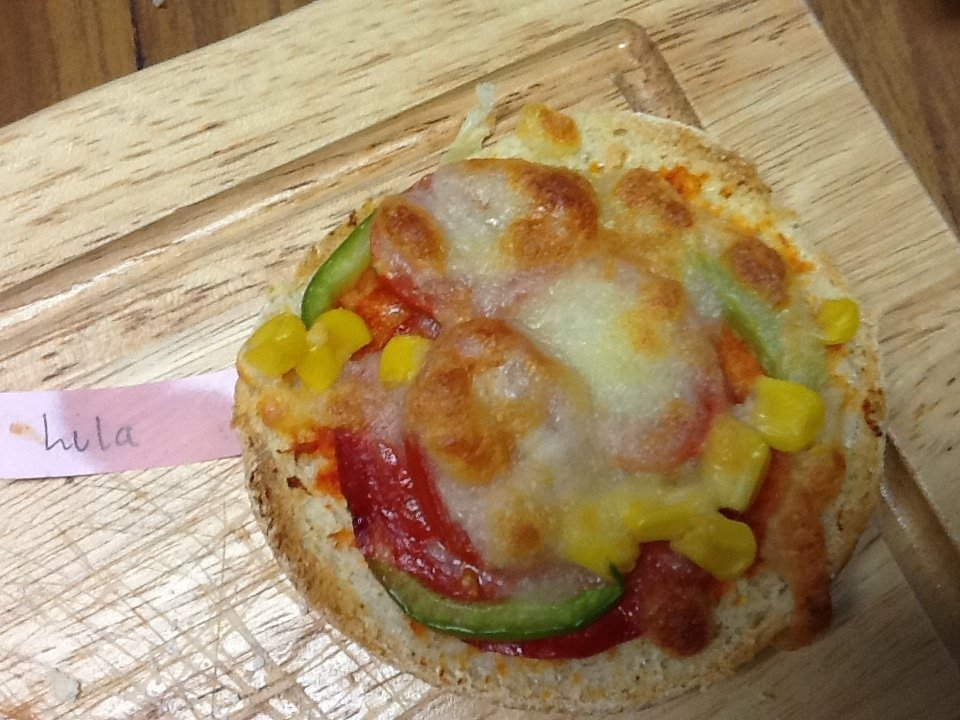 SEPTEMBER 2019
Communication Then & Now
History - Communication from hieroglyphics to the world wide web
We will learn about Morse code, writing with a quill and telegrams!
It was great fun writing and drawing with a feather pretending it was a quill!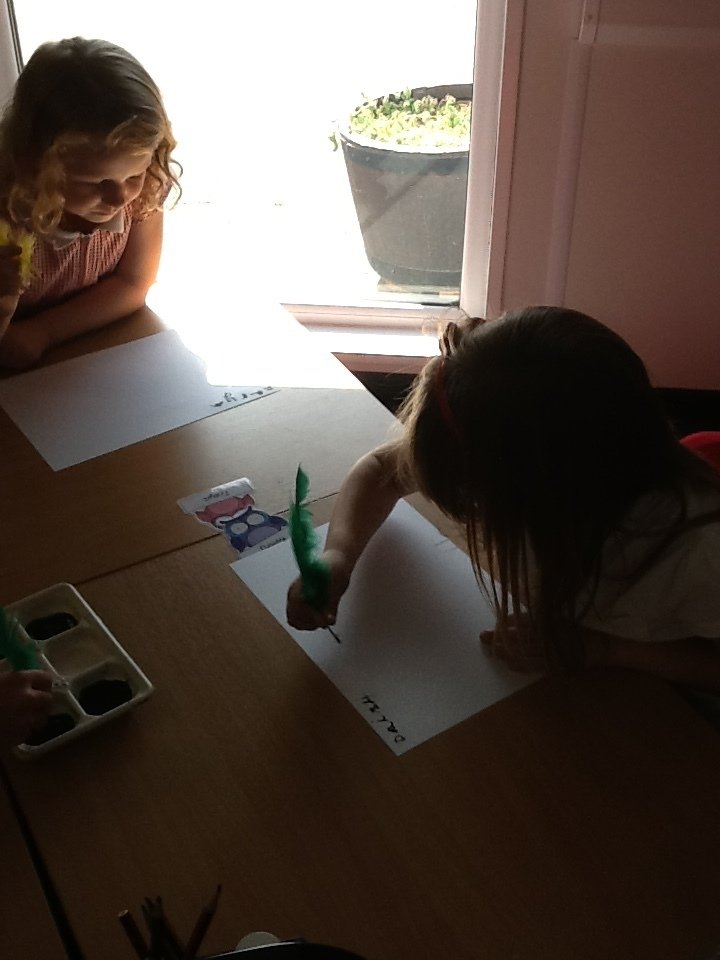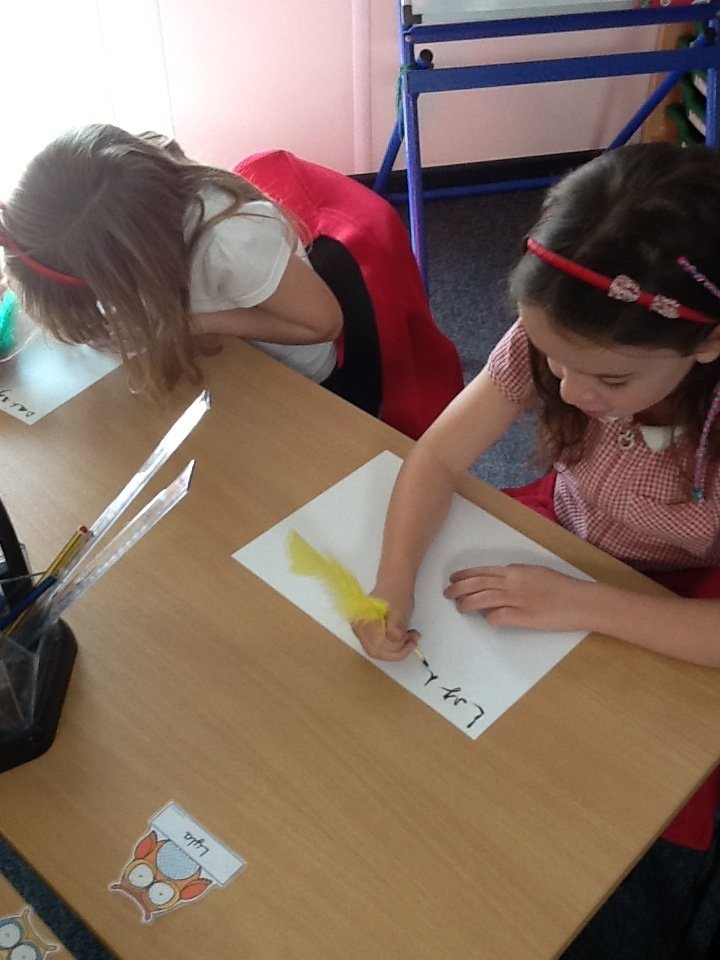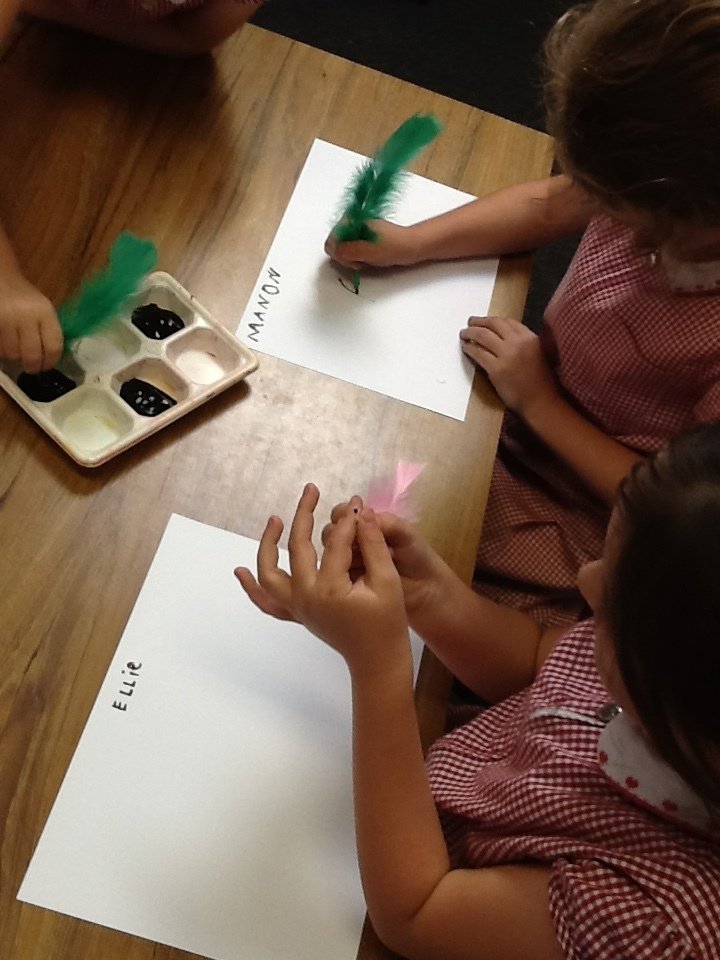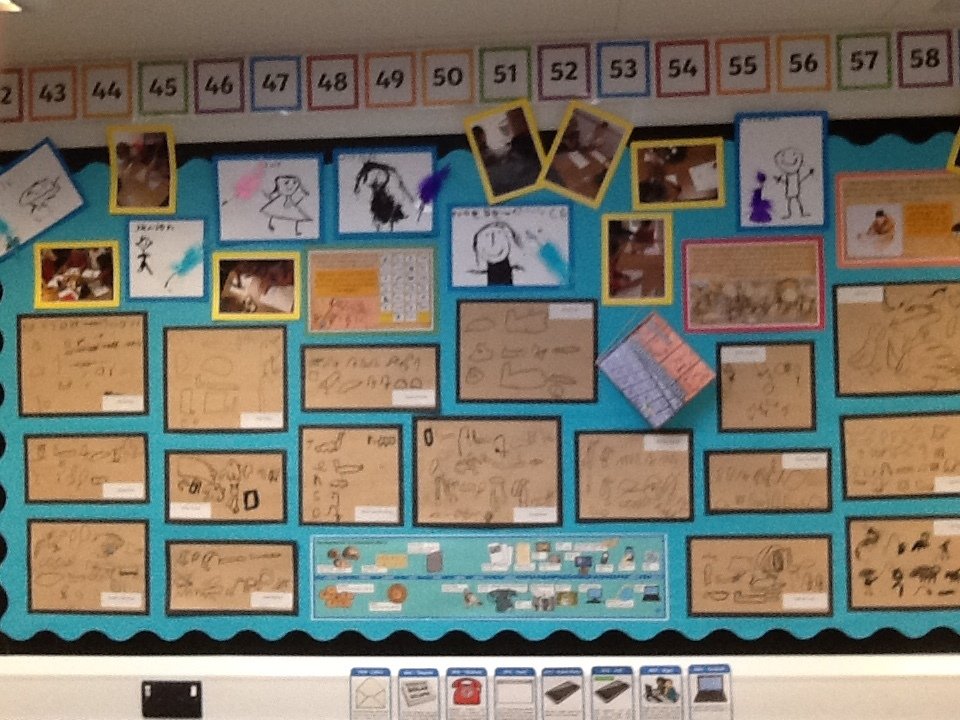 Owls Class 2018-19
Spring Term 2019
Now we are into the second half of the Spring term. In science we are learning all about animals and their habitats. We have started our topic on African Art, we have made some brilliant African masks which you can see on display in our classroom windows. Some of us are really enjoying the Musical Theatre Club that Premier Sport are running after school.
We have had a great start to the New Year. In geography we learned all about maps and our local area. We went for a walk around the village making a map of all the landmarks that we saw. When we returned to the classroom we added a key and finished off our maps. In science we learned all about animals and their stages of growth, we now know what animals need to survive and grow healthily. In art we made different sculptures, our favourite was making a sculpture of a human form from some pipe cleaners! In RE we learned all about Caring, what it means to care for people, what we do for those people we care for and how we can care for our environment to make it a better place to live.
African Art
| | | |
| --- | --- | --- |
| | | |
| | | |
Autumn Term 2018
We have had a great second half of the Autumn term. In history we learned all about the Great Fire of London and answered the questions that we had at the beginning of the topic. We enjoyed working with the rest of the school on World Values Day where we decorated and named values stones and worked together to produce some wonderful displays around the school. We worked very hard on rehearsing and performing our Christmas play called 'A Little Bird Told Me' and will remember the songs from the performance for a long time to come. We had great fun and enjoyed our Christmas dinner day too!
In Design Technology the children have been thinking about a balanced diet. They have learned about the different food groups and how they help our bodies. They have been thinking of ways to enjoy healthy food. First they taste tested different breads for the base of their pizzas and then they tasted different toppings. They used this information to design a 'healthy pizza' before evaluating their product. The children had great fun taste testing and they even tried some foods which they thought they didn't like. The results were amazing and most enjoyable!
Owls Class 2017-18
Summer Term 1 2018
We celebrated Environmental Day by sharing and recreating a story with natural materials.
We also planted our own seeds and will watch and monitor their growth.
In maths we have been investigating weighing and measuring so that we can read scales where not all the numbers are given.
We have been learning how to play kwik cricket with Howard.
Spring Term 2 2018
In Design technology we designed and created our own animal hand puppets. The sewing was really tricky!
We had an wonderful time celebrating world book day. The children made an amazing effort to dress up as characters that they love from well known books. We had all sorts of characters like Gangster Granny, Mr Willy Wonker, Little Red Riding Hood and Harry Potter!
| | | | |
| --- | --- | --- | --- |
| | | | |
Spring Term 1 2018
We have had an exciting start to the spring term. Our geography topic was all about making maps. We have been learning all about the different types of maps and what information they tell us. We went on a walk around the village to look at all the places of interest we could see and then we made maps of our walk showing what we found. In Design Technology we have been learning about the principles of a healthy and varied diet and used this to design and prepare our own healthy pizzas - yummy!
Autumn Term 2017
The children have all settled in extremely well and we are already well under way with our topic of Transport. The children have already designed their own vehicle in Design Technology and we are now getting ready to start making them. Watch this space for photos! In music we are enjoying our Pentatonic Percussion with Mrs Hailes and in Religious Education we are thinking about what it means to belong to different groups.
We are learning about changing the shape of materials in science, by squashing, squeezing, pushing, pulling, rolling and stretching. We experimented with clay to make some animals. We had great fun and some of our parents had the chance to see us at work as it was Open Day!
In history we have learned how transport has changed over the years. So in Design Technology we chose a vehicle to design, make and evaluate. Here are some of our vehicles.
Owls Class 2016-17
Summer Term 2017
The children have been learning about the explorers Neil Armstrong and Christopher Columbus. They have been looking at and comparing these two explorers, identifying the similarities and differences in them as people and in what they were famous for. The children had a great time learning about different sculptures of the human form and made some of their own out of lego, pipecleaners and playdough. The children also enjoyed growing their own runner beans this term, watching and recording them growing and changing.
Spring Term 2017
We have been learning all about animals and their habitats. We have learned about the things animals need to survive and what they need to live. We have been learning about safari animals. We really enjoyed our trip to Woburn Safari Park where we had the chance to see lots of animals. The bird show was amazing and when we went into the classroom for a workshop we actually had the chance to touch animal skins and also to stroke a real snake!!
We have been thinking about traditional tales in literacy. We have been learning about the features of these stories by listening to some traditional tales, thinking about the characters and the plot and planning some of our own. To help us with our topic we enjoyed a drama day all about traditional tales where we had lots of fun with the Funky Fairy who came in to help us.
Autumn Term 2016
We have been learning all about place value in maths. We have used lots of resources to help us like number cards, cubes and money. We worked well with our partners and demonstrated some very important Values.
In science we are learning all about materials. We carried out an investigation into how the shape of some materials can be changed by squashing, bending, squeezing and twisting.
In Design Technology we have been designing and making our own vehicles. We had lots of different ideas and had great fun using lots of different materials to make our vehicles.
In music we have been singing and learning to play some musical instruments.