Eagles Latest News
Spring Term 2020
Planting Osiers on Flitton Moor
On Monday, the Eagles visited Flitton Moor to help plant new Osiers, which are the branches of Willow trees planted to grow new trees. We met David, who works on the moor, and he showed us how to cut and plant osiers. We carefully used loppers to cut the new branches, then made holes in the ground and planted these new trees to help the forest to grow. We also made a willow tree tunnel in the forest. Then we walked back to school along the river, getting very muddy! A big thank you to David for this wonderful morning on the moor.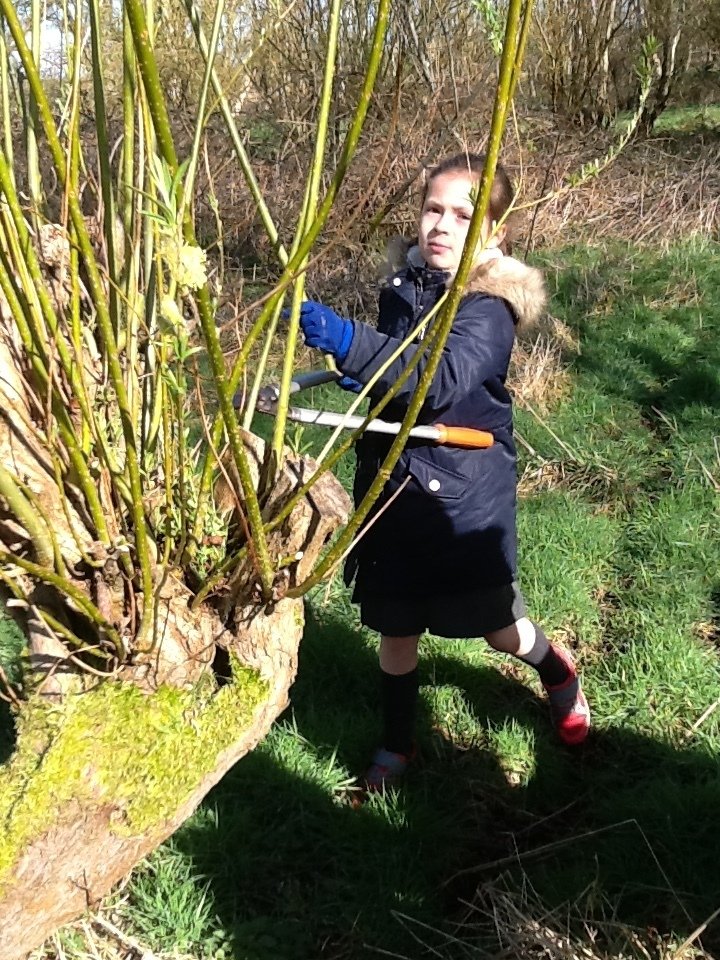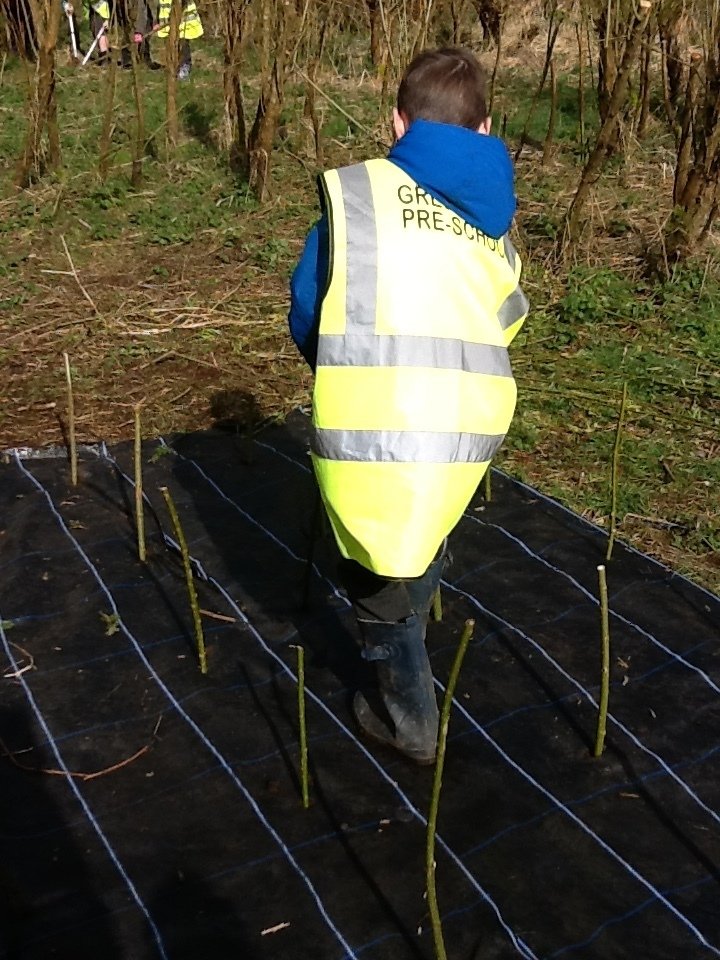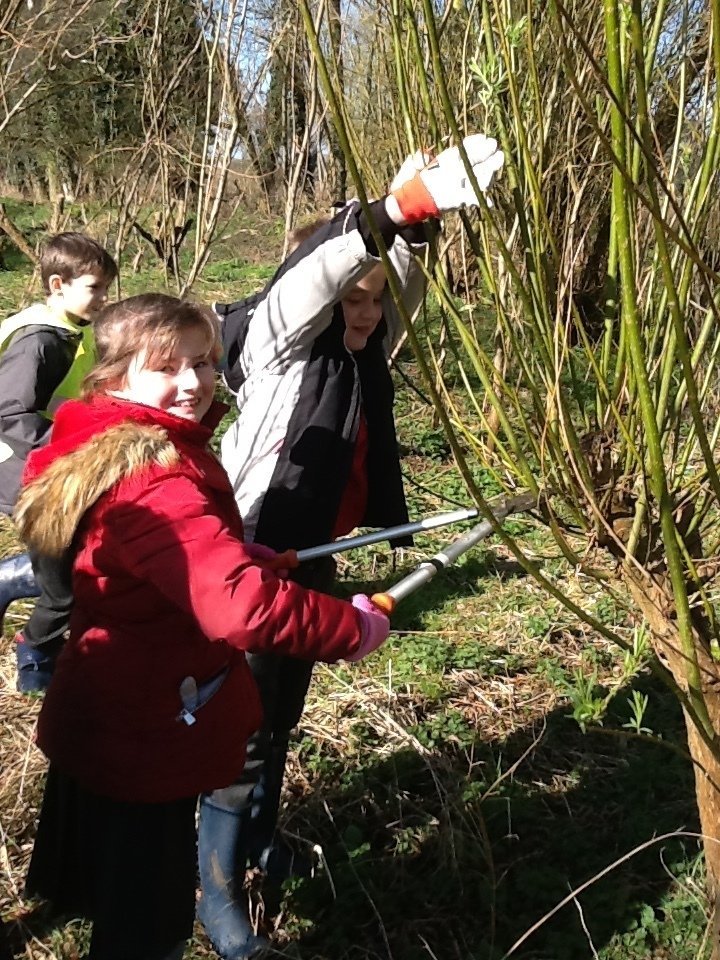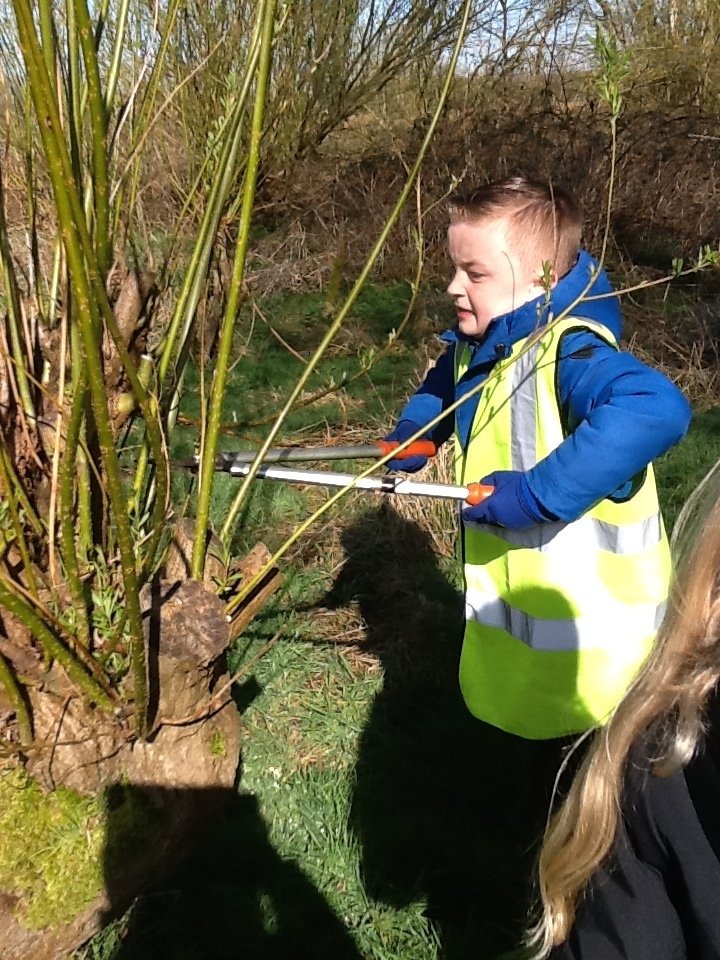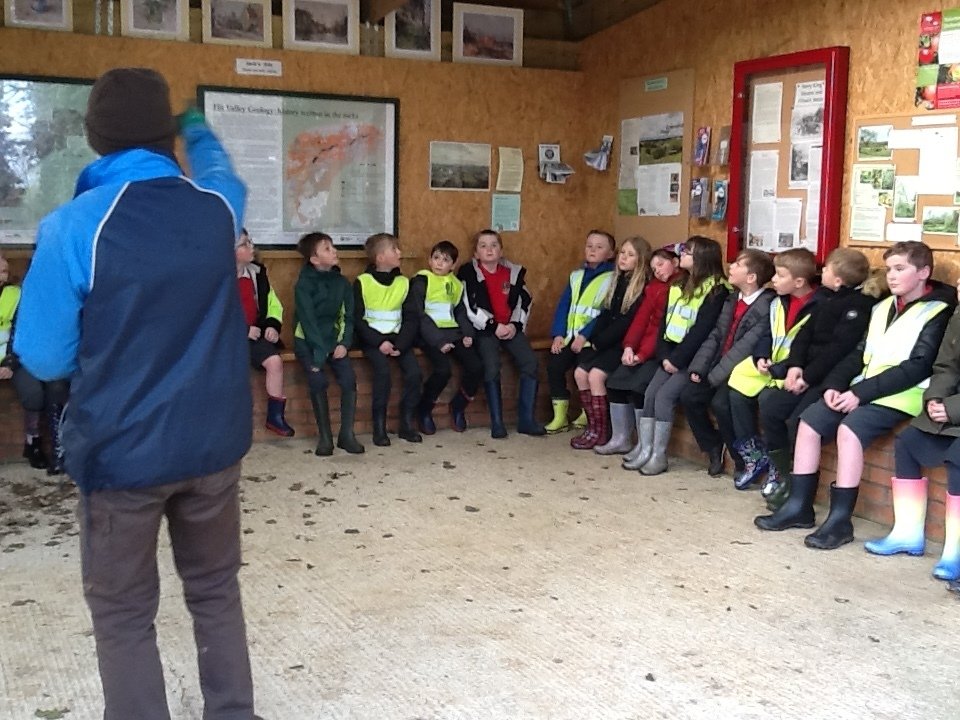 Art: Painting on the ceiling
This week in art the Eagles have been learning about Michelangelo, one of the most famous artists in the world. We looked at some of his most famous work, including La Pieta and David, and of course the Sistine Chapel. We then completed our own Sistine chapel work by drawing upside down under our tables! It was quite difficult, and we couldn't believe that Michelangelo spent 4 years doing the same thing!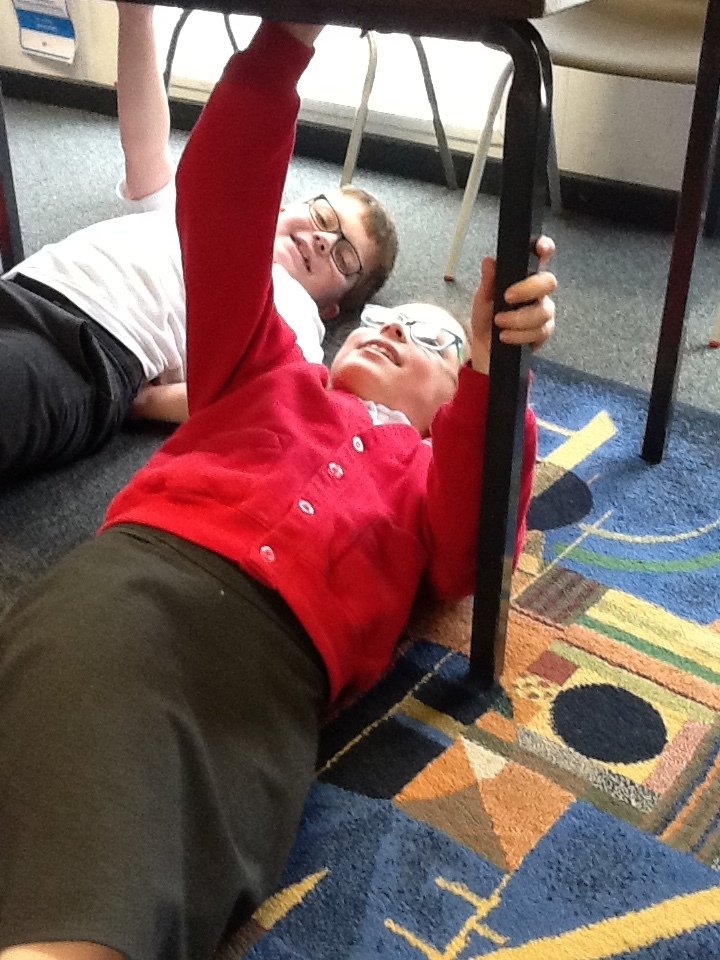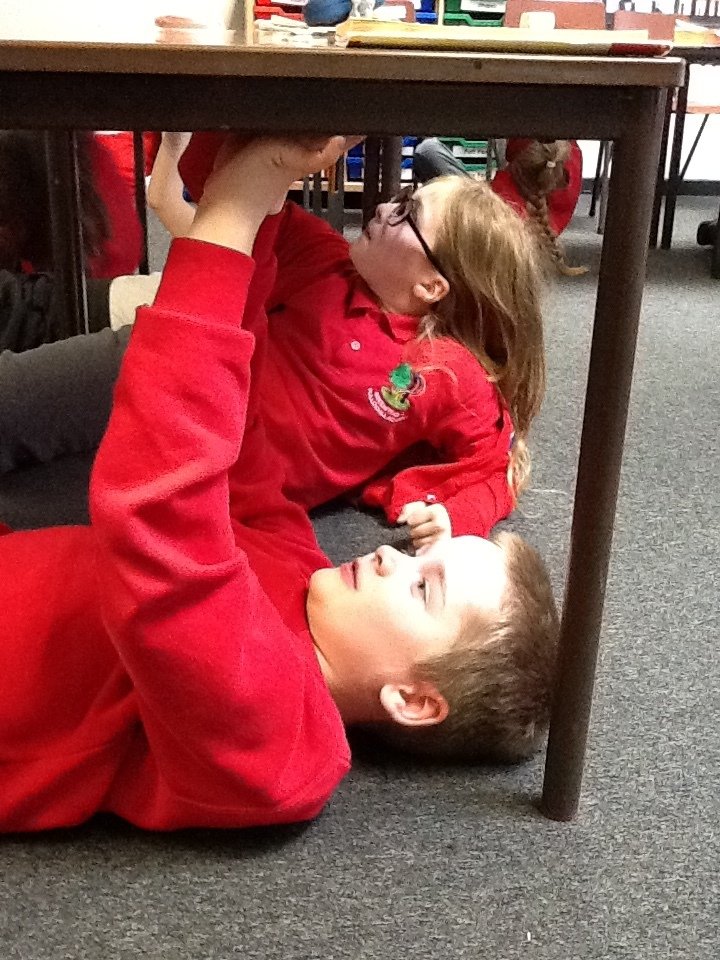 DT: Sewing pencil cases
The Eagles have been practising our sewing skills to make pencil cases this half term. We looked at how pencil cases are made, then designed our own in our sketch books. Then we learnt some new stitches; running stitch, back stitch and whip stitch. We sewed our designs onto our fabric, then sewed up the sides to make a pencil case shape, and finally sewed on the buttons.
Everyone's designs were so different and colourful. We had some children choose to sew their names onto their pencil case, while others went for an animal such as a dog or a giraffe. Others had wonderful spirals and stripe patterns on theirs. Hopefully they will be very useful in the future!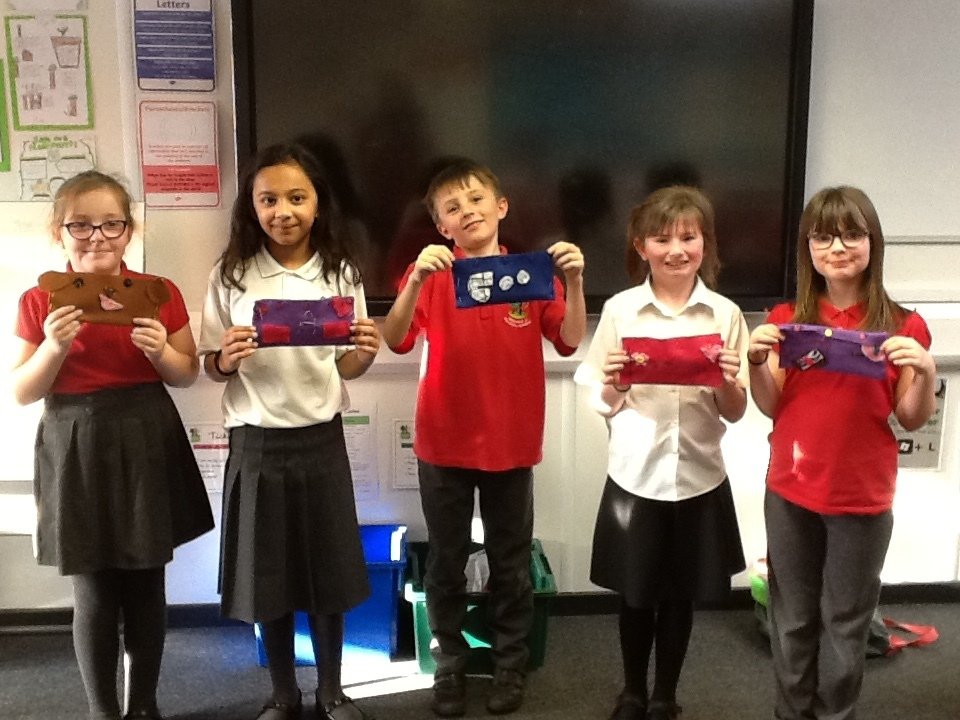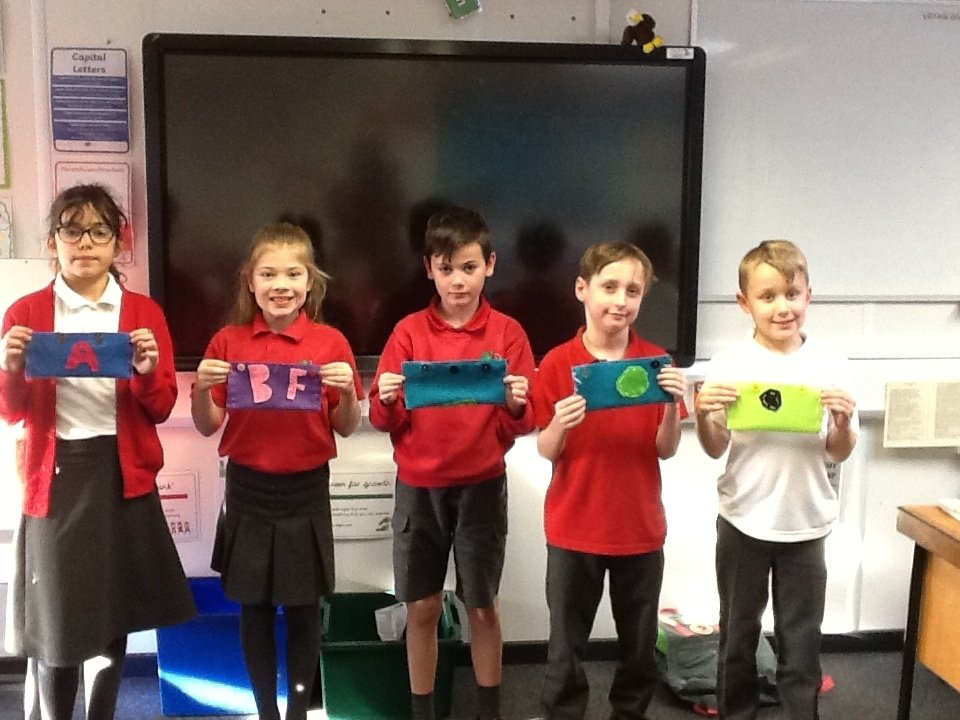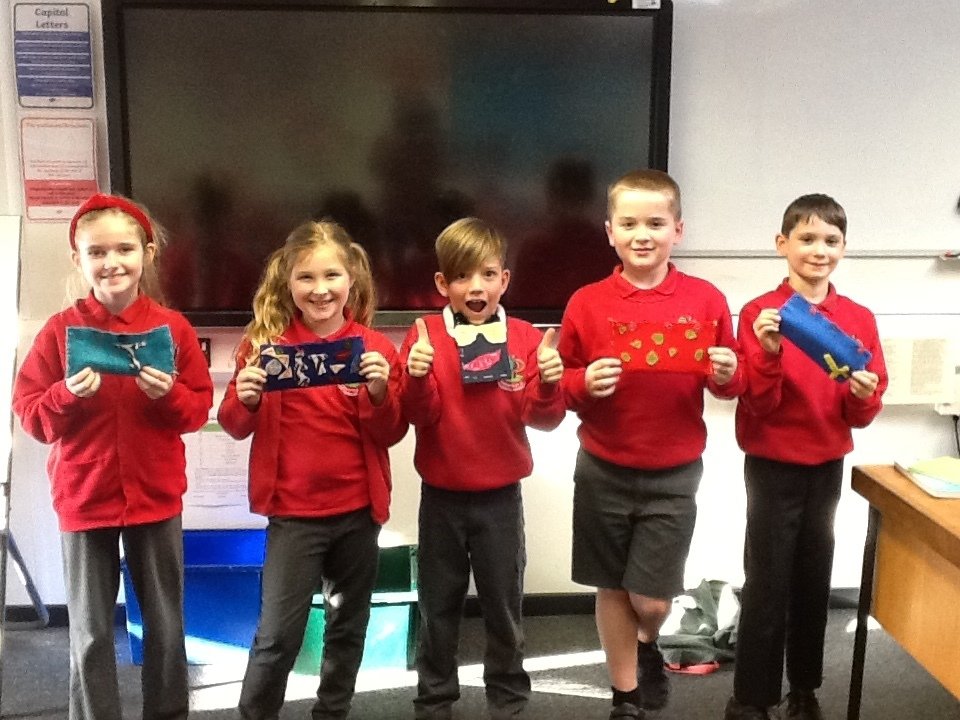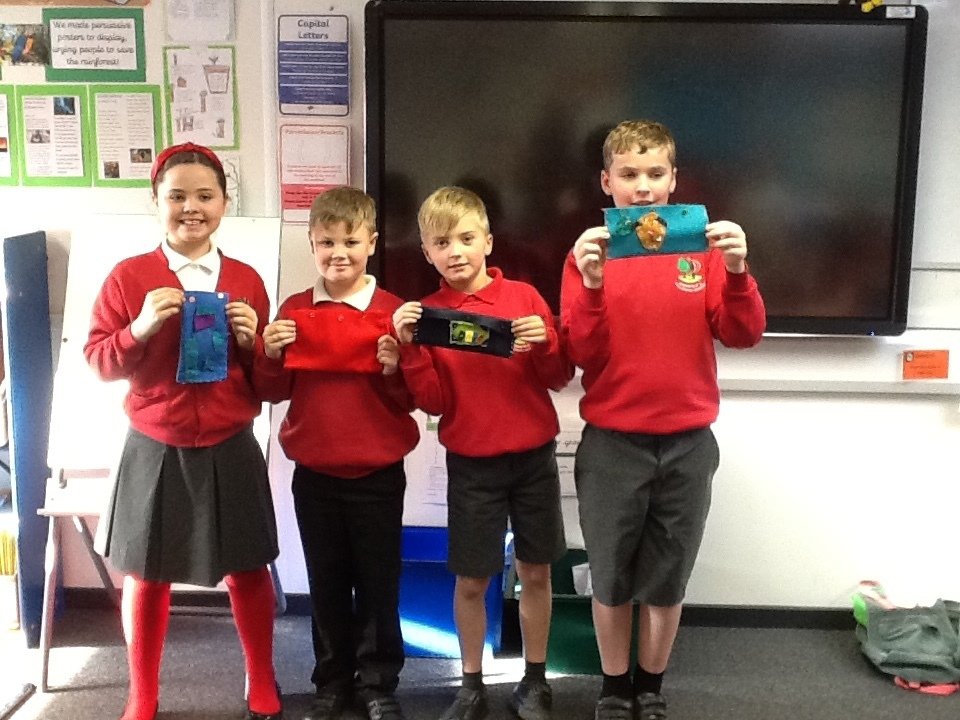 Science: States of Matter
Welcome back to everyone after a lovely Christmas break! We have been very busy for the first few weeks of 2020 getting stuck into all of our new topics and projects. We have been learning about States of Matter over the last few weeks, and this week we explored the water cycle and how it works. We grew our own mini water worlds to demonstrate the water cycle using cress seeds.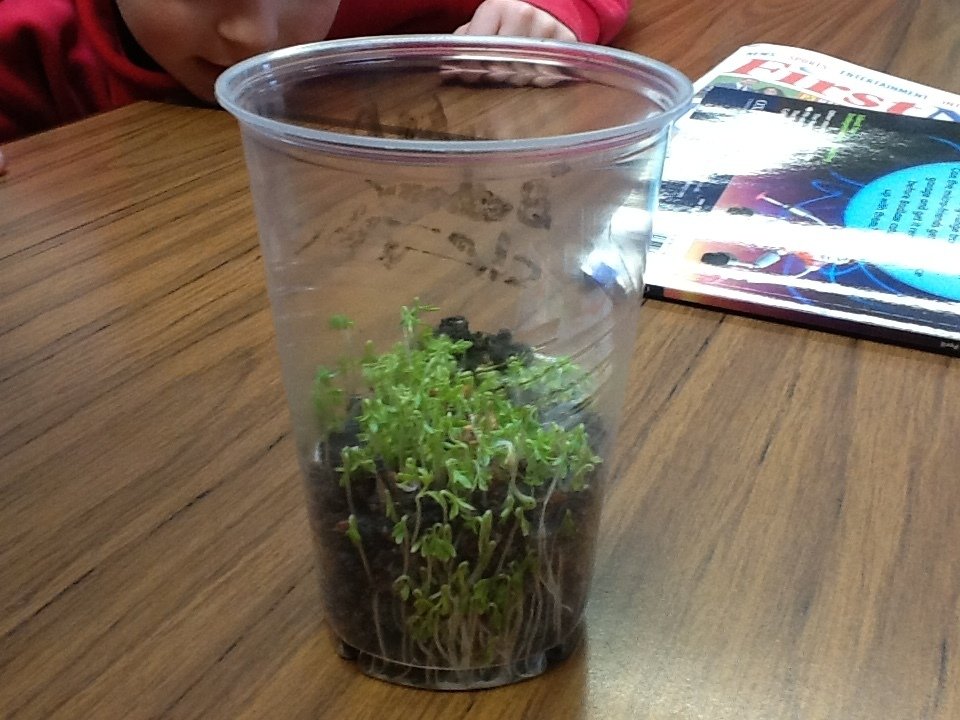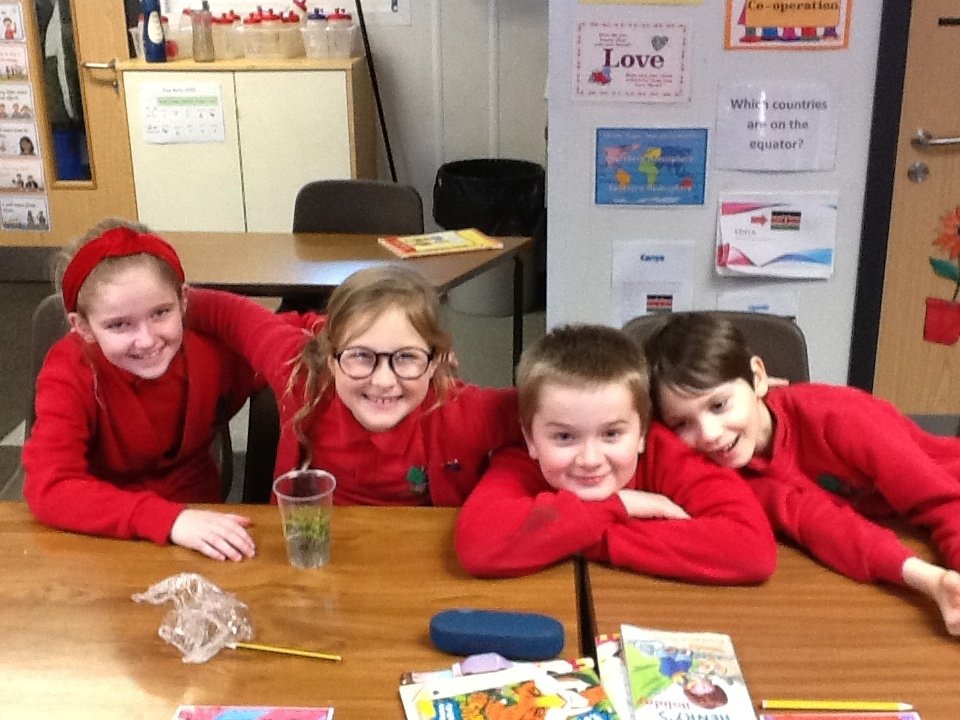 We also made our own versions of the Water Cycle at home using whatever materials we wished. There were some amazing projects presented to the class and we all learnt a lot!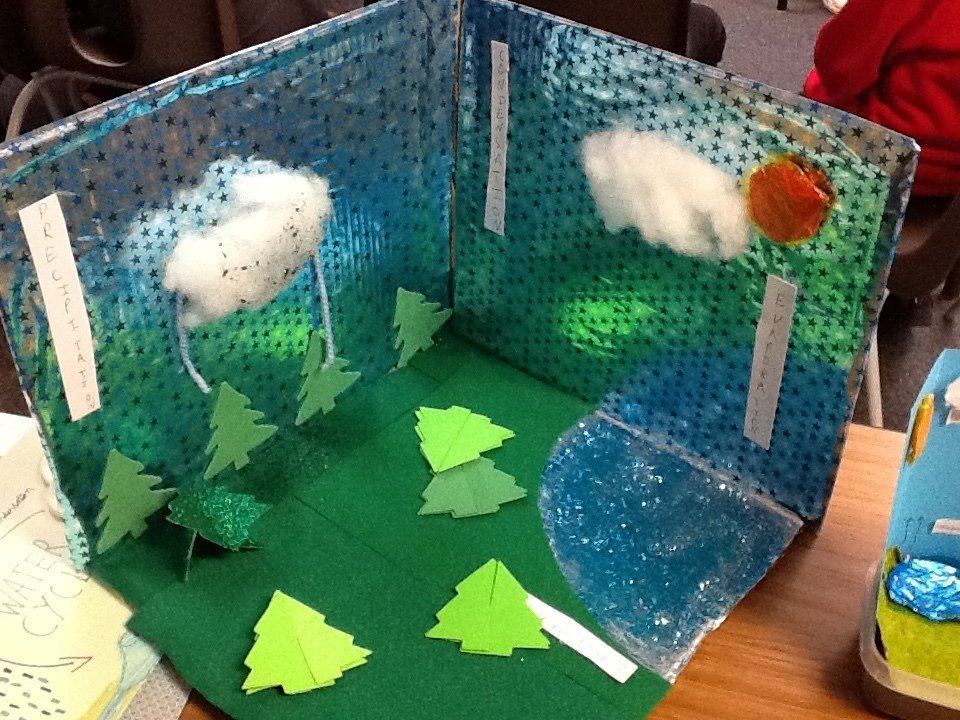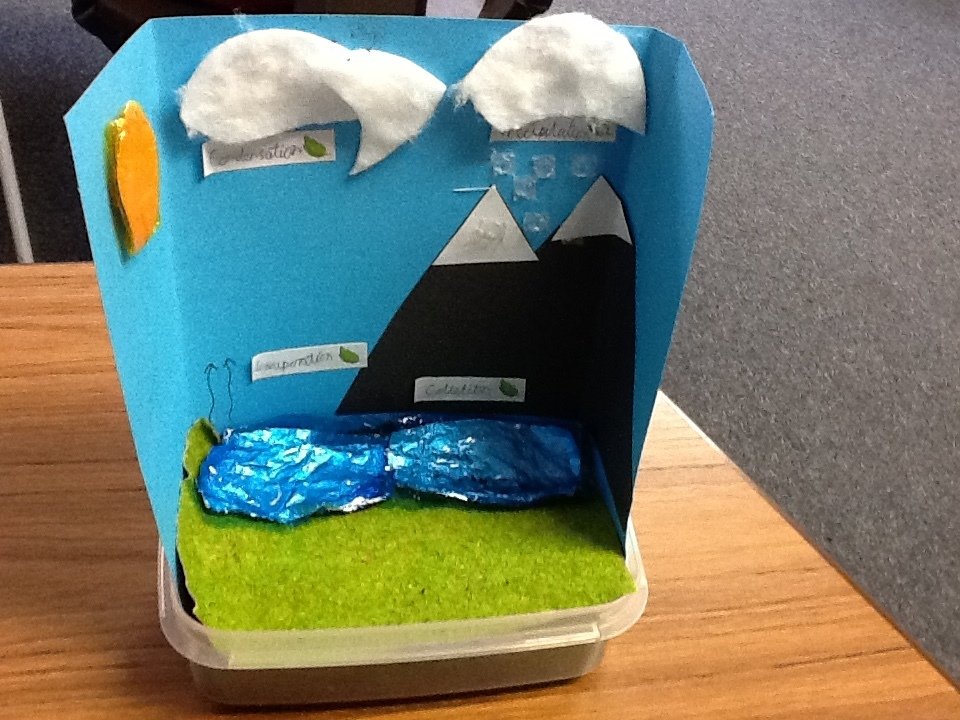 Autumn Term 2019
Maths weight challenge
We have been learning about weight and estimation in maths this week. We put our knowledge into practise by using weighing scales to measure the weight of different objects. We first estimated how heavy we thought the object would be, and then we weighed it to see if we were correct. A lot of our guesses were very accurate!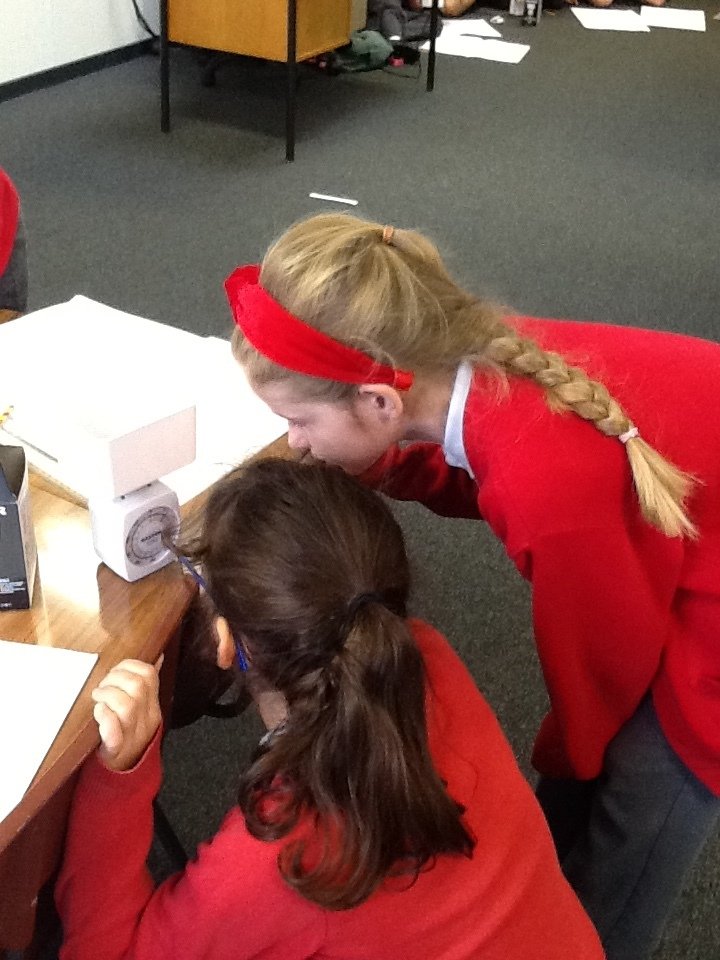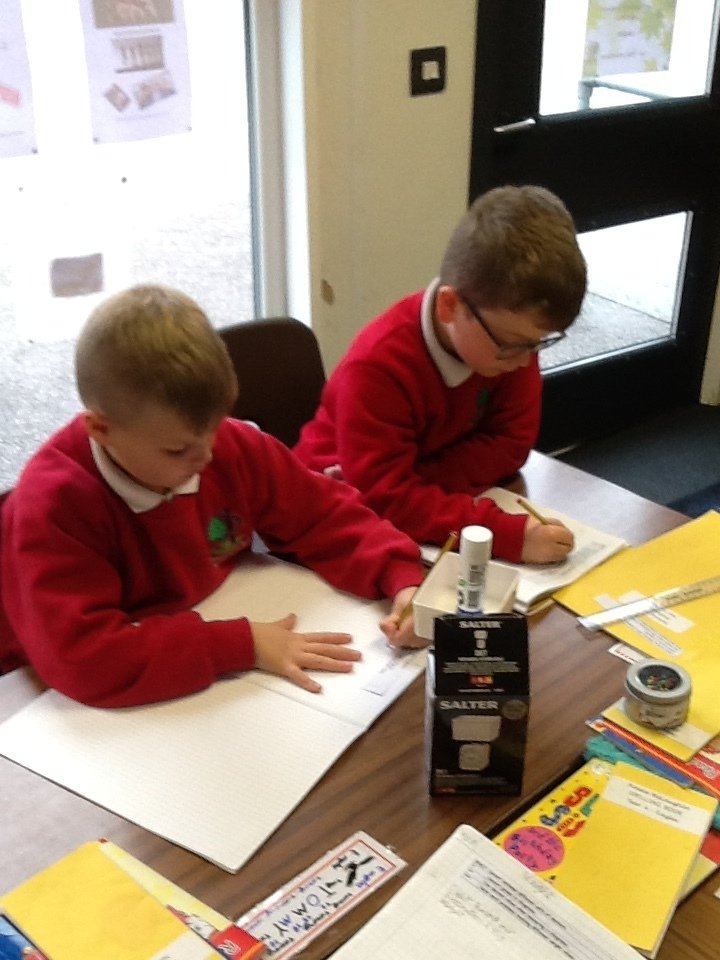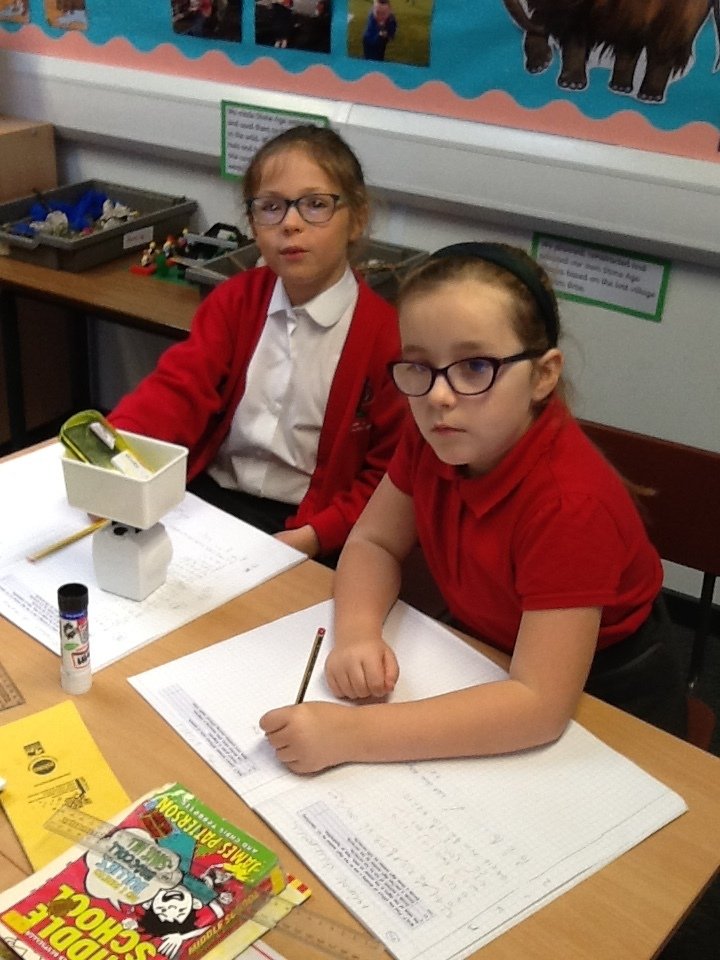 Stone Age Day!
What an amazing day we had this Thursday! All of the Eagles wore their best Stone Age costumes and did their best Neanderthal impressions. We learnt all about the different animals that lived during the Stone Age, what life was life for people in Britain at the time, and about how the Stone Age evolved into the Iron Age, and eventually the Bronze Age. The best part of the day was getting to hold and handle amazing original artefacts from the Stone Age, such as a real Mammoth tusk, a shooting star all the way from space and the tooth of a Megaladon shark! Being able to see history brought to life in front of our eyes is something we won't forget in a hurry. Thank you so much to Dan from Portals to the past for hosting this amazing experience!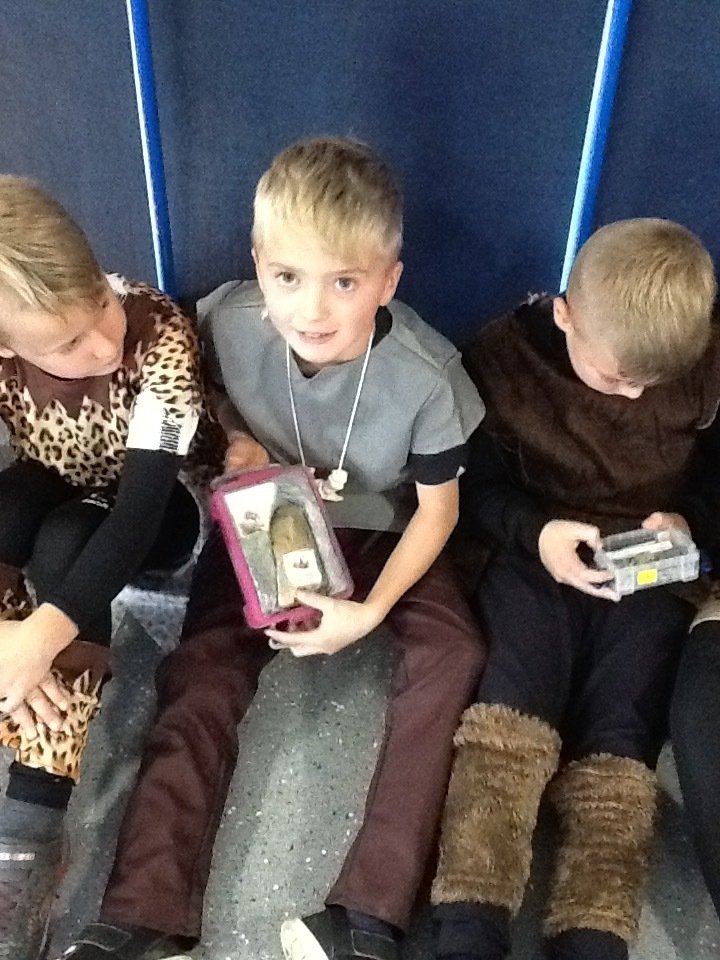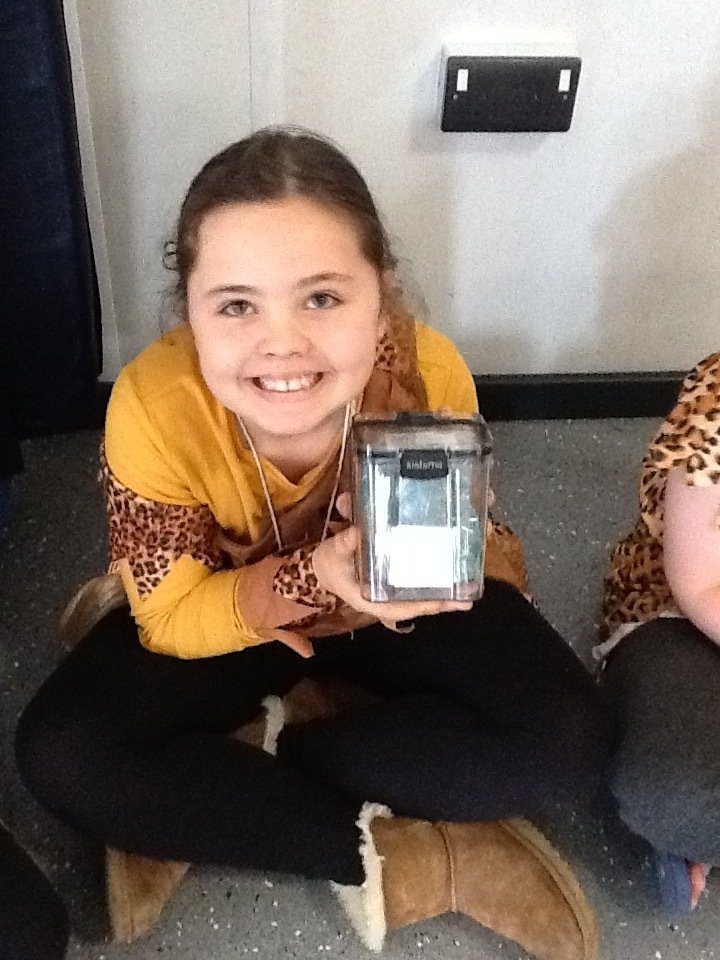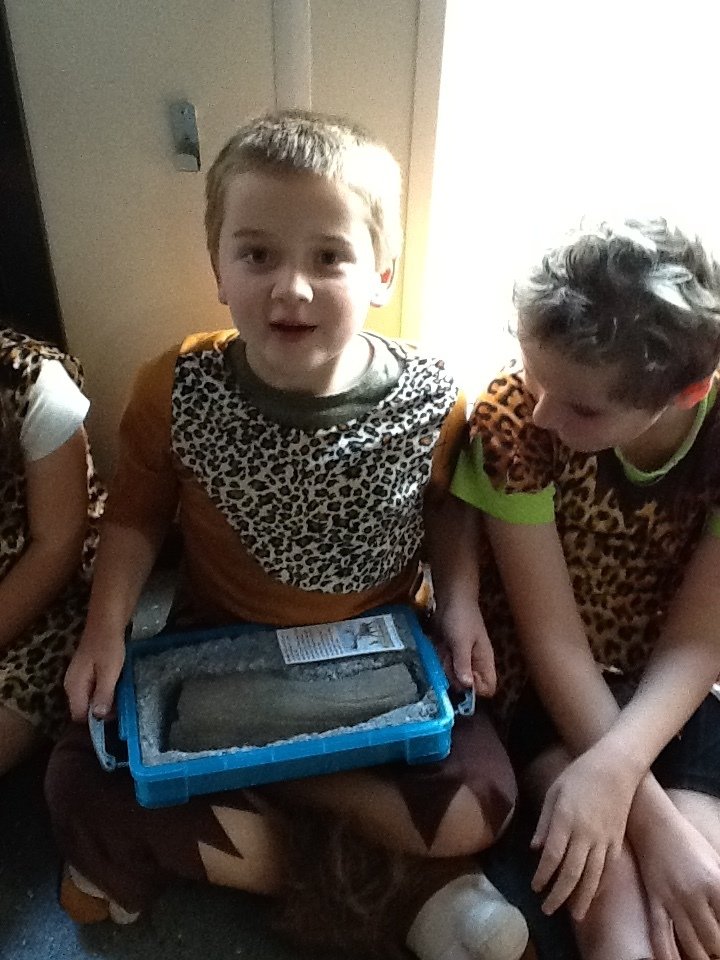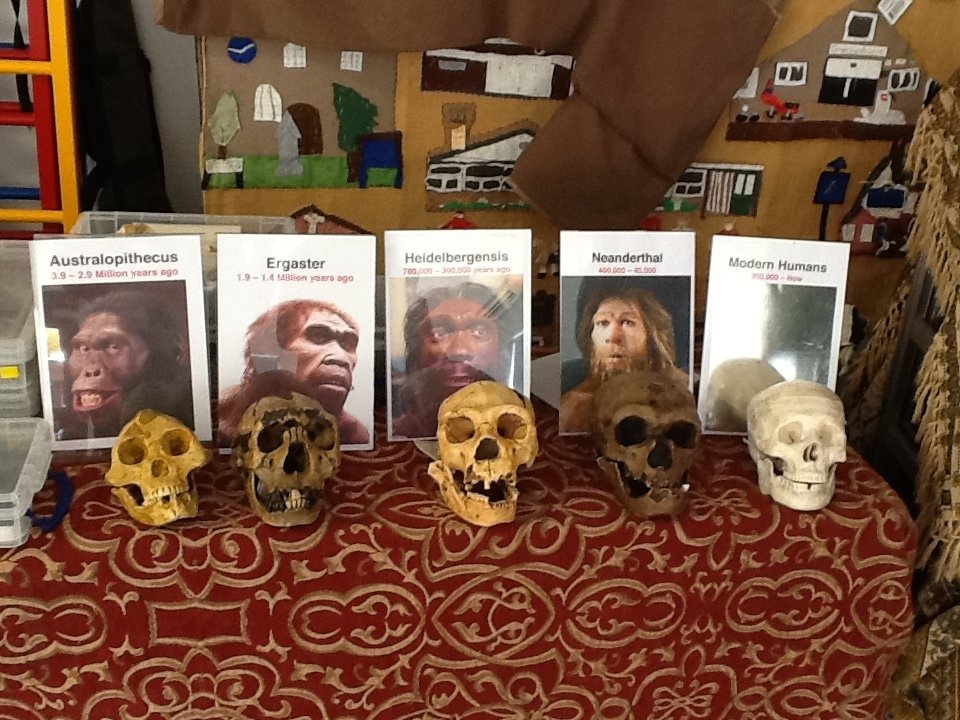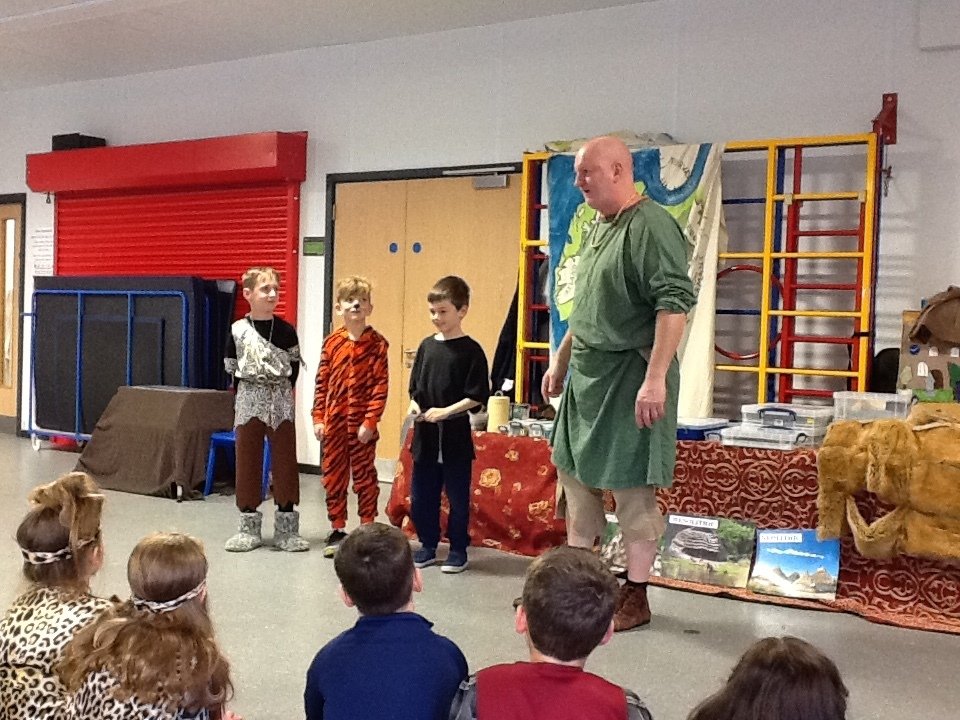 Stone Age necklaces
This week the Eagles have been preparing for our Stone Age day by making Stone Age necklaces. We made salt dough using flour, salt and water, then made jewellery using a pattern of bones, teeth and rocks. We then threaded all of our pieces onto string. We cannot wait to wear them next week with our fabulous Stone age costumes!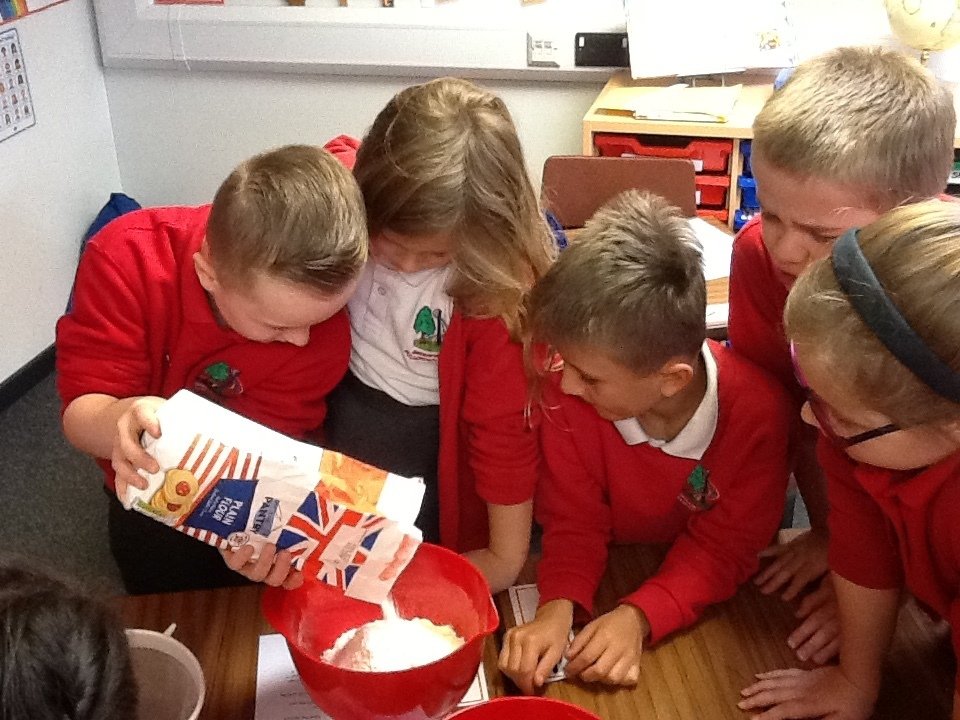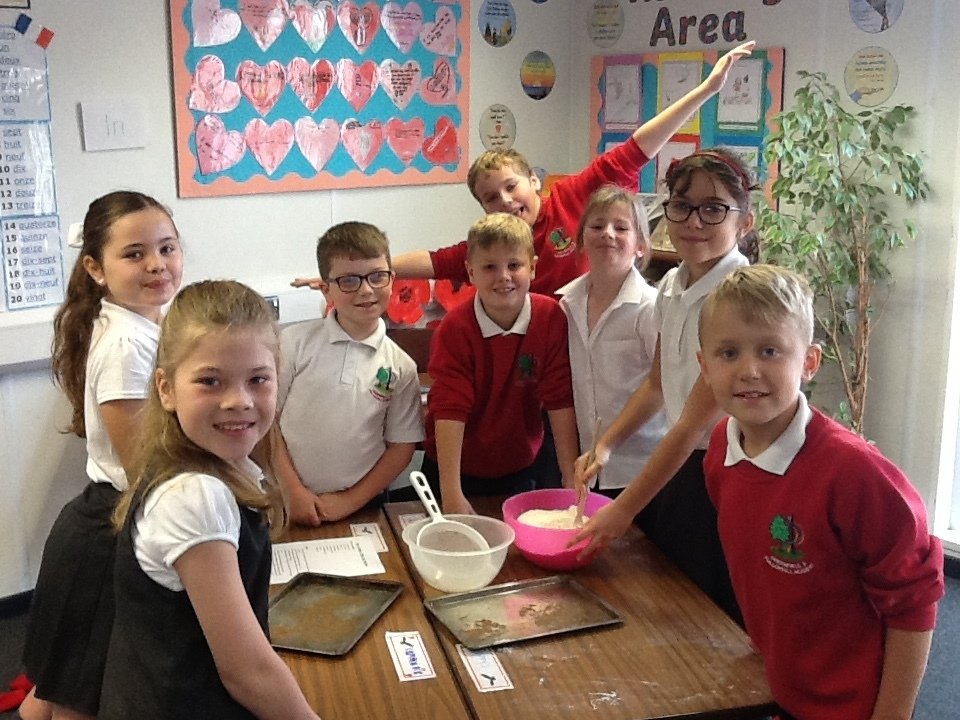 Hunter-Gatherers
We have been learning about how people found food during the Stone Age. We picked up our Stone Age tools and went out into the wilderness of Greenfield to hunt for animals, and to gather berries, nuts and other plants. We caught Mammoths and Sabre-Tooth Tigers, and gathered nettles, berries and dandelions. We had to be very careful to find plants that wouldn't be poisonous!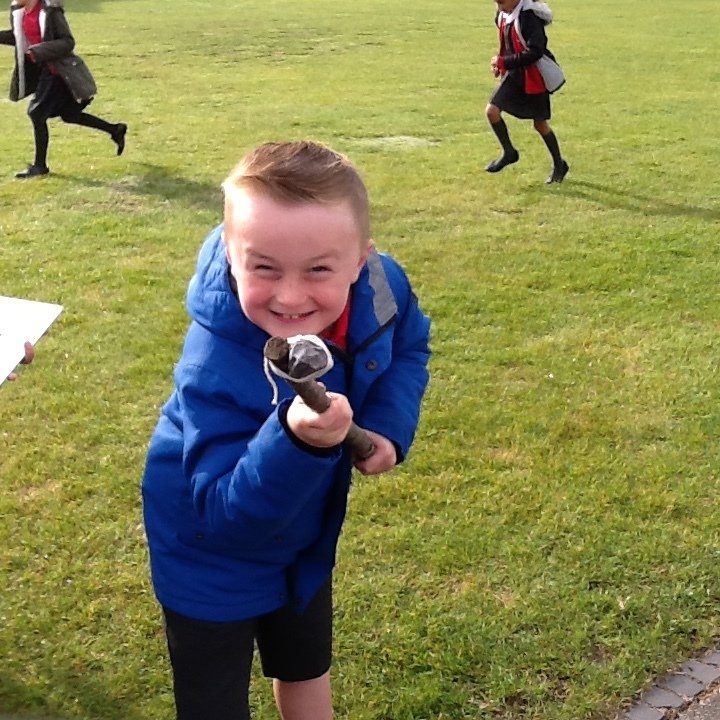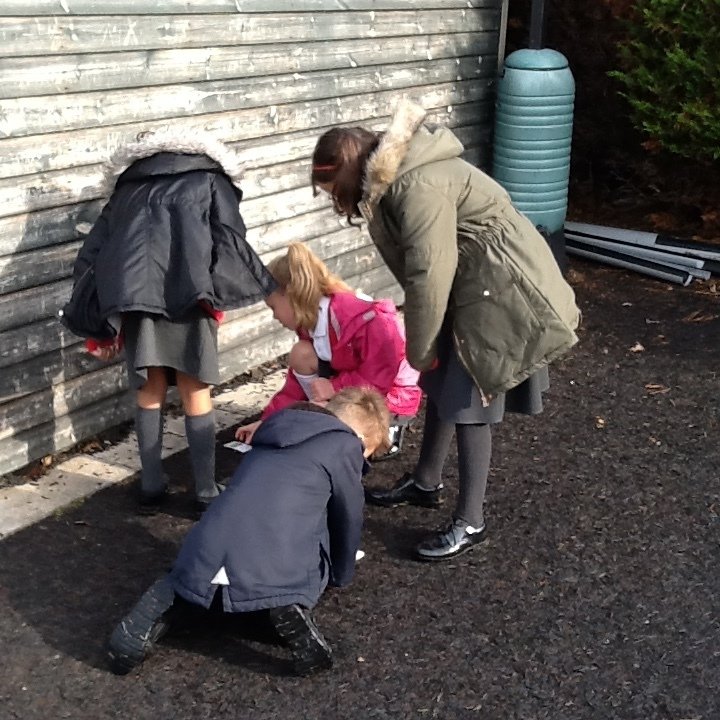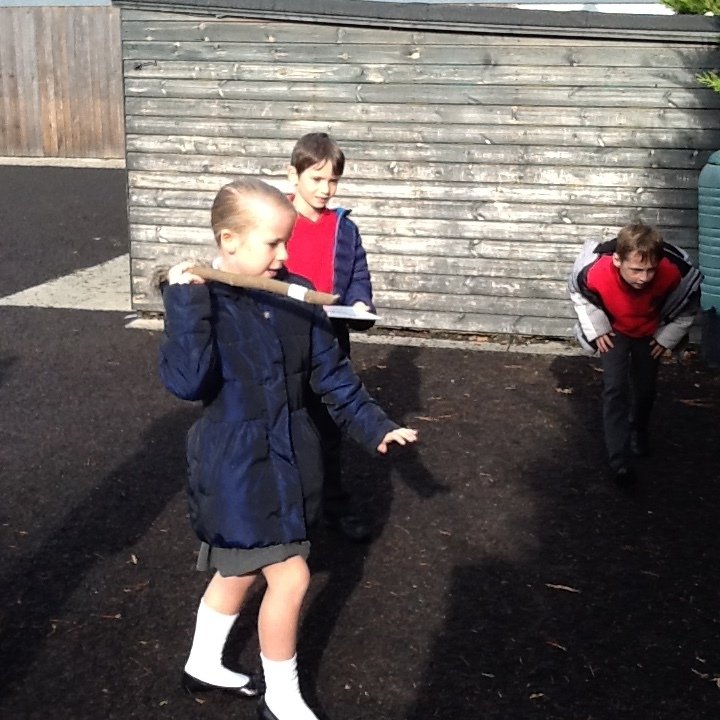 Stone Age
Welcome to all our new school leaders, the Eagles! We have been busy learning all about our first topic of the year, the Stone Age. We have been learning where the first humans came from and how they lived. This week we designed and made our own stone age tools, using only materials that would have been available to the first humans. We collected sticks and rocks and made a wide variety of tools such as axes, hammers, grindstones and even a slingshot! As a class we discussed the kind of stones that would make an effective tool, and we realised how difficult finding food would have been for Stone Age people. Great work Eagles!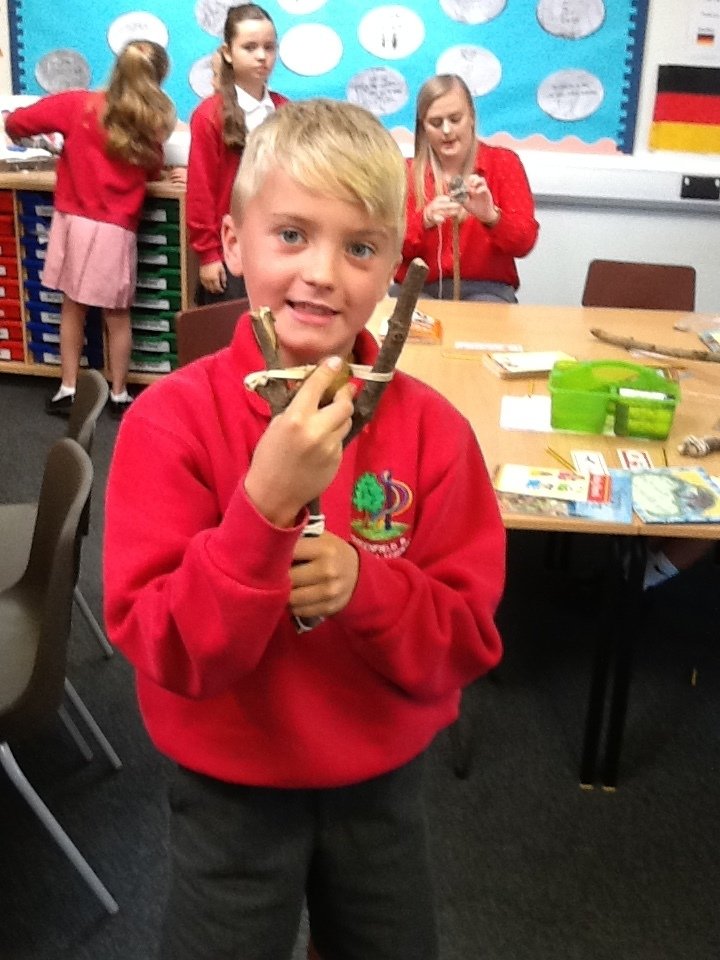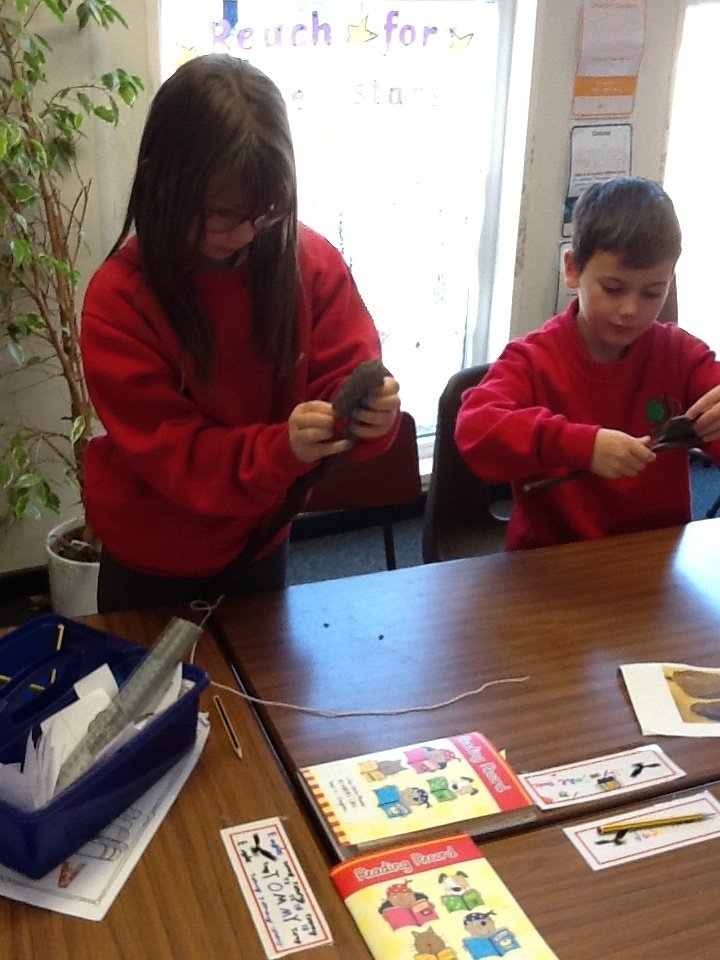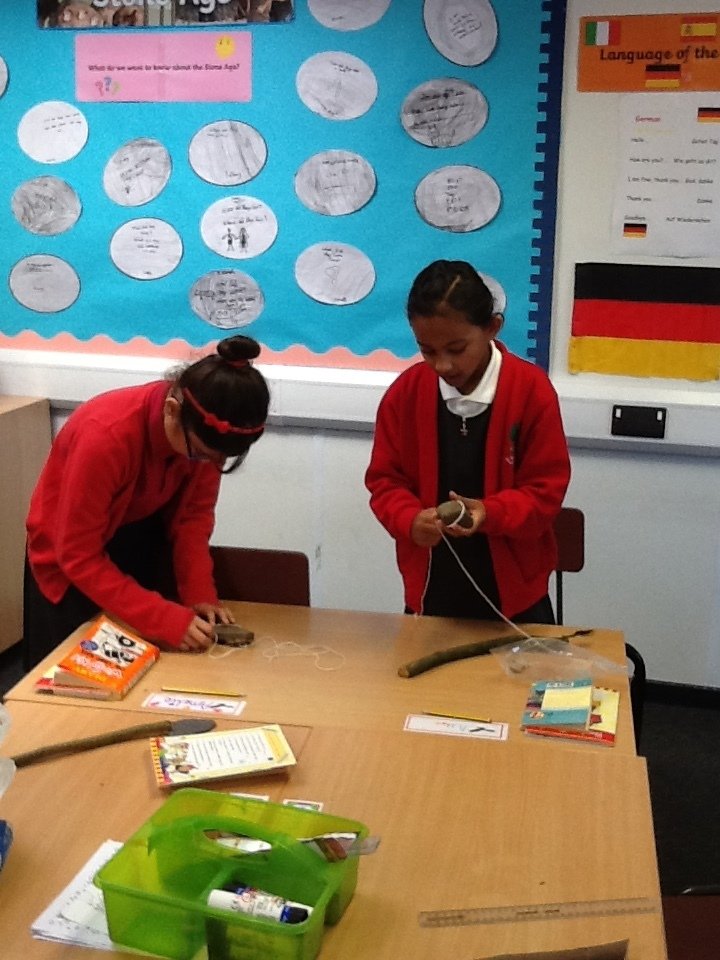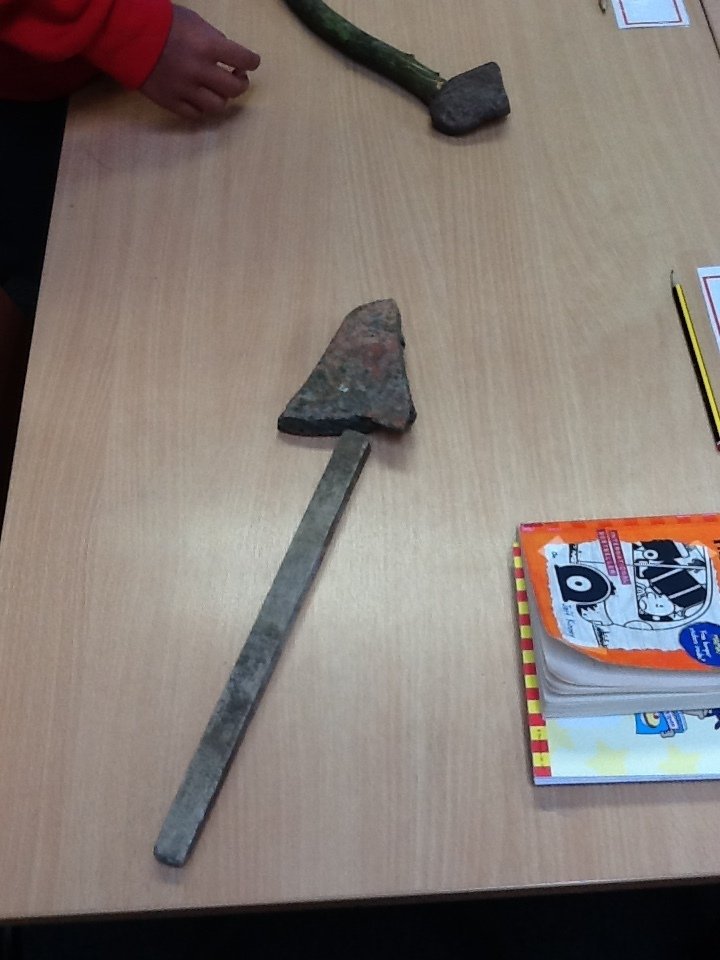 Spring Term 2019
Osiers
This week we followed in an Eagles tradition of working at Flitton Moor on the development and conservation of the Osiers. Eagles have been doing this for around 14 years and it was lovely to see the work of previous years. We walked down to the Moor, had a safety talk and then began work. We cut down osiers and then worked in groups to plant them into a tunnel shape. In another area, we planted new osiers. The children worked hard and were complimented on their wonderful behaviour by the volunteers. Well done Eagles.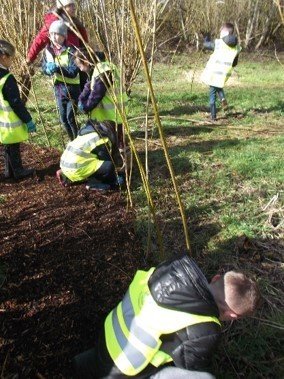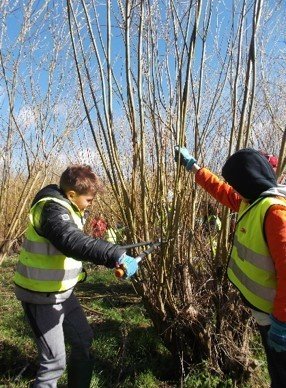 Portraits
In art, we have been learning about famous artists who are known for painting portraits. We drew our own face using a mirror first and then learnt how faces are full of maths! We used a ruler to draw lines on an oval shape showing the correct proportions for faces. Look at these brilliant before and after teaching faces!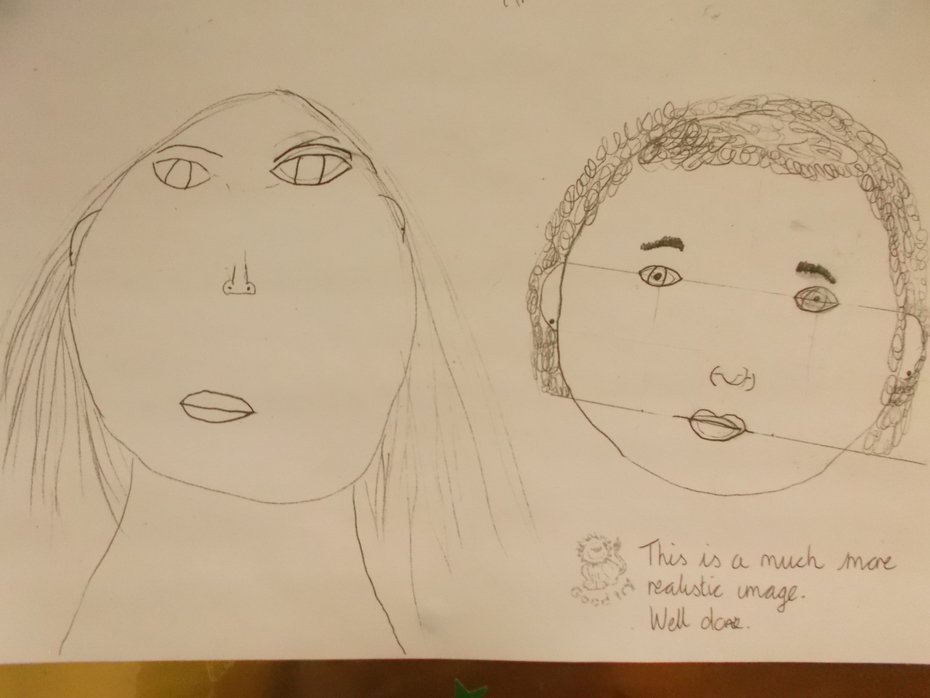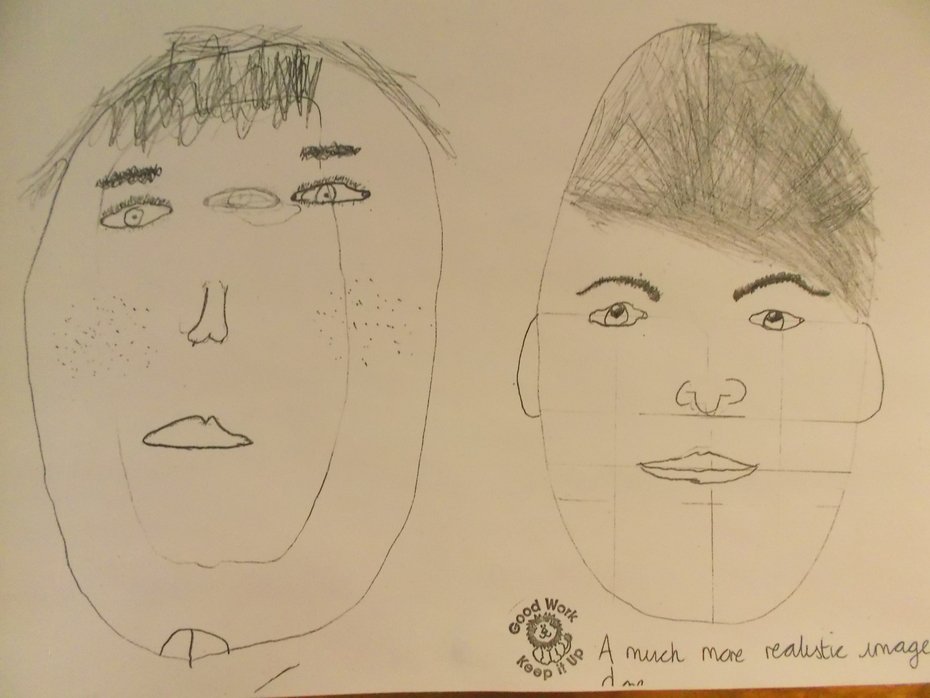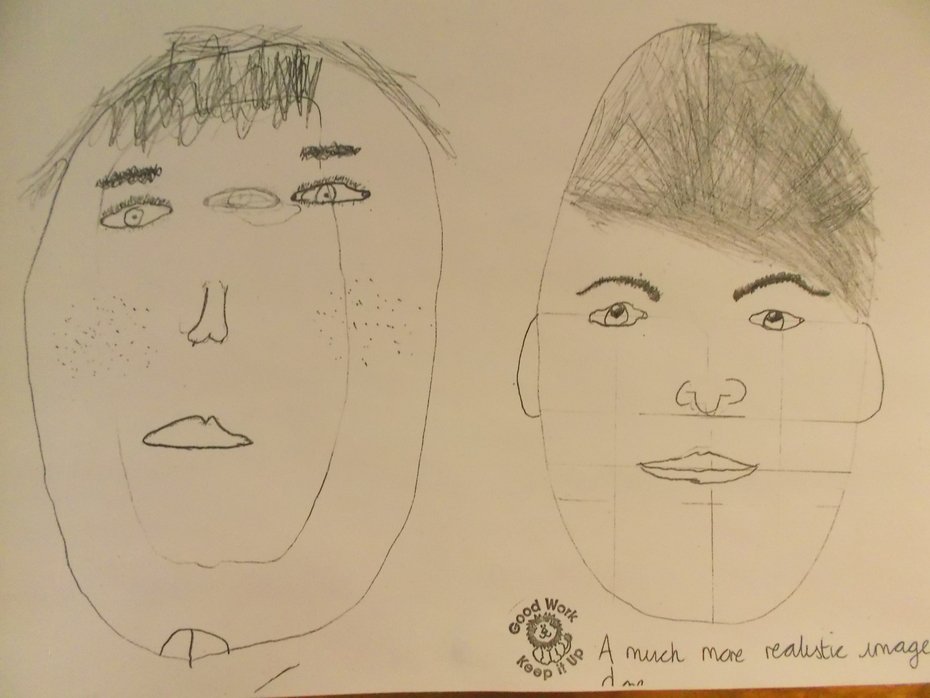 Our plays
This term our topic is 'Humans and other Animals'. In English we have been reading 'James and the Giant Peach. We wrote our own scenes based on this text and then performed them for the class. We took feedback and improved our performances.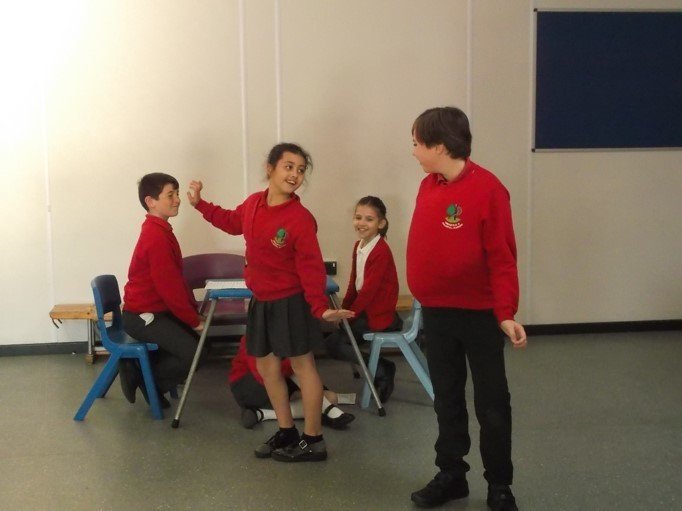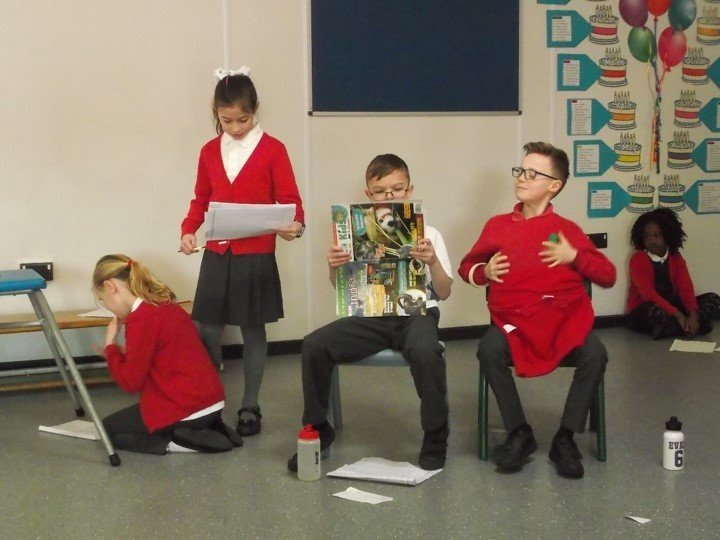 Autumn Term 2018
Egyptian Day.
We had a fantastic day to celebrate our Egyptian topic. We all dressed up as explorers and Ancient Egyptians. In the morning, we played Egyptian games, completed an Egyptian quiz and learned about the fascinating history of this ancient culture. In the afternoon, we recreated an Egyptian Pharaoh being appointed, went on a hunt, saw the Pharaoh dying, be mummified and buried in a tomb! We learnt so much and had a great day!
Our German friends
From September 18th - 20th we were visited by 16 German students and their teachers as part of our exchange. We had a wonderful time together. We learnt that we could communicate in many different ways, not just through using language. We did quizzes written in both English and German and had to work with our partners to find the answers to the questions. On Tuesday afternoon we made boats from a range of materials and investigated how they could move across water. On Wednesday we visited the Canal Museum in Stoke Bruene. We had a trip on a boat, worked the locks and did a sculpture walk. We played games with each other and ate dinner together - including a meal at the pub!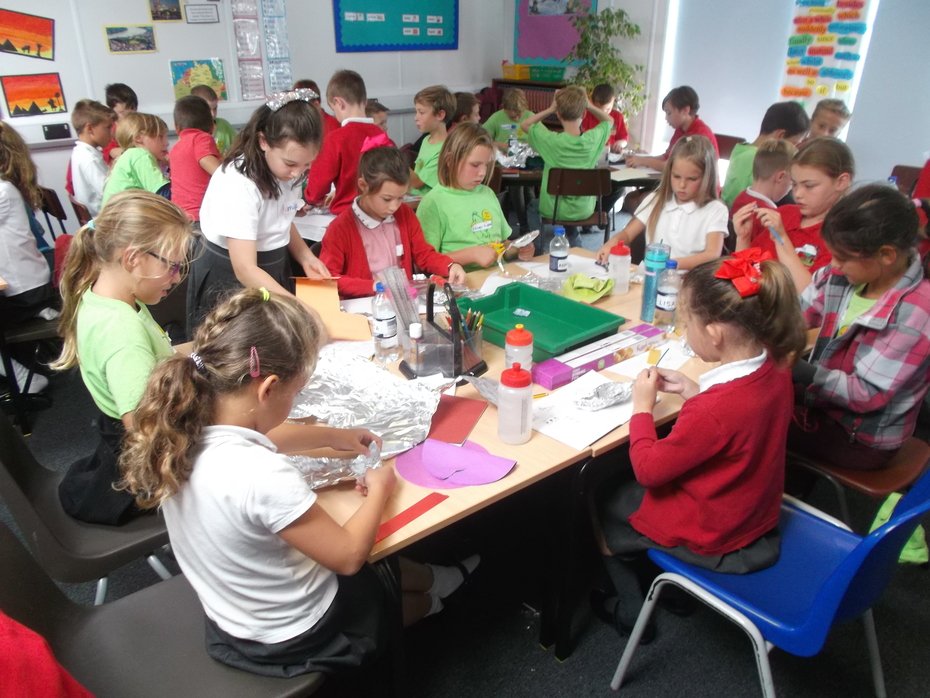 A
Summer Term 2018
Eagles and Dragonflies get together
Whilst some of the year 4s were on a trip to the Isle of Wight, those who remained spent the week together at Greenfield School. They experienced a wide variety of fun activities including a maths challenge to rid the Eagles' Class of two resident Spookies! There were lots of eco activities including bird cake making, bug hunts, weeding, planting and making two wonderful bug hotels - one for each school. Mr Staff constructed the hotels for us using wooden pallets and we all brought different materials into school with which to fill them! It was great fun and we hope that the insects will love living in the new cosy hotels! We spent an afternoon exploring and orienteering around Centenary wood. We were in groups of four with an adult and had to use a map of the woods to find 8 hidden checkpoints. It was easy to get lost as there were so many different footpaths, but our map reading skills were good and each team worked together well and succeeded.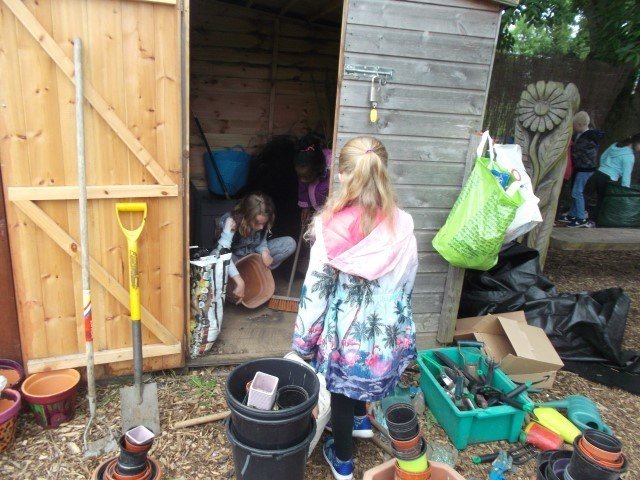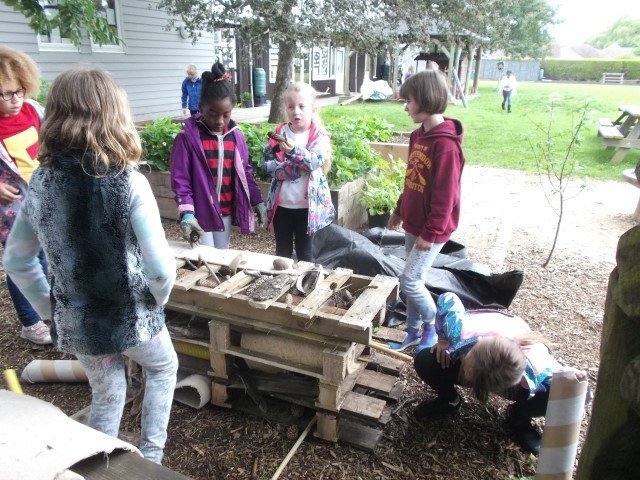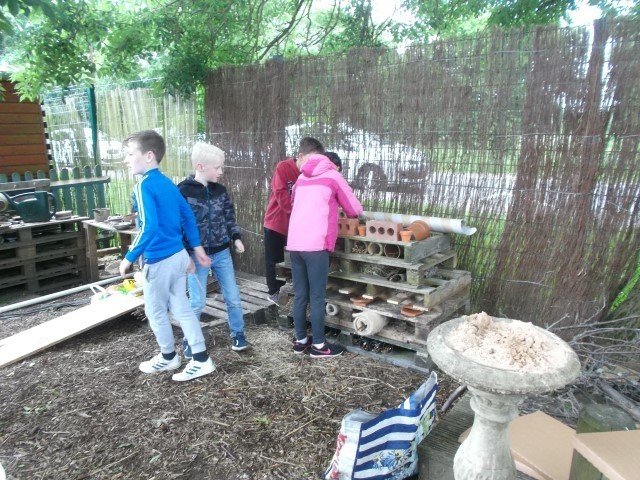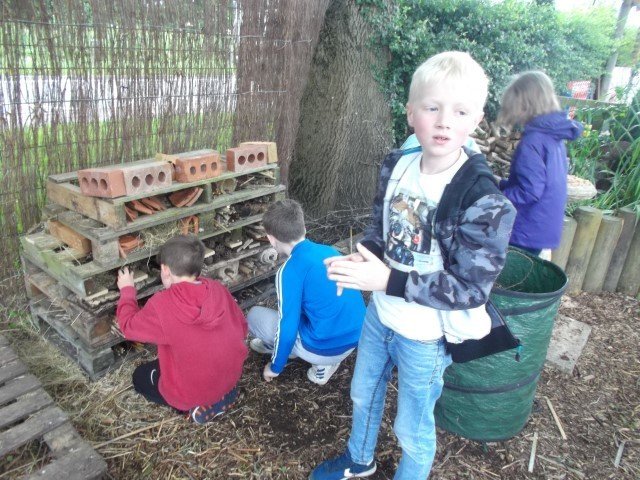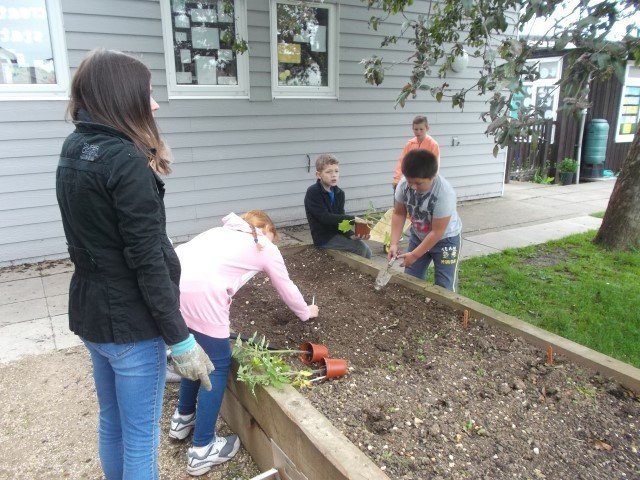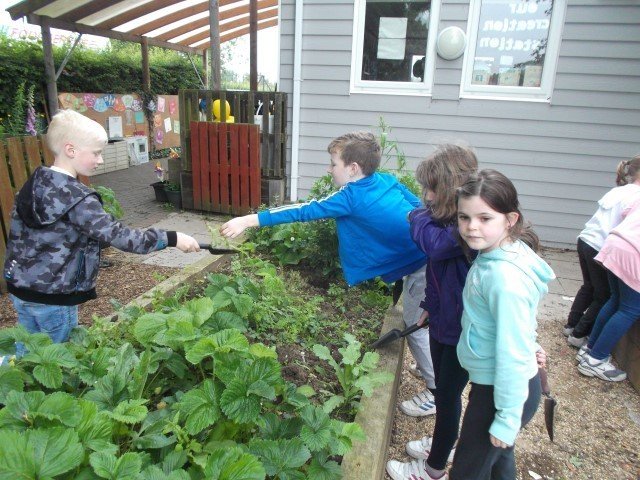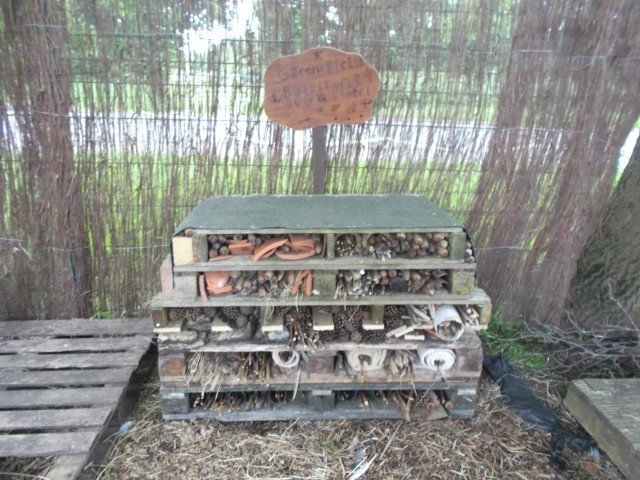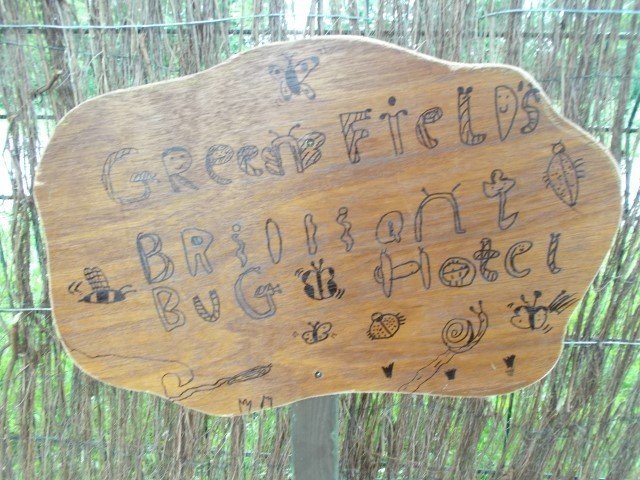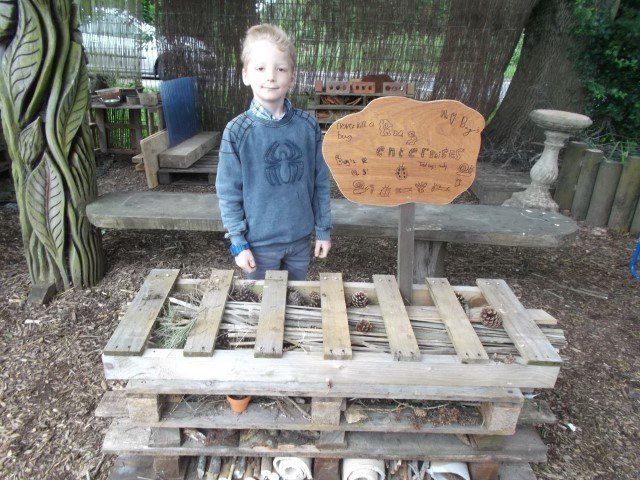 Neverending News
Lyla and Elsie have produced Issue 2 of the school newsletter. They have written up articles and interviewed children. Talk to them if you have something you would like to add to the newsletter.
Click here to read 'Neverending News.' Issue 2
Class Trip to Centenary Wood
We have just enjoyed a wonderful trip to Centenary Wood. We were blessed with a lovely sunny afternoon for our walk to the wood. Local naturalists, Jane and Guy Lambourne (who spend a lot of time working in Centenary Wood) invited us to join them. Jane is a story teller and she enraptured us all with her woodland stories and her fabulous fibs. We scoured the woodland searching for interesting natural objects and used them to tell our own fabulous fibs. Then we walked further into the woods and met Guy, the woodcutter. He told us how he coppices the hazel trees and sells the branches to local garden centres for pea sticks and bean poles. He also burns the wood to make charcoal for use on people's barbecues. He showed us how he can chop a branch so that it is still attached to the main trunk and then he can lie it on the ground, cover it with soil and the branch will start to grow roots and more hazel trees will start to grow. A big thank you to Jane and Guy for a fascinating and enjoyable trip.
Performing poetry
In literacy, we have been performing poetry. We worked in groups to learn a verse from 'The Jabberwocky'. We considered how to use our voice to add meaning to the verse. We were given the opportunity to use instruments to add atmosphere to our performance. We worked hard to evaluate each others' work and made improvements to our work.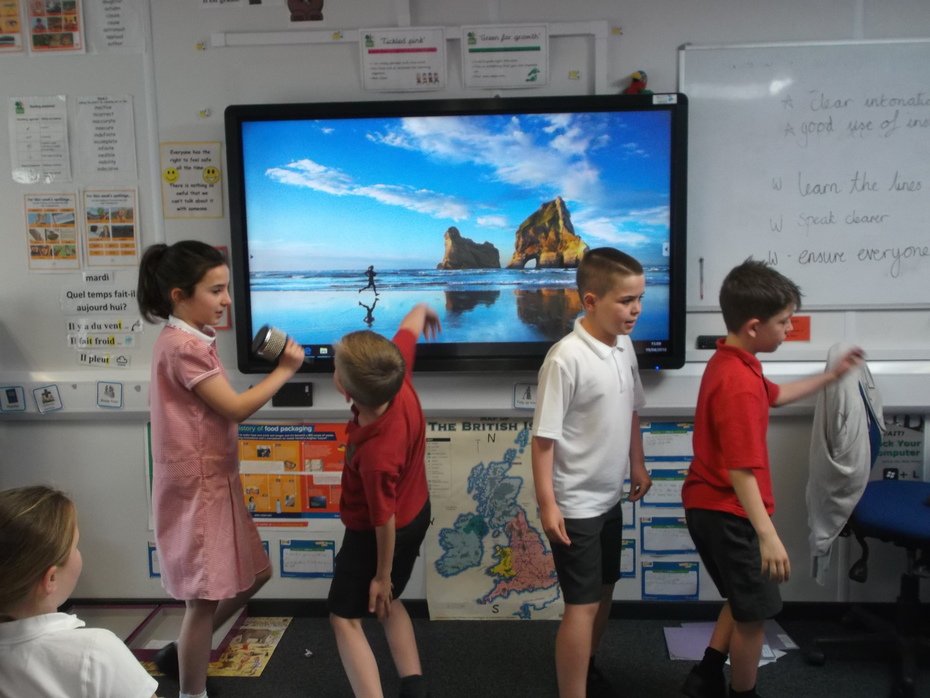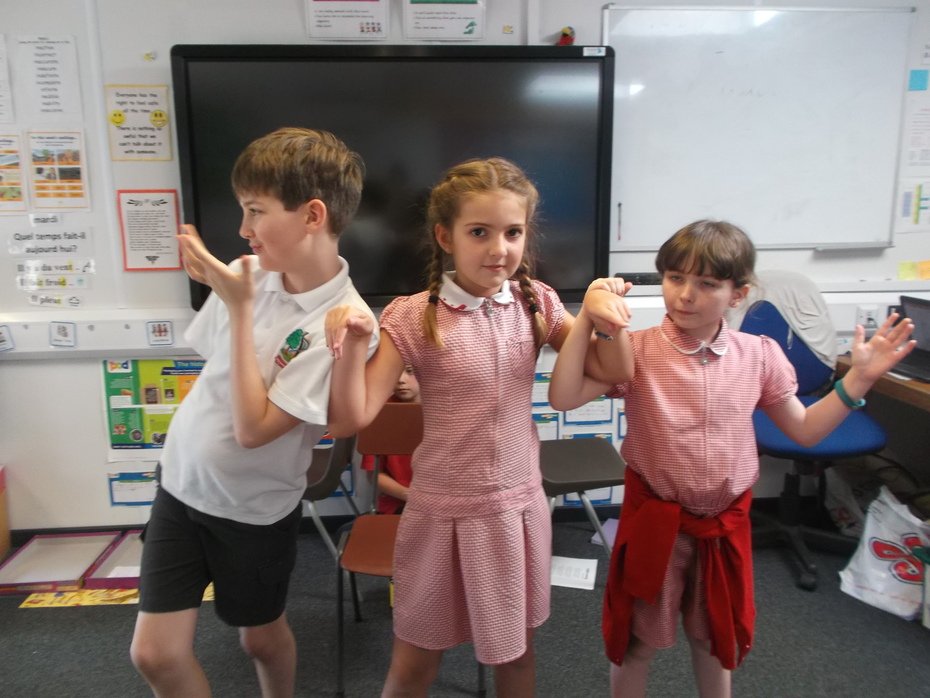 Spring Term 2018
Eagles' Trip To Germany
14 members of the Eagles Class travelled with Mrs Staff, Mrs Shuttle and Mr Euinton to Hennef near Cologne, Germany to visit the German children who visited us in September. Mrs McCullion, Mrs Redwood-Worthy and 6 Pulloxhill children also travelled with us as they were visiting a different German school near Cologne.
It was very exciting flying from Stansted to Cologne and we stayed there for three days, sleeping on PE mats together in a classroom at the school. It was lovely to see our German friends whom we had been communicating with throughout the year. We spent some of our time in the classrooms finding out about school life in Germany. We also walked to the local shops and enjoyed spending our euros. We did fun problem solving team activities in the school gym and enjoyed playing in their wonderful swimming pool. The highlight of our visit was a trip to the Odysseum Science Museum which was full of interesting hands-on activities and some of us were crazy enough to be spun madly in a space gyroscope and some bravely tackled the high rope course. We were sad to say goodbye to our friends but hopefully we can continue to communicate with them. The trip was a wonderful experience.

Osier Cutting and Planting
We spent an interesting and active afternoon at Flitton Moor with local naturalist, David Sedgley, learning about the osiers which grow on this wetland habitat. He told us that osiers are unusual because you can cut them, then push the sticks into the ground and, as long as the ground is wet, they will grow. We used large loppers to cut the branches which were about 3 metres tall and then we used a metal rod to make deep holes in the ground and then we pushed each osier branch down to a depth of 40-50 cm.
Eagles Class have been visiting Flitton Moor for many years and each class has worked towards creating a willow tunnel. It is now getting long and we enjoyed walking through it. Perhaps we can show the tunnel to our parents in the summer when the tunnel is leafy.
During the afternoon, we also cut 1 metre length osier sticks which we planted in straight lines pushing the branches through a thick membrane to reduce the growth of nettles. These will grow into tall osiers which can be used in the future.
HAST Music Concert
19 children from the Eagles Class performed at the HAST (Harlington Area School Trust) concert, 'For the Love of Music'. Twelve schools participated showing a variety of musical talents including jazz band, singing, pbones, ocarinas and ukeleles. Eagles Class played their pbones and sang beautifully. It was a wonderful occasion showcasing pupils' talents in our area.
Read all about it!
Elsie and Lyla have written the first edition of the 'Neverending News', a newsletter they have written themselves, about life here at school!
Eagles Class Litter Pick Around The Village
The Eagles Class have been out picking up litter around the village. They split up into 6 groups so that they could cover a large area. The children had litter pickers and recorded the different types of litter which they collected. They picked up over 500 pieces of litter! Have a look at our Eco web page to see some of the children's comments and photos.
Food Waste
The Eagles Class are working hard to reduce food waste at Greenfield School. They have been working with the school cook and dinner ladies monitoring school dinner waste by weighing food that is not eaten by the children and noting which foods are least popular. The amount of food being wasted is reducing. Eagles Class are also concerned about the amount of school fruit which is wasted. They have noticed that some children just take one bite of an apple and then throw it away. In order to monitor and reduce this, they have decided that each class will have a separate bin for their fruit waste. The year 4 children researched food waste and were staggered about the amount of food that our country throws away each day. They led an assembly and shared the facts they had found with the rest of the school and spoke about reducing the food which is wasted at our school.
Music
We are really enjoying learning to play our pbones. Mr Nichols our music teacher is very impressed and says that we are a very musical class. We are looking forward to performing at the HAST (Harlington Area School Trust) concert with many other schools on 22nd February - 'For The Love Of Music'.
Dance
In dance, we have been learning about dances from around the world. We spent three weeks learning the moves linked to cheerleading and even developed our own cheer! Here we are on our next topic of Bollywood dance. We have been learning about stories from India in literacy so it's good to build on our knowledge.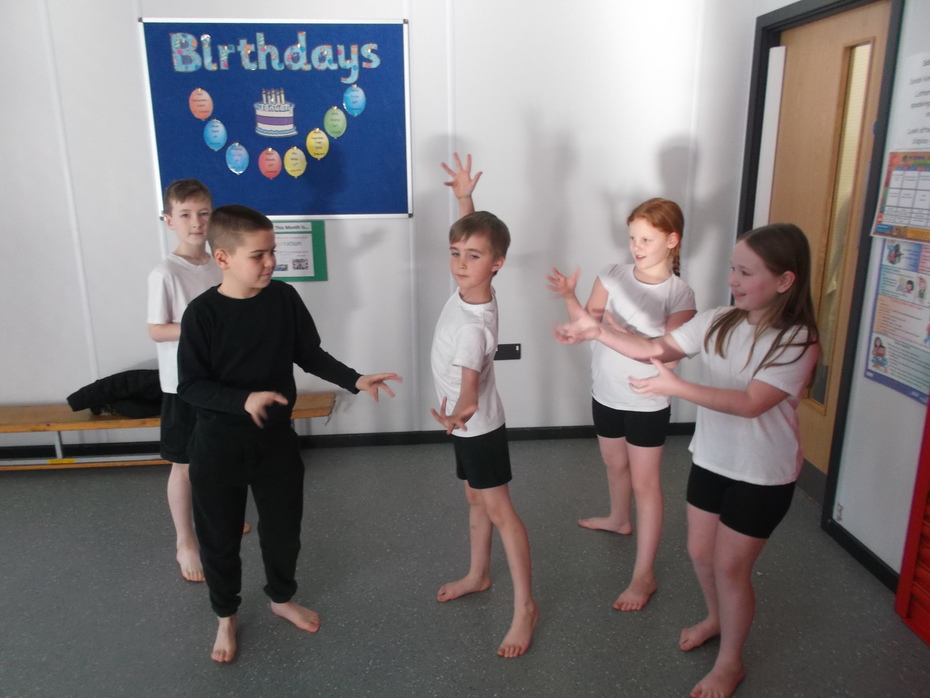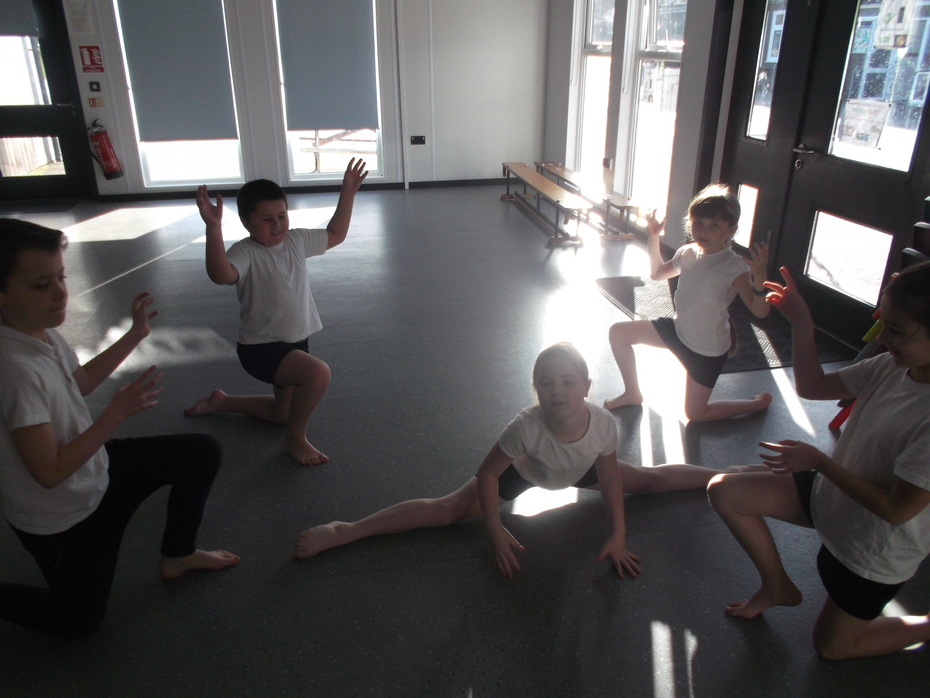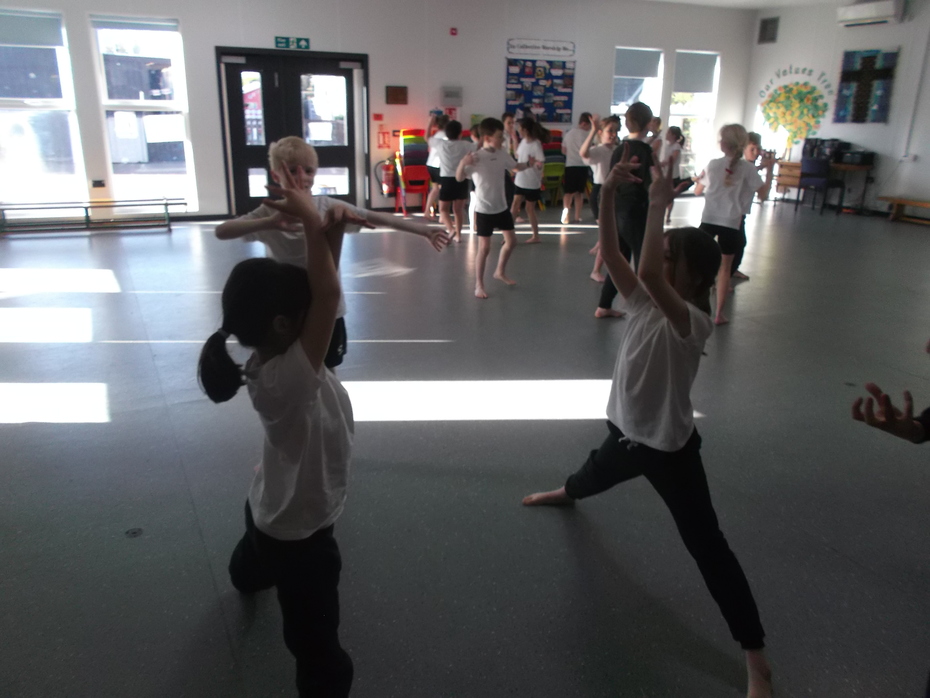 Art
In Art, Eagles have been learning all about famous artists from around the world. We have learnt about the style the artist has and the materials they have used. We have been inspired by them to create our own pieces. Each week we add two pieces of work to our art board and find out which country the artist is from. Here are some pictures of our display. It is only half done but looks fantastic, we are brilliant artists!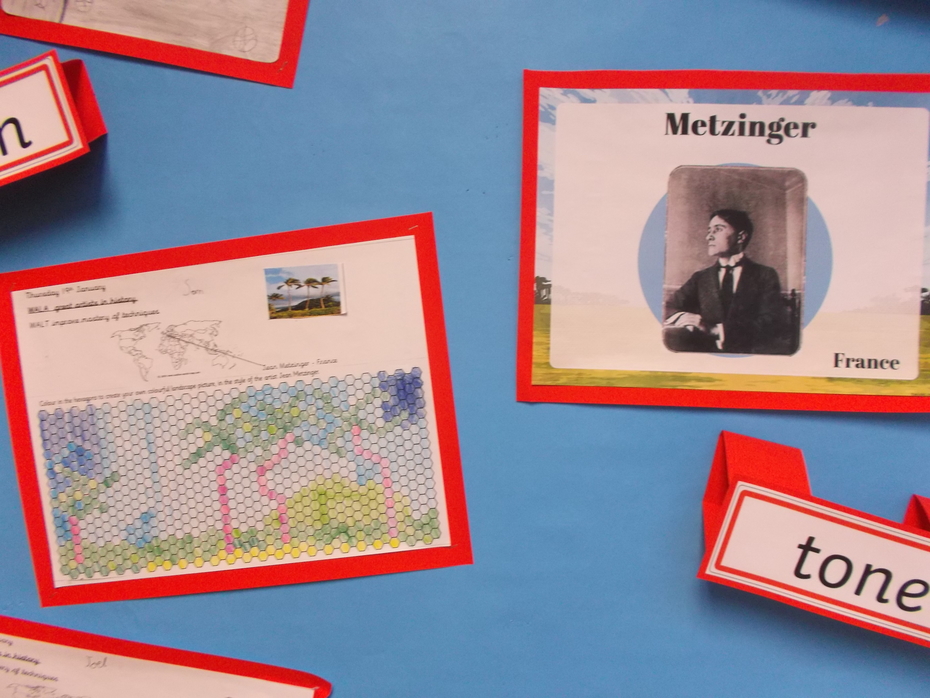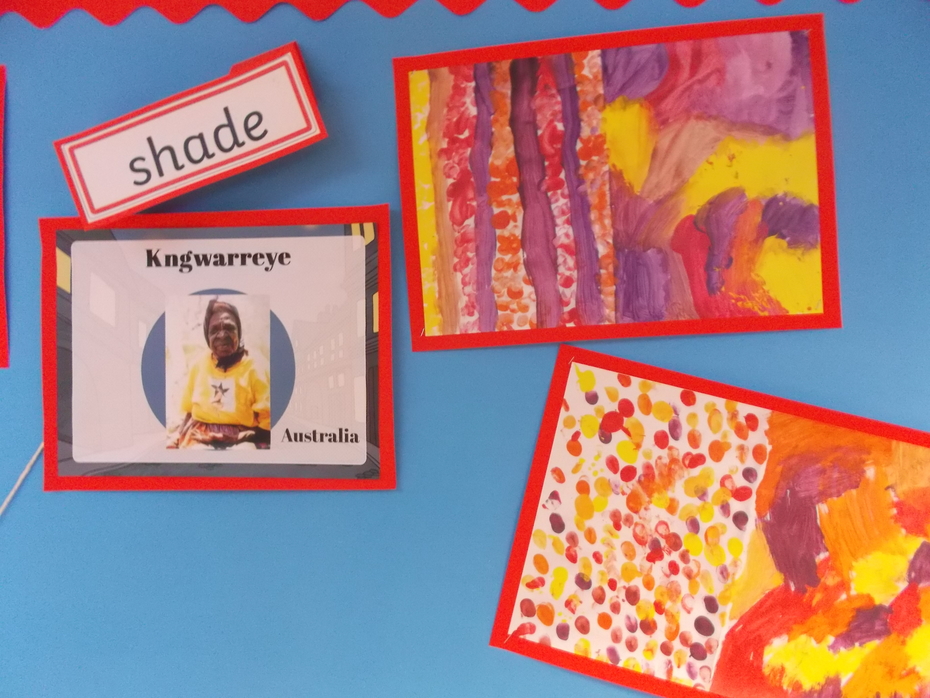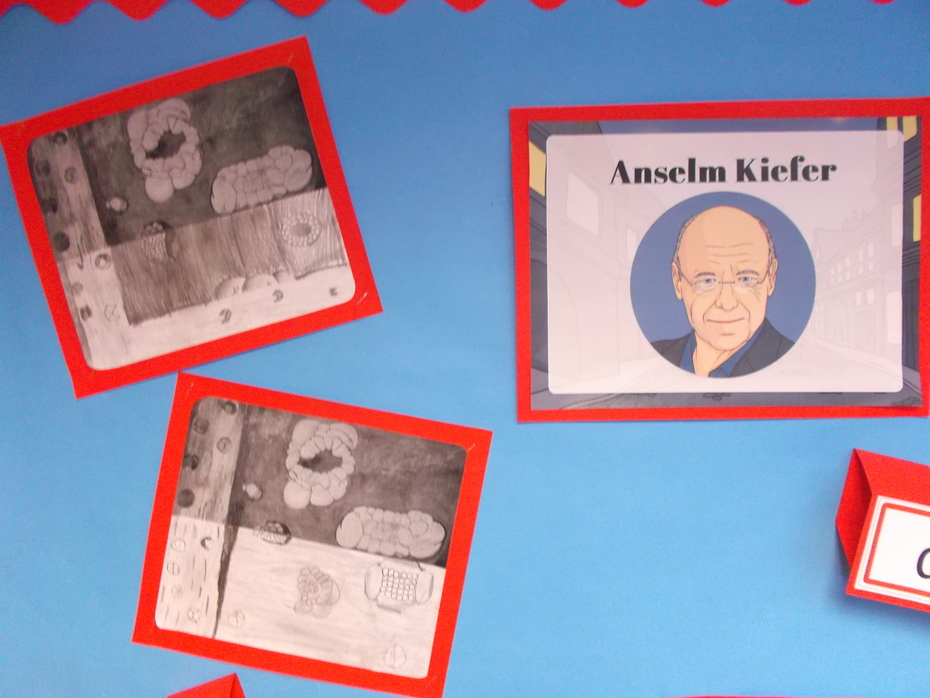 Religious Education
In Religious Education we have been learning about Jesus being a healer. We have considered what it means to be healed and how people might get healed today. We learnt about the story of the paralysed man who was lowered through a roof to be healed by Jesus. We worked together (using the value we are focussing on -co-operation ) and made houses out of paper or lego. We then retold the story.
Autumn Term 2017
Remembrance Day
Each class at our school made a poppy wreath and the Eagles Class carried them down to the War Memorial at St John the Baptist Church in Flitton. They laid them at the memorial and then stood in silence remembering those who have died in wars.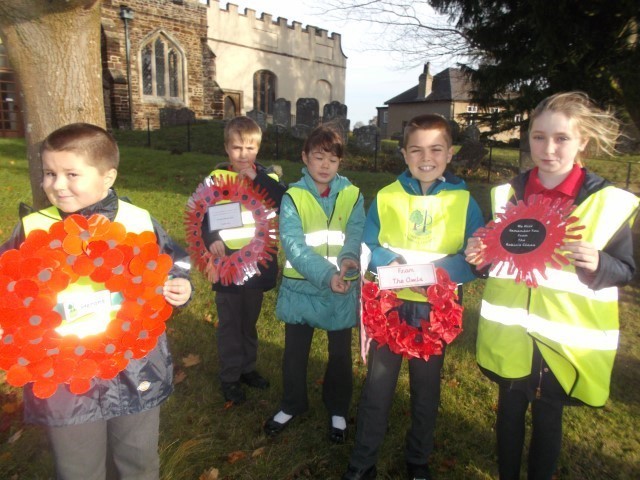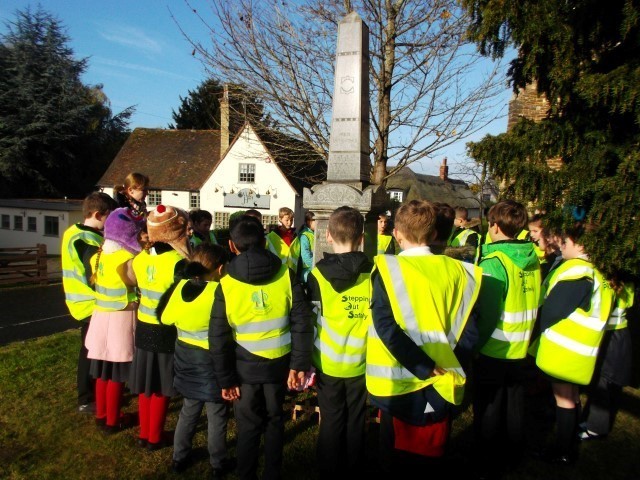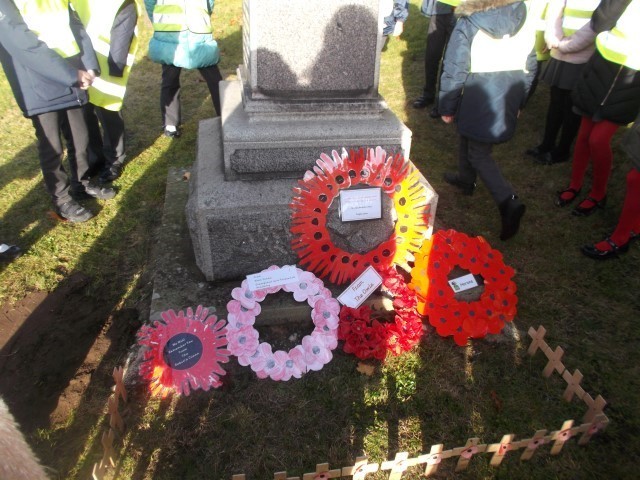 Tag Rugby Tournament
Ten Eagles, Oliver Ch, Oliver Cl, Harrison, Sam, Eric, Charlie, Imogen, Eva, Milla and Lyla took part in the Redbourne Schools Partnership Tag Rugby Festival at Samuel Whitbread Upper School. Four games were played against other lower schools and our Greenfield School team played brilliantly, winning all their games. They showed commitment, consideration, determination and great unity. Well done to all the players.
Stone Age Soup
Year 4 learnt about the diets of people from Stone Age to Iron Age times. We considered the vegetables, fruits and herbs which would have been available throughout this fascinating period of history. We created a soup together by chopping and preparing a range of vegetables most of which were eaten in the late Stone Age time.
We learnt about how people need a range of foods in order to get the vitamins and minerals they needed to survive and thrive. Without sugar and salt, their diet would have been quite healthy, although many did not eat a wide range of vegetables.
Most of us found the soup quite bland and made suggestions as to how we would improve it if we were to cook it now. These ideas included adding a greater range of vegetables, adding a pinch of salt or having it with a big chunk of bread!
German Visitors
What an exciting start to our new school year! Sixteen German children and 4 adults, from Hennef near Cologne, visited us. When we were in Herons, we wrote to them and received letters back from them so that we all knew about each other before the visit. We also learnt a few German phrases and discussed different ways to communicate with our new friends. They spent three days with us, sleeping on the PE mats in the school hall and we all enjoyed doing a wide variety of activities, starting off by all eating breakfast together when they first arrived. After a a school trail, crafts and a sports lesson, we had a visit to the local park followed by pizza and chips at the White Hart pub! The highlight of the week was a coach trip to Woburn Safari Park. We loved it when the monkeys clambered over the roof of our coach! When we returned, our parents had prepared a wonderful buffet tea for us all. On their final day, the German children visited the other classes and afterwards we exchanged pictures and contact details. When our German friends left, we were feeling sad as many good friendships had been developed. We will continue to communicate with them and we are looking forward to being able to visit them next March.
Music Lessons
We are all enjoying learning to play pbones which are plastic trombones. Mr Nichols is our music teacher and he visits us each Monday. When we get good, we will treat everyone to a short concert!
Science
In science lessons we have been learning about human digestion. We enjoyed making Plasticine models of the digestive system. We have found out about food chains and identified predators, prey, consumers and producers. We have studied and compared the teeth of humans and animals and learnt how to care for our own teeth. Ask us about the experiment which we did to find out which liquids do the most damage to egg shells. We related these results to the damage that liquids can do to our teeth.
Stone Age Day
Our topic this term is the Stone Age.
We all dressed up and enjoyed a Stone Age day. Dan from Portals to the Past led the day. He brought lots of ancient artefacts for us to handle and taught us about many aspects of Stone Age life including what our country looked like in those days and the wild animals that roamed about. We learnt about different weapons which they made and how the people hunted.
Summer Term 2017
York
A party of children from Eagles and Dragonflies classes attended a five day residential visit to York. They visited the Railway Museum, walked on the city walls and enjoyed a visit to the Yorvik Centre. The highlight of the trip was a visit to Flamingoland theme park.
Poplars Garden Centre
Those of us who did not go to York, enjoyed lots of extra curricular activities. Our favourite was a trip to Poplars Garden Centre. Our parents had given us each a shopping list with some money and we had to find and buy the items ourselves. We were treated to a pizza and cupcake making session at Poplars. We are obviously brilliant cooks as the food we made was delicious!
Spring Term 2017
Meanwhile, back in England, we have been working very hard over the past 2 days planning, costing and cooking food for an afternoon tea. Tuesday was spent researching recipes that we wanted to try, writing shopping lists and costing the ingredients. We then wrote instructions for the things we wanted to make. Wednesday was spent cooking and ended with an afternoon tea at 2.45, to sample all the delicious food.. The children were in pairs and each pair made a variety of food -
Nana's Magic Soup with bread rolls

Tuna, jam and cheese sandwiches and traffic light jellies