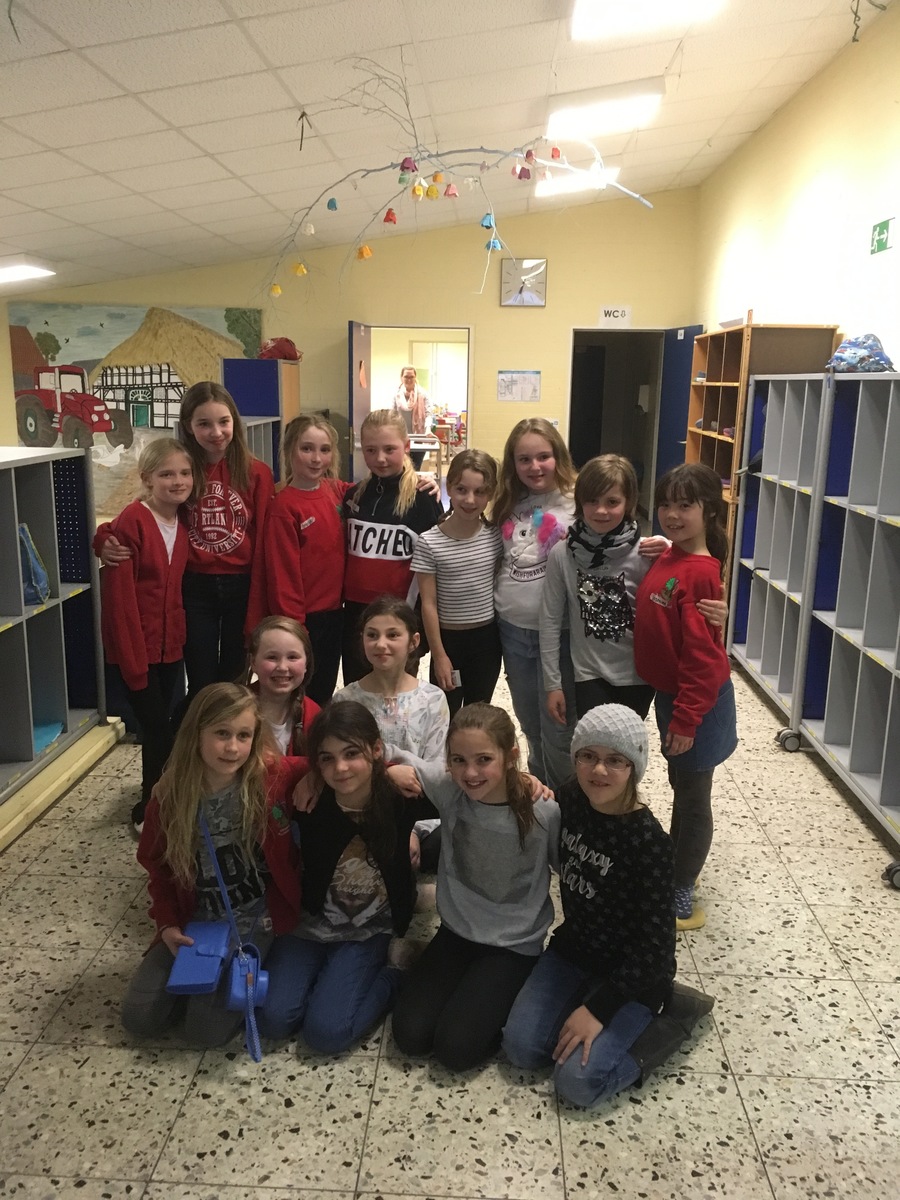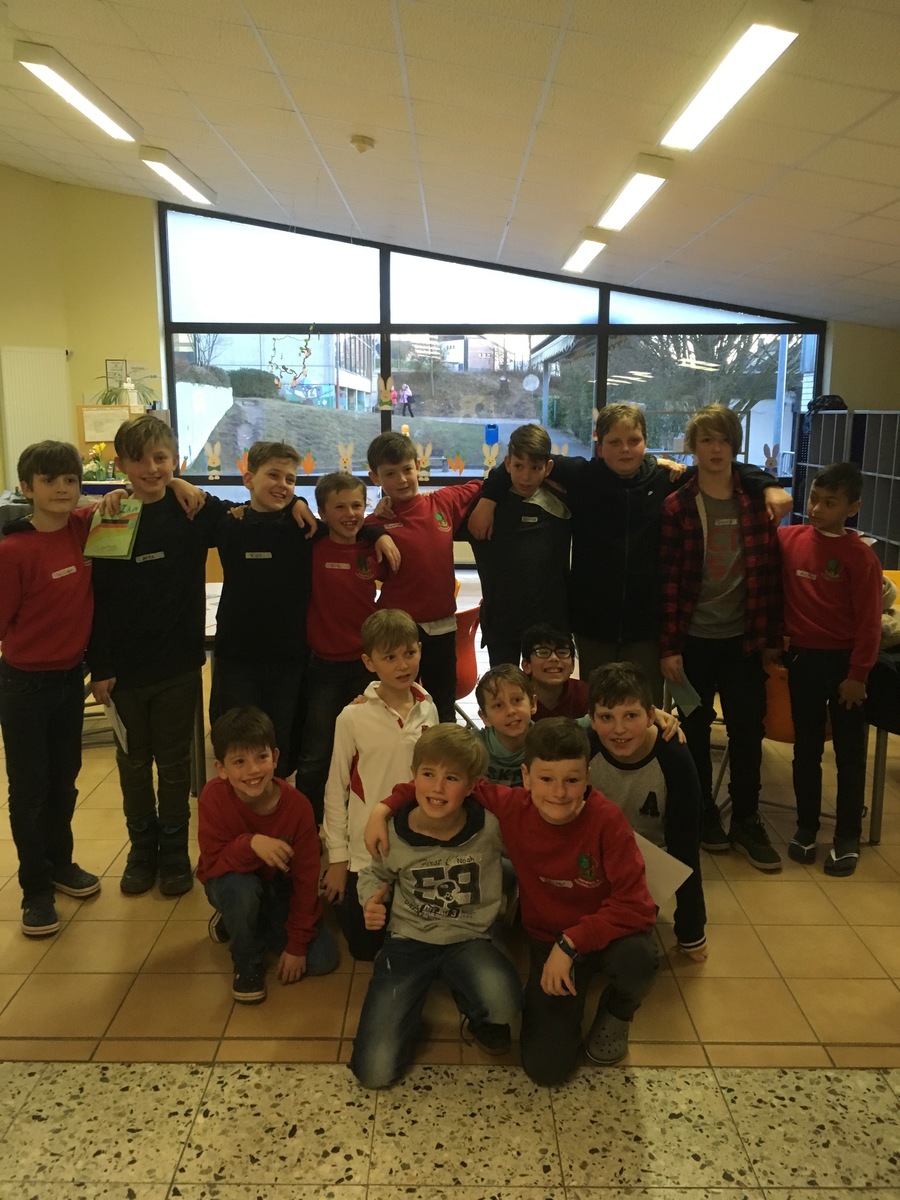 Eagles Latest News
A
Spring Term 2018
Eagles' Trip To Germany
14 members of the Eagles Class travelled with Mrs Staff, Mrs Shuttle and Mr Euinton to Hennef near Cologne, Germany to visit the German children who visited us in September. Mrs McCullion, Mrs Redwood-Worthy and 6 Pulloxhill children also travelled with us as they were visiting a different German school near Cologne.
It was very exciting flying from Stansted to Cologne and we stayed there for three days, sleeping on PE mats together in a classroom at the school. It was lovely to see our German friends whom we had been communicating with throughout the year. We spent some of our time in the classrooms finding out about school life in Germany. We also walked to the local shops and enjoyed spending our euros. We did fun problem solving team activities in the school gym and enjoyed playing in their wonderful swimming pool. The highlight of our visit was a trip to the Odysseum Science Museum which was full of interesting hands-on activities and some of us were crazy enough to be spun madly in a space gyroscope and some bravely tackled the high rope course. We were sad to say goodbye to our friends but hopefully we can continue to communicate with them. The trip was a wonderful experience.

Osier Cutting and Planting
We spent an interesting and active afternoon at Flitton Moor with local naturalist, David Sedgley, learning about the osiers which grow on this wetland habitat. He told us that osiers are unusual because you can cut them, then push the sticks into the ground and, as long as the ground is wet, they will grow. We used large loppers to cut the branches which were about 3 metres tall and then we used a metal rod to make deep holes in the ground and then we pushed each osier branch down to a depth of 40-50 cm.
Eagles Class have been visiting Flitton Moor for many years and each class has worked towards creating a willow tunnel. It is now getting long and we enjoyed walking through it. Perhaps we can show the tunnel to our parents in the summer when the tunnel is leafy.
During the afternoon, we also cut 1 metre length osier sticks which we planted in straight lines pushing the branches through a thick membrane to reduce the growth of nettles. These will grow into tall osiers which can be used in the future.
HAST Music Concert
19 children from the Eagles Class performed at the HAST (Harlington Area School Trust) concert, 'For the Love of Music'. Twelve schools participated showing a variety of musical talents including jazz band, singing, pbones, ocarinas and ukeleles. Eagles Class played their pbones and sang beautifully. It was a wonderful occasion showcasing pupils' talents in our area.
Read all about it!
Elsie and Lyla have written the first edition of the 'Neverending News', a newsletter they have written themselves, about life here at school!
Eagles Class Litter Pick Around The Village
The Eagles Class have been out picking up litter around the village. They split up into 6 groups so that they could cover a large area. The children had litter pickers and recorded the different types of litter which they collected. They picked up over 500 pieces of litter! Have a look at our Eco web page to see some of the children's comments and photos.
Food Waste
The Eagles Class are working hard to reduce food waste at Greenfield School. They have been working with the school cook and dinner ladies monitoring school dinner waste by weighing food that is not eaten by the children and noting which foods are least popular. The amount of food being wasted is reducing. Eagles Class are also concerned about the amount of school fruit which is wasted. They have noticed that some children just take one bite of an apple and then throw it away. In order to monitor and reduce this, they have decided that each class will have a separate bin for their fruit waste. The year 4 children researched food waste and were staggered about the amount of food that our country throws away each day. They led an assembly and shared the facts they had found with the rest of the school and spoke about reducing the food which is wasted at our school.
Music
We are really enjoying learning to play our pbones. Mr Nichols our music teacher is very impressed and says that we are a very musical class. We are looking forward to performing at the HAST (Harlington Area School Trust) concert with many other schools on 22nd February - 'For The Love Of Music'.
Dance
In dance, we have been learning about dances from around the world. We spent three weeks learning the moves linked to cheerleading and even developed our own cheer! Here we are on our next topic of Bollywood dance. We have been learning about stories from India in literacy so it's good to build on our knowledge.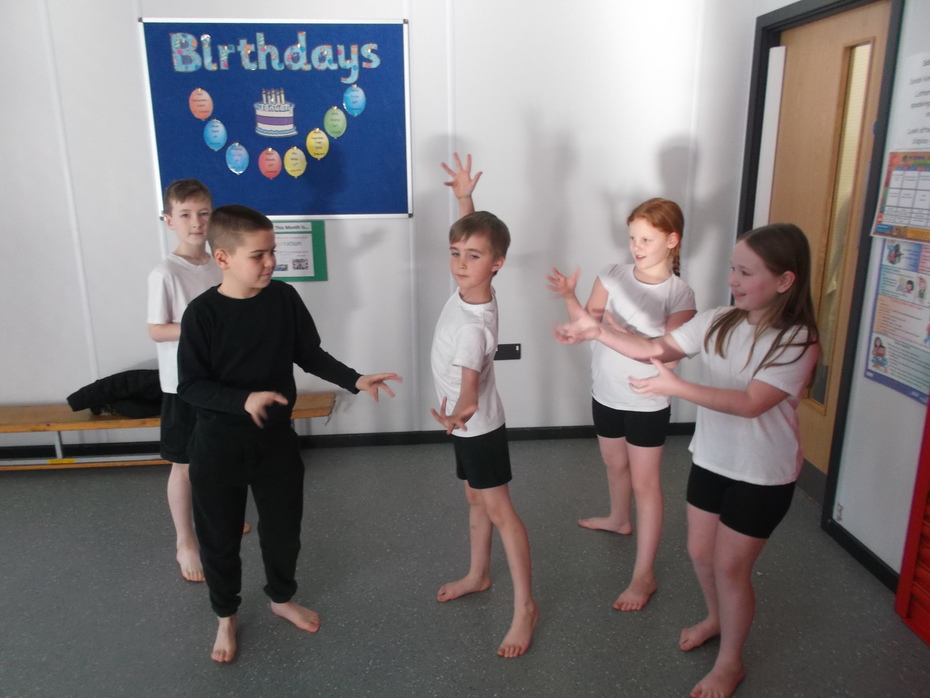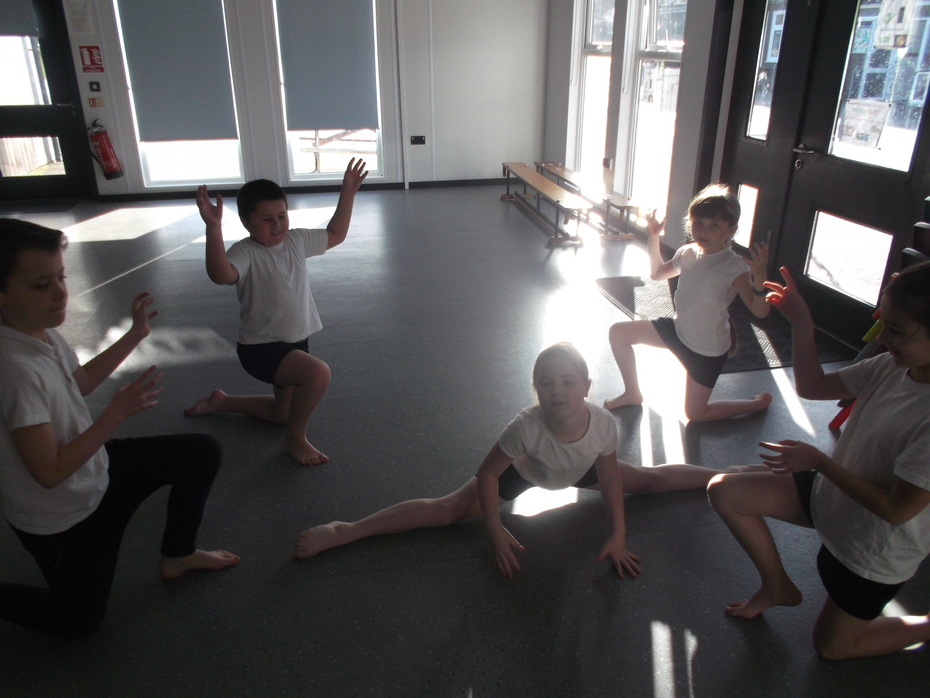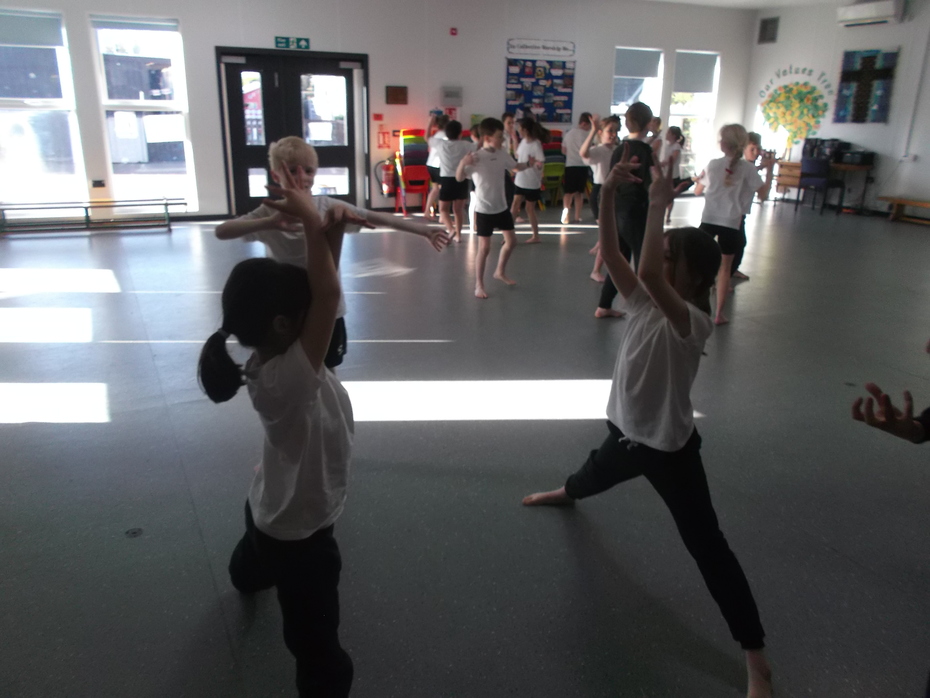 Art
In Art, Eagles have been learning all about famous artists from around the world. We have learnt about the style the artist has and the materials they have used. We have been inspired by them to create our own pieces. Each week we add two pieces of work to our art board and find out which country the artist is from. Here are some pictures of our display. It is only half done but looks fantastic, we are brilliant artists!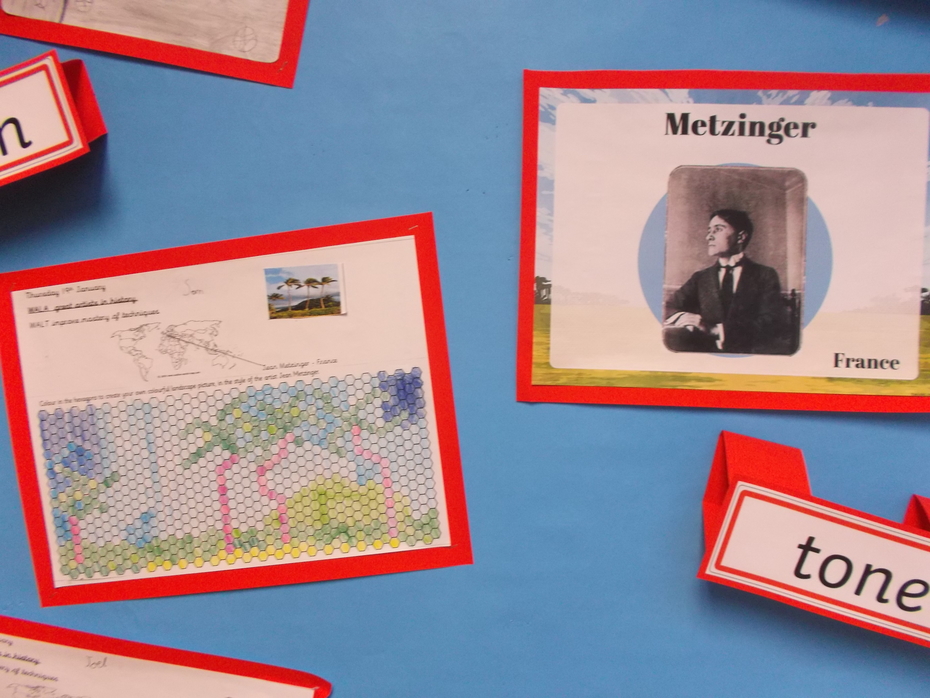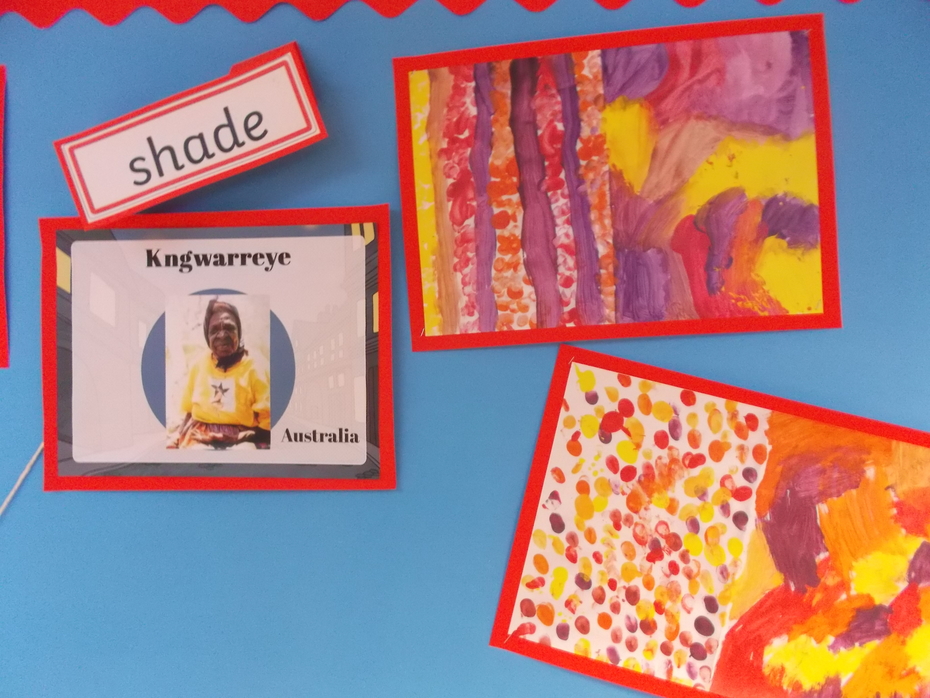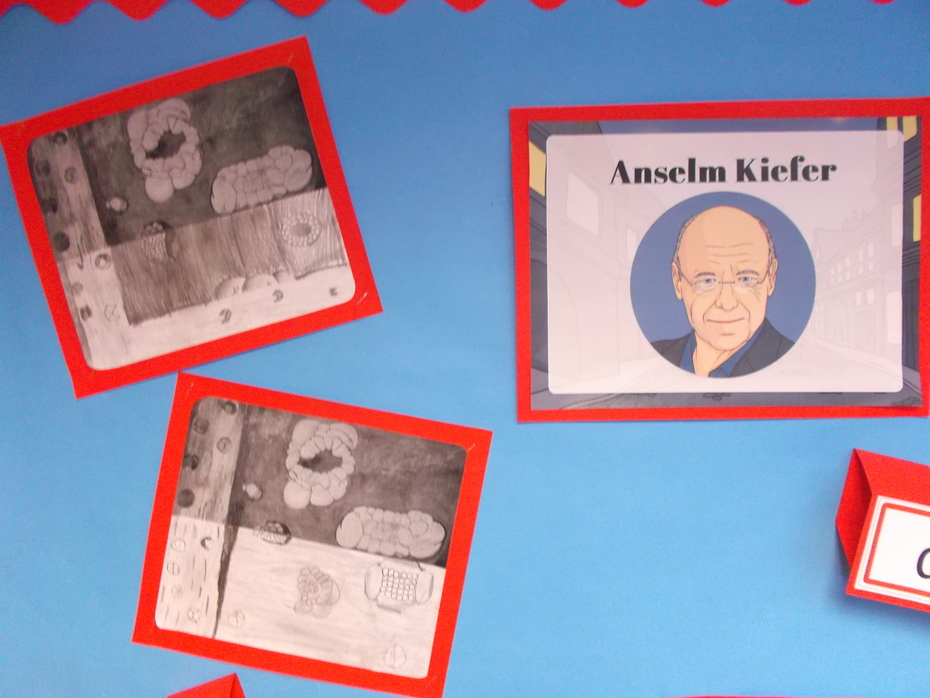 Religious Education
In Religious Education we have been learning about Jesus being a healer. We have considered what it means to be healed and how people might get healed today. We learnt about the story of the paralysed man who was lowered through a roof to be healed by Jesus. We worked together (using the value we are focussing on -co-operation ) and made houses out of paper or lego. We then retold the story.
Autumn Term 2017
Remembrance Day
Each class at our school made a poppy wreath and the Eagles Class carried them down to the War Memorial at St John the Baptist Church in Flitton. They laid them at the memorial and then stood in silence remembering those who have died in wars.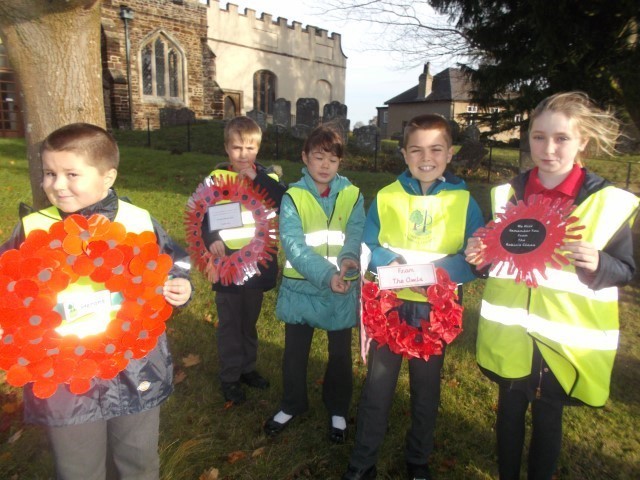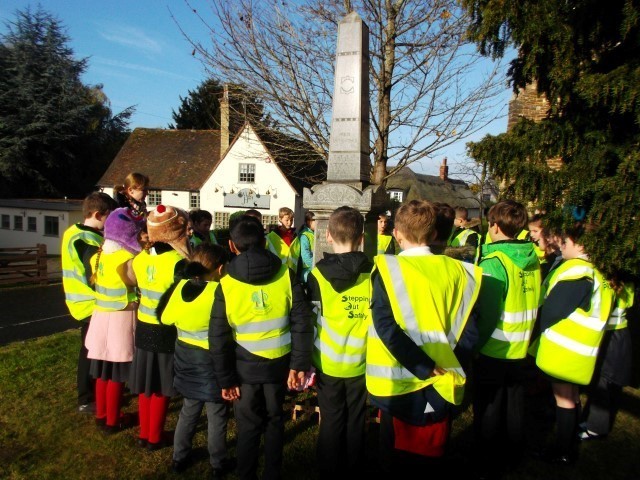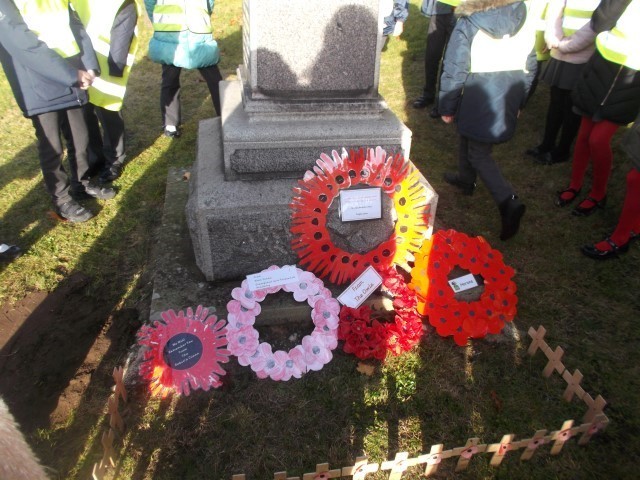 Tag Rugby Tournament
Ten Eagles, Oliver Ch, Oliver Cl, Harrison, Sam, Eric, Charlie, Imogen, Eva, Milla and Lyla took part in the Redbourne Schools Partnership Tag Rugby Festival at Samuel Whitbread Upper School. Four games were played against other lower schools and our Greenfield School team played brilliantly, winning all their games. They showed commitment, consideration, determination and great unity. Well done to all the players.
Stone Age Soup
Year 4 learnt about the diets of people from Stone Age to Iron Age times. We considered the vegetables, fruits and herbs which would have been available throughout this fascinating period of history. We created a soup together by chopping and preparing a range of vegetables most of which were eaten in the late Stone Age time.
We learnt about how people need a range of foods in order to get the vitamins and minerals they needed to survive and thrive. Without sugar and salt, their diet would have been quite healthy, although many did not eat a wide range of vegetables.
Most of us found the soup quite bland and made suggestions as to how we would improve it if we were to cook it now. These ideas included adding a greater range of vegetables, adding a pinch of salt or having it with a big chunk of bread!
German Visitors
What an exciting start to our new school year! Sixteen German children and 4 adults, from Hennef near Cologne, visited us. When we were in Herons, we wrote to them and received letters back from them so that we all knew about each other before the visit. We also learnt a few German phrases and discussed different ways to communicate with our new friends. They spent three days with us, sleeping on the PE mats in the school hall and we all enjoyed doing a wide variety of activities, starting off by all eating breakfast together when they first arrived. After a a school trail, crafts and a sports lesson, we had a visit to the local park followed by pizza and chips at the White Hart pub! The highlight of the week was a coach trip to Woburn Safari Park. We loved it when the monkeys clambered over the roof of our coach! When we returned, our parents had prepared a wonderful buffet tea for us all. On their final day, the German children visited the other classes and afterwards we exchanged pictures and contact details. When our German friends left, we were feeling sad as many good friendships had been developed. We will continue to communicate with them and we are looking forward to being able to visit them next March.
Music Lessons
We are all enjoying learning to play pbones which are plastic trombones. Mr Nichols is our music teacher and he visits us each Monday. When we get good, we will treat everyone to a short concert!
Science
In science lessons we have been learning about human digestion. We enjoyed making Plasticine models of the digestive system. We have found out about food chains and identified predators, prey, consumers and producers. We have studied and compared the teeth of humans and animals and learnt how to care for our own teeth. Ask us about the experiment which we did to find out which liquids do the most damage to egg shells. We related these results to the damage that liquids can do to our teeth.
Stone Age Day
Our topic this term is the Stone Age.
We all dressed up and enjoyed a Stone Age day. Dan from Portals to the Past led the day. He brought lots of ancient artefacts for us to handle and taught us about many aspects of Stone Age life including what our country looked like in those days and the wild animals that roamed about. We learnt about different weapons which they made and how the people hunted.
Summer Term 2017
York
A party of children from Eagles and Dragonflies classes attended a five day residential visit to York. They visited the Railway Museum, walked on the city walls and enjoyed a visit to the Yorvik Centre. The highlight of the trip was a visit to Flamingoland theme park.
Poplars Garden Centre
Those of us who did not go to York, enjoyed lots of extra curricular activities. Our favourite was a trip to Poplars Garden Centre. Our parents had given us each a shopping list with some money and we had to find and buy the items ourselves. We were treated to a pizza and cupcake making session at Poplars. We are obviously brilliant cooks as the food we made was delicious!
Spring Term 2017
Meanwhile, back in England, we have been working very hard over the past 2 days planning, costing and cooking food for an afternoon tea. Tuesday was spent researching recipes that we wanted to try, writing shopping lists and costing the ingredients. We then wrote instructions for the things we wanted to make. Wednesday was spent cooking and ended with an afternoon tea at 2.45, to sample all the delicious food.. The children were in pairs and each pair made a variety of food -
Nana's Magic Soup with bread rolls

Tuna, jam and cheese sandwiches and traffic light jellies

Chocolate cookies and chocolate milkshake

Cobweb biscuits and fruit kebabs

Surprise cake.
Everyone worked really hard and we had a brilliant couple of days.
Germany
.
Wednesday
All is well in Germany, today they have been to the Chocolate Museum.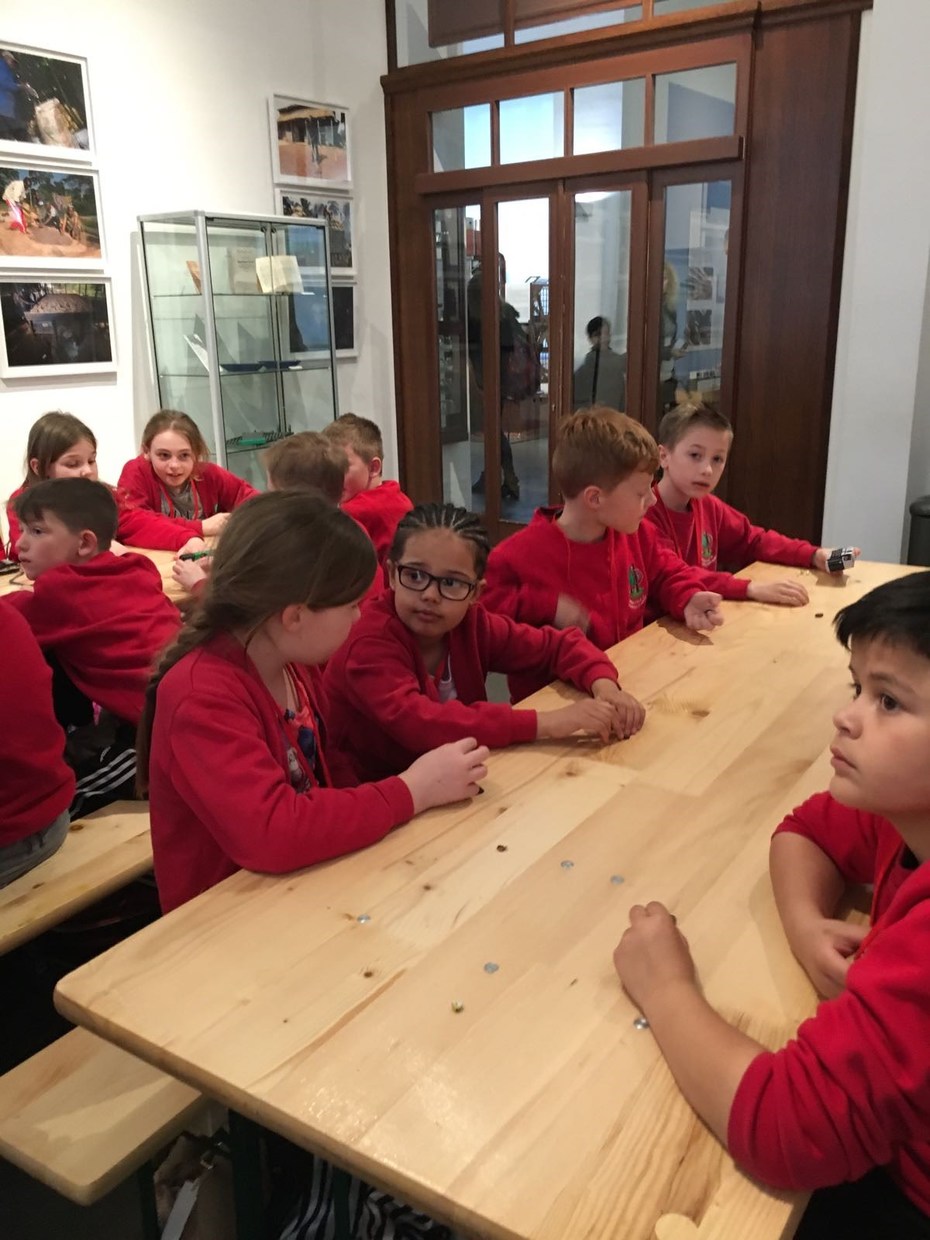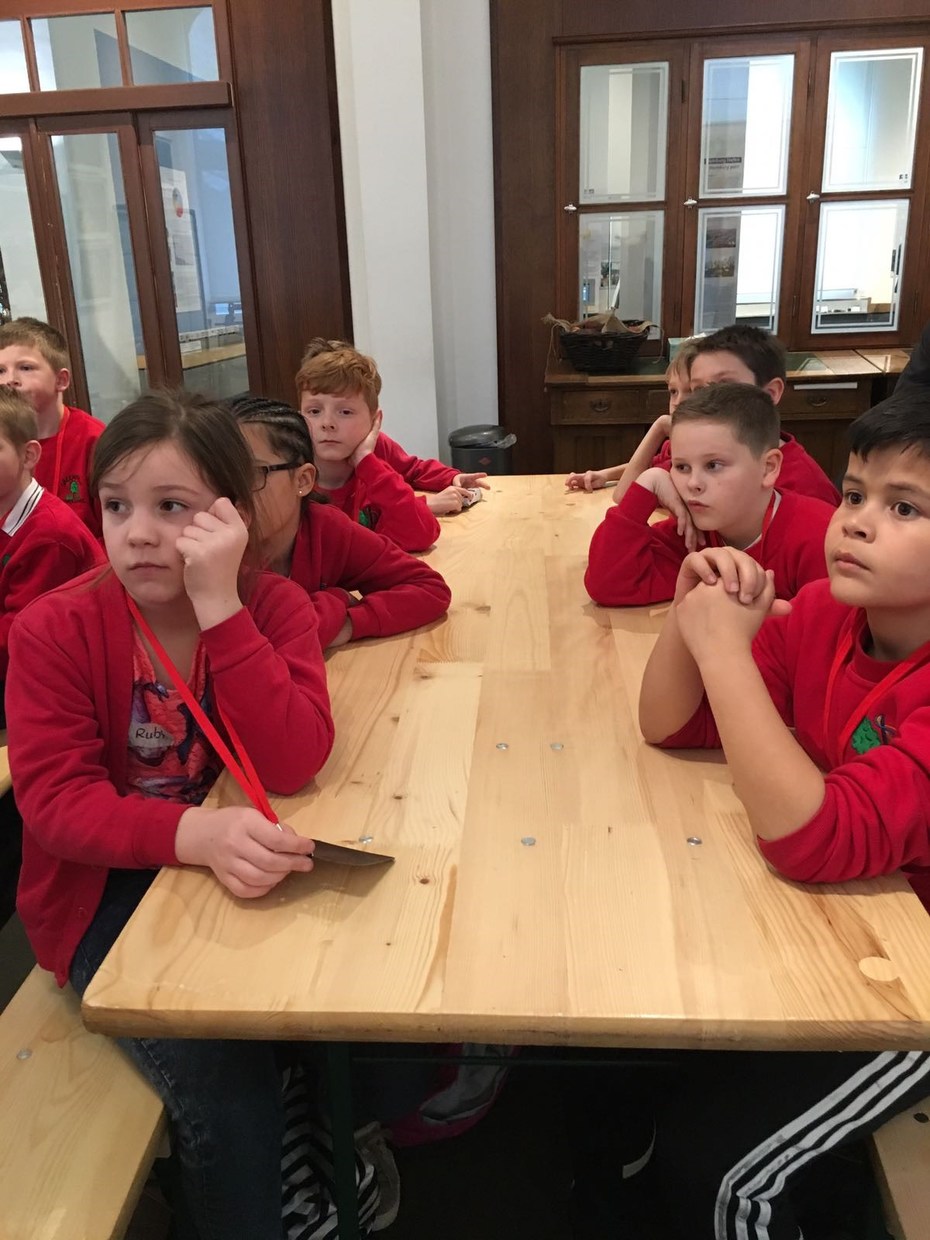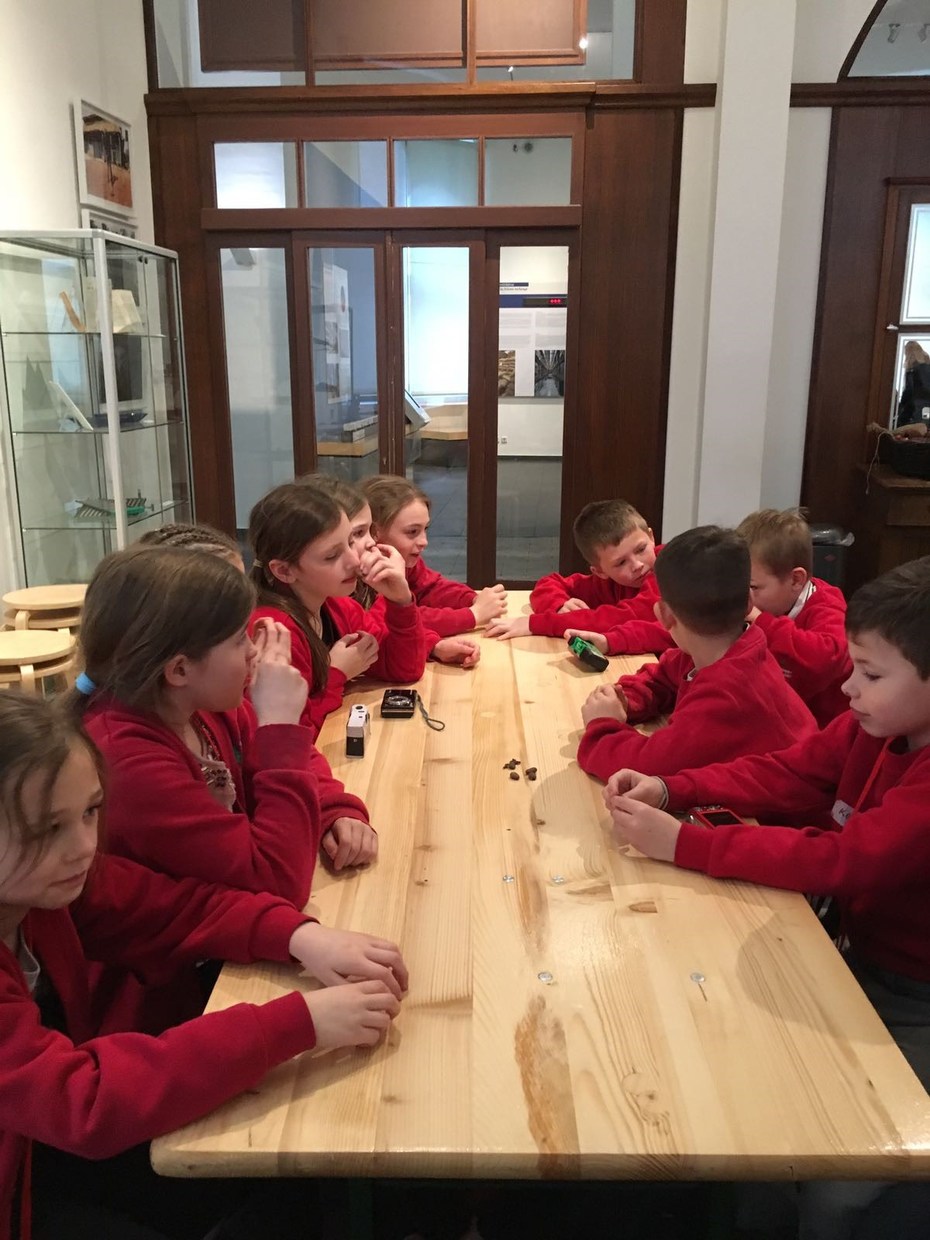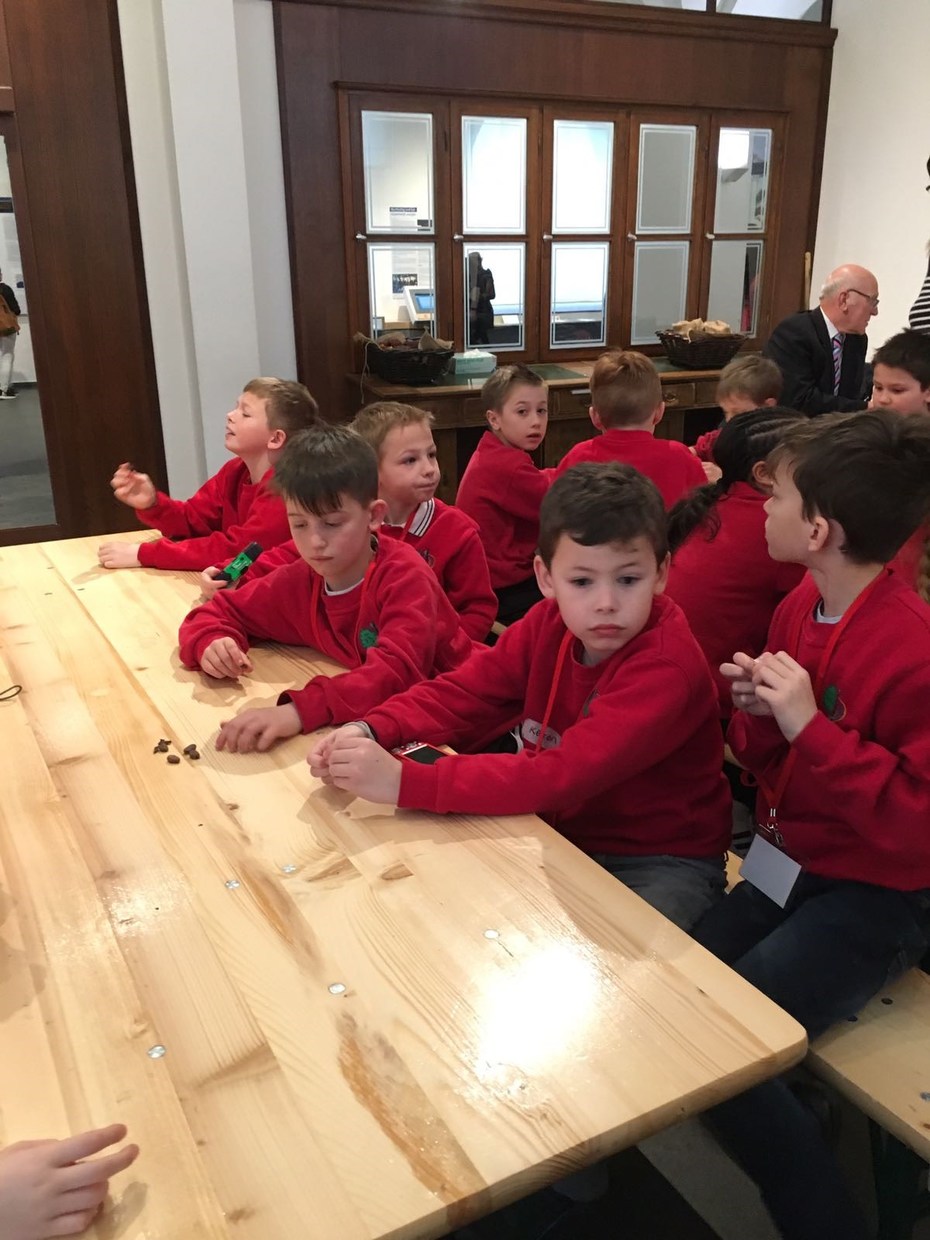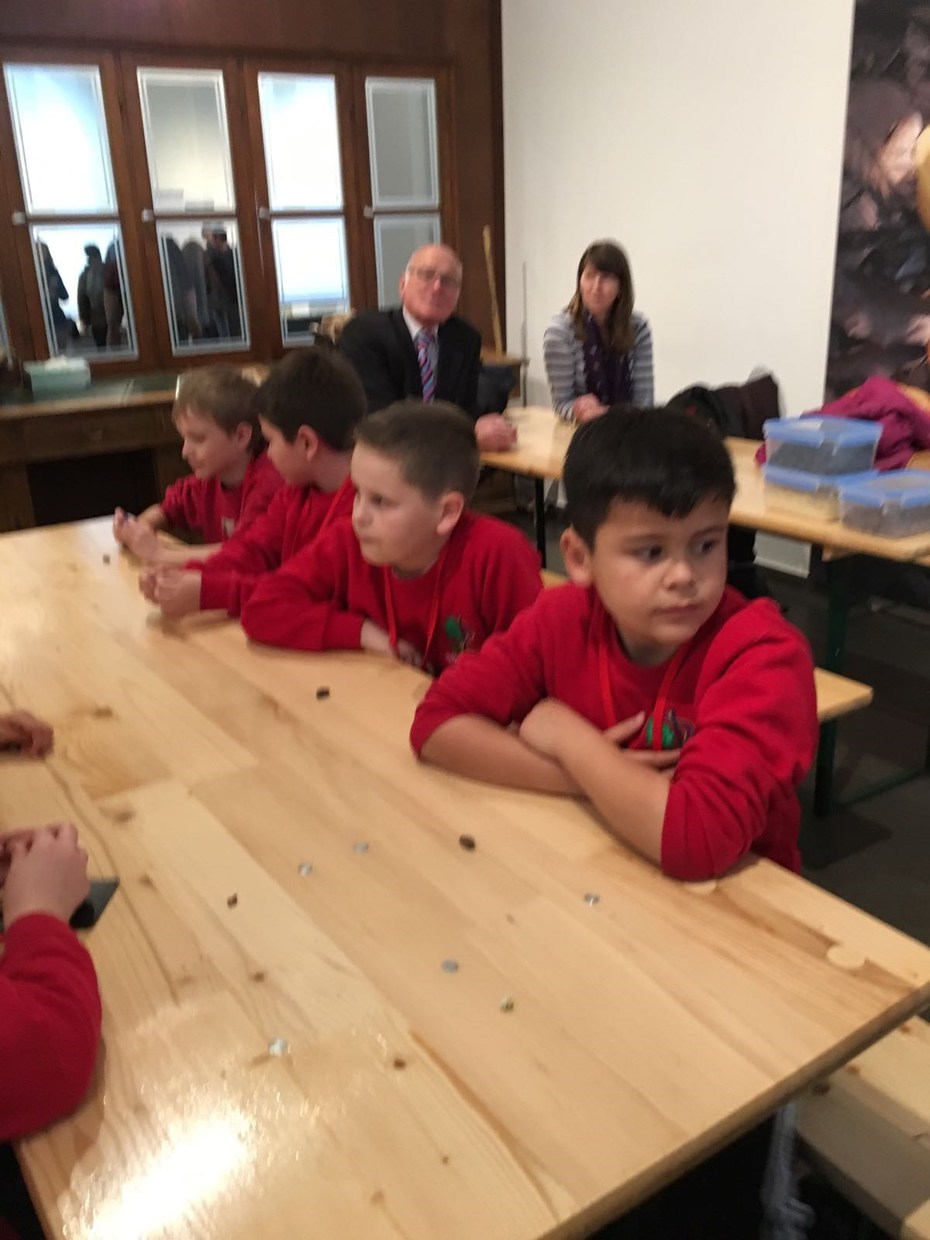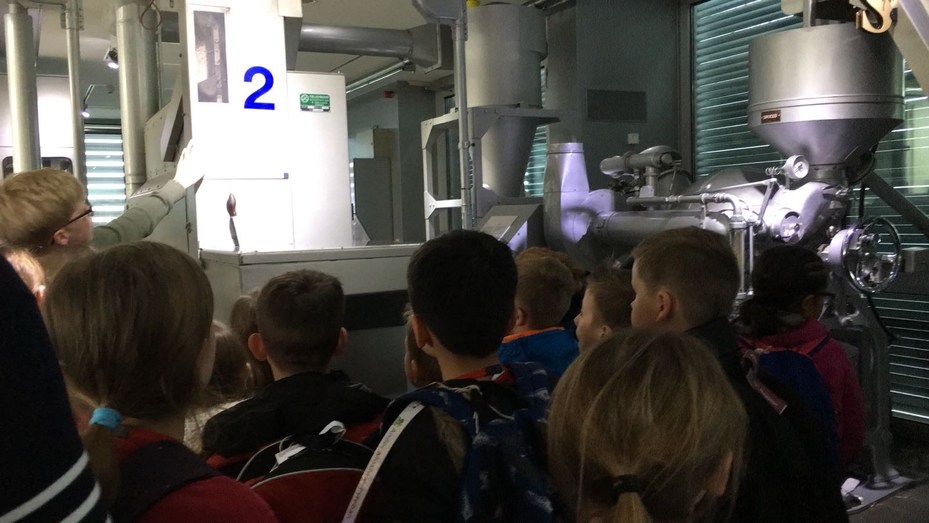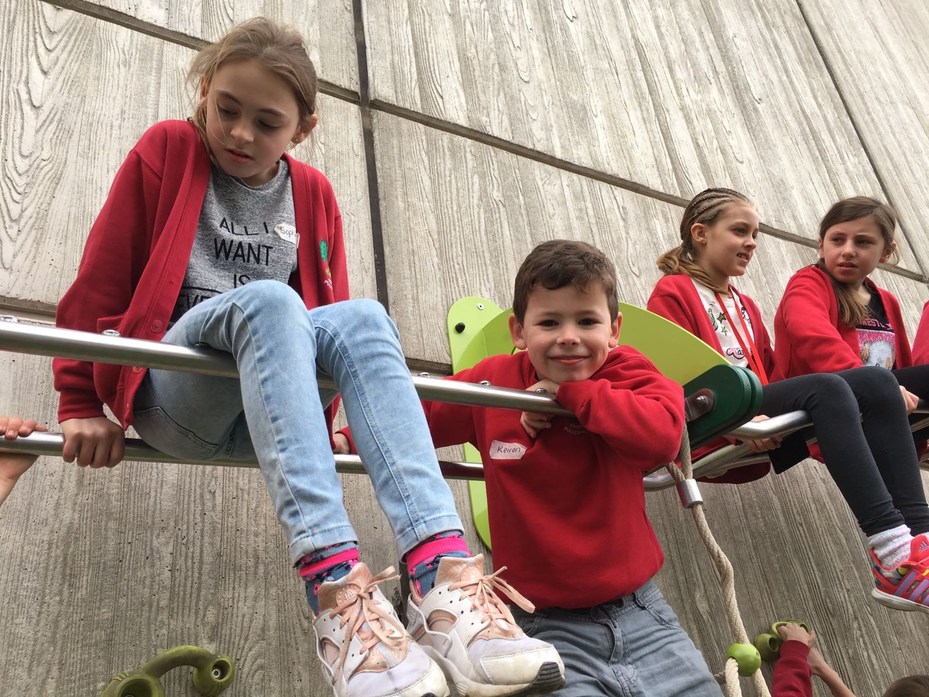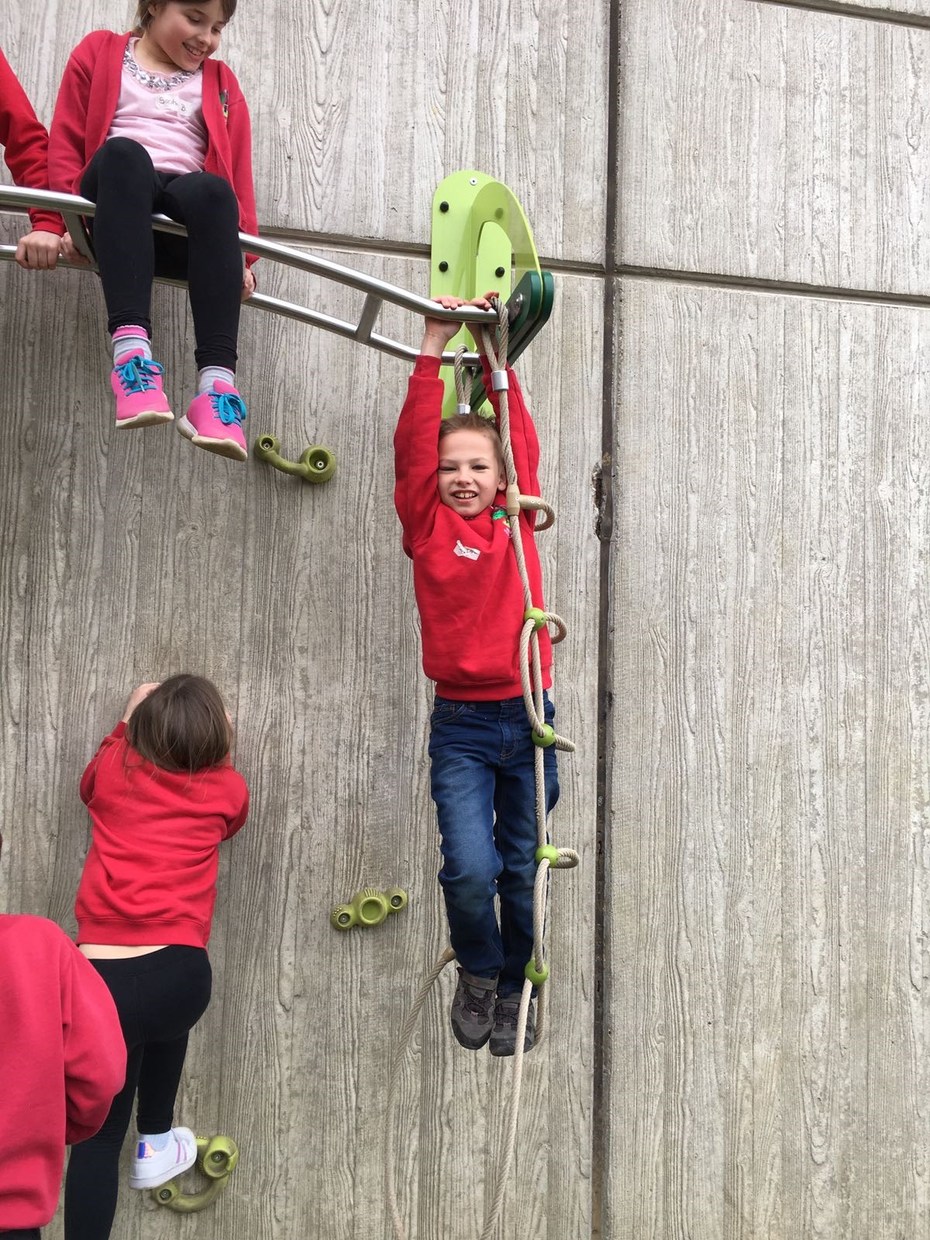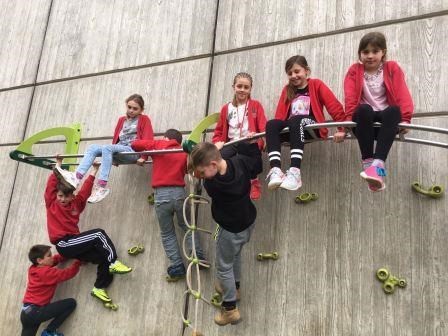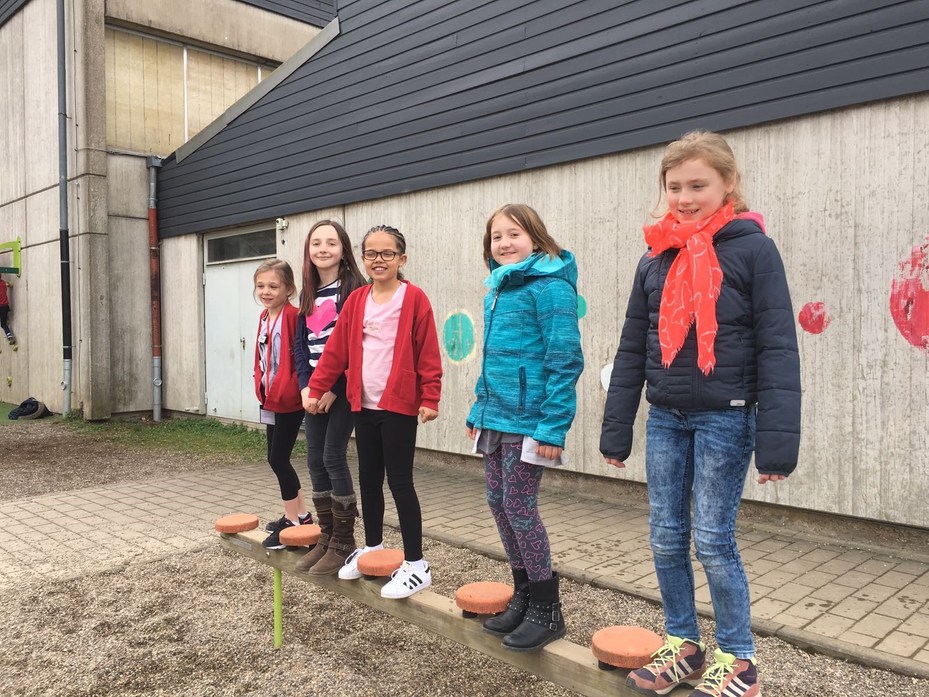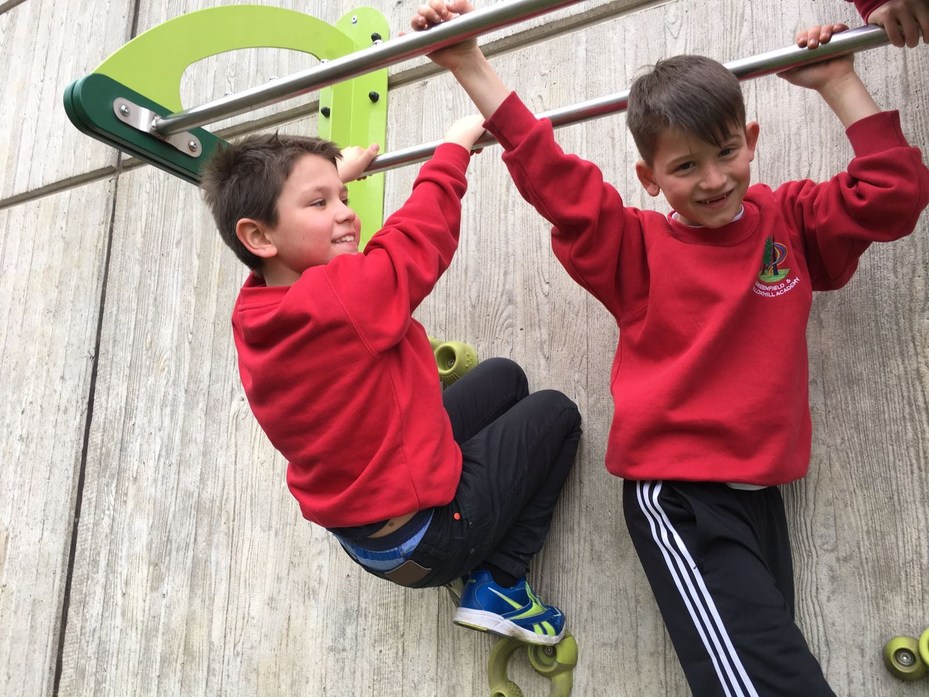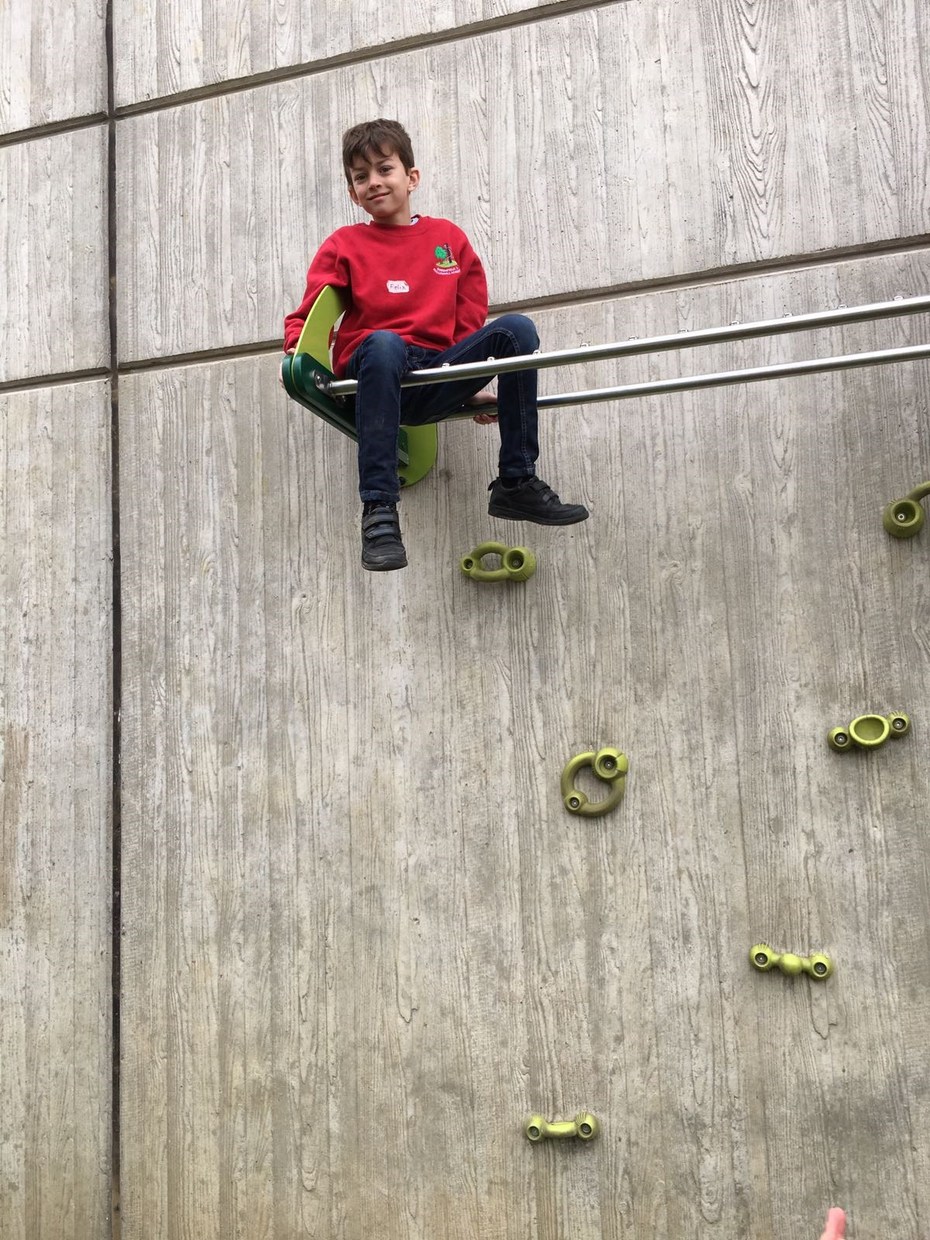 Tuesday
The Eagles have landed in Germany!
They had a good flight and arrived at the school at approximately 11.40 (German time). All is well and they have tucked into
a good lunch, shortly after arrival. We will continue to add photos here, throughout their trip.
At 5.00 they are off swimming. Everyone's happy so far!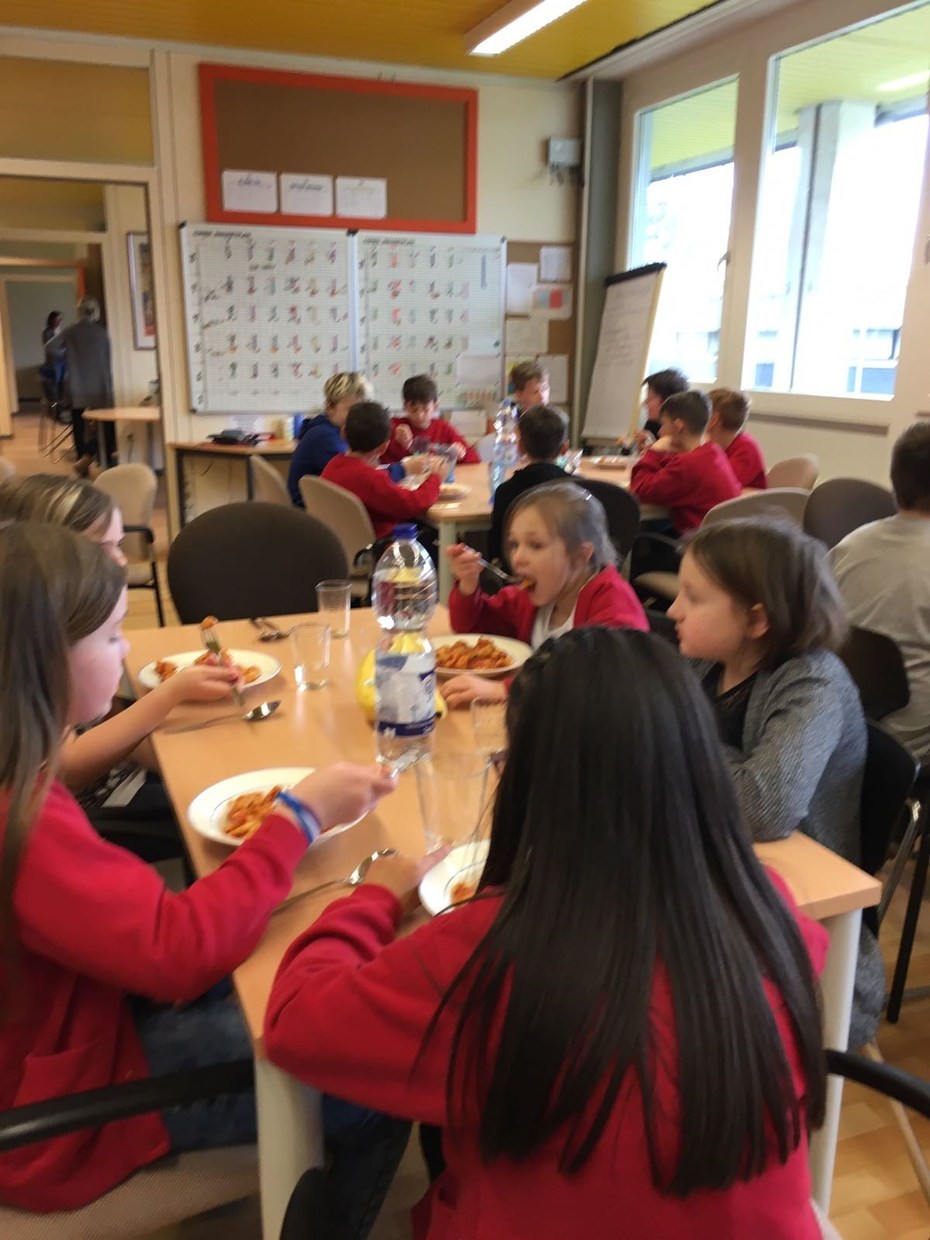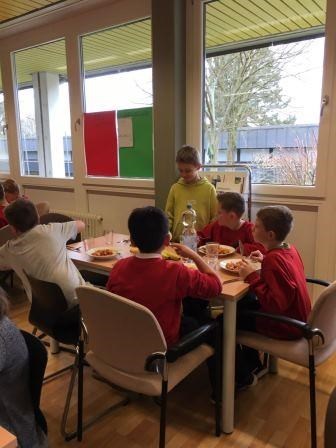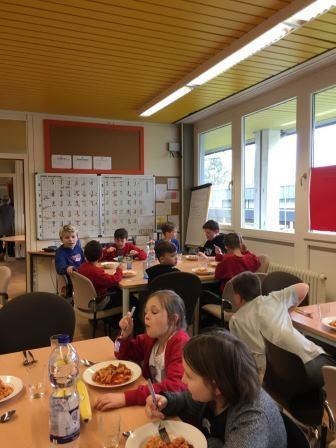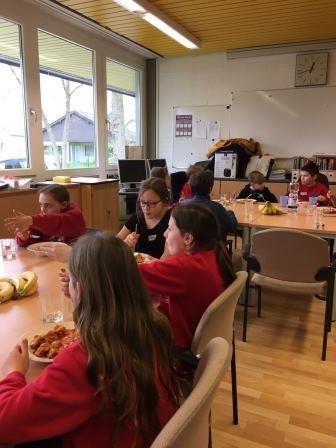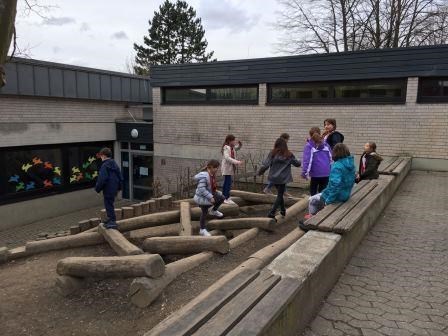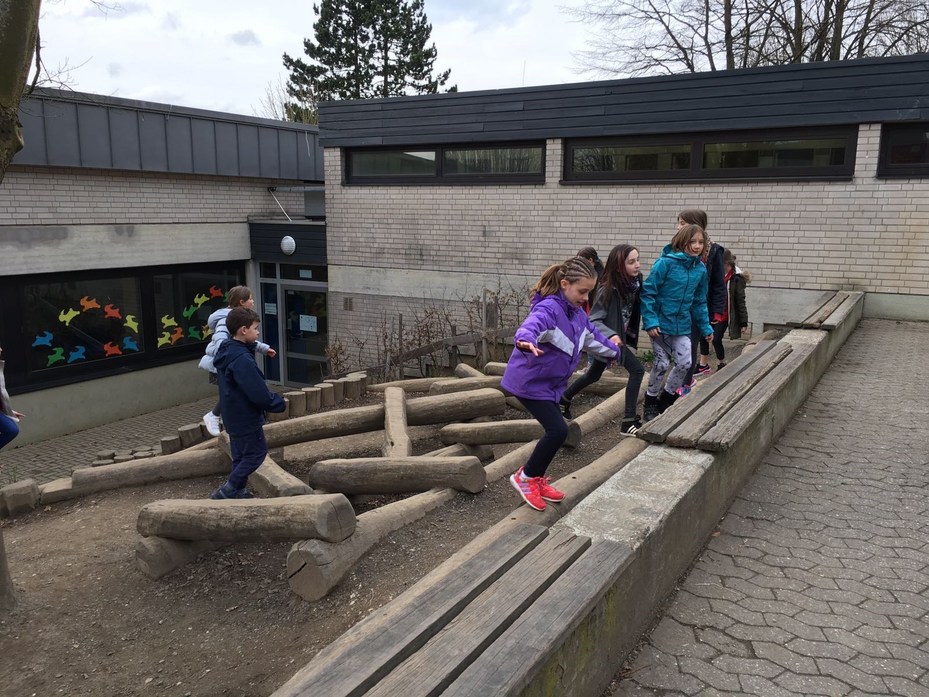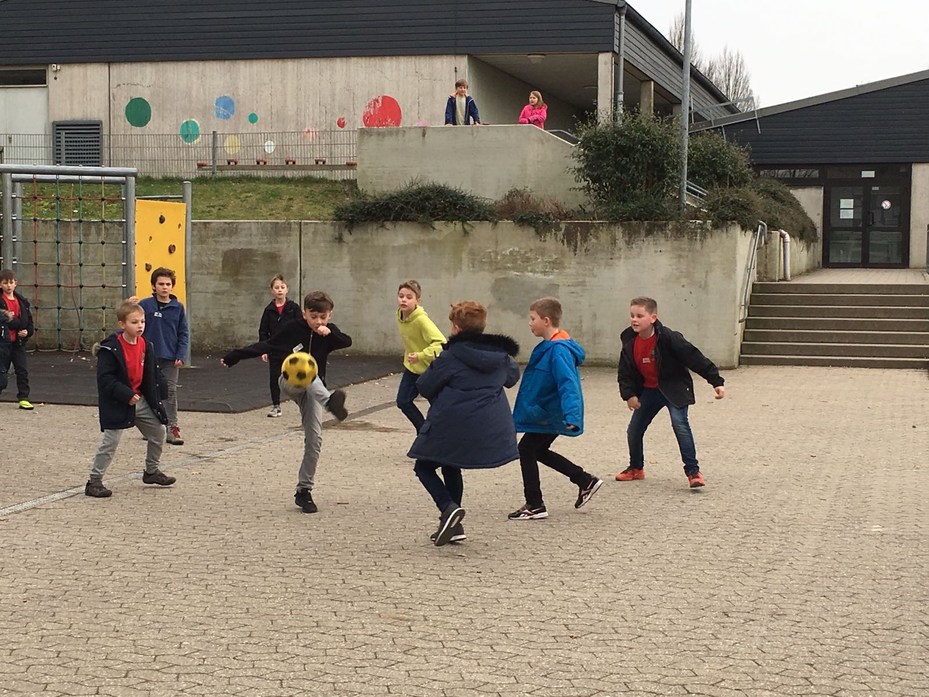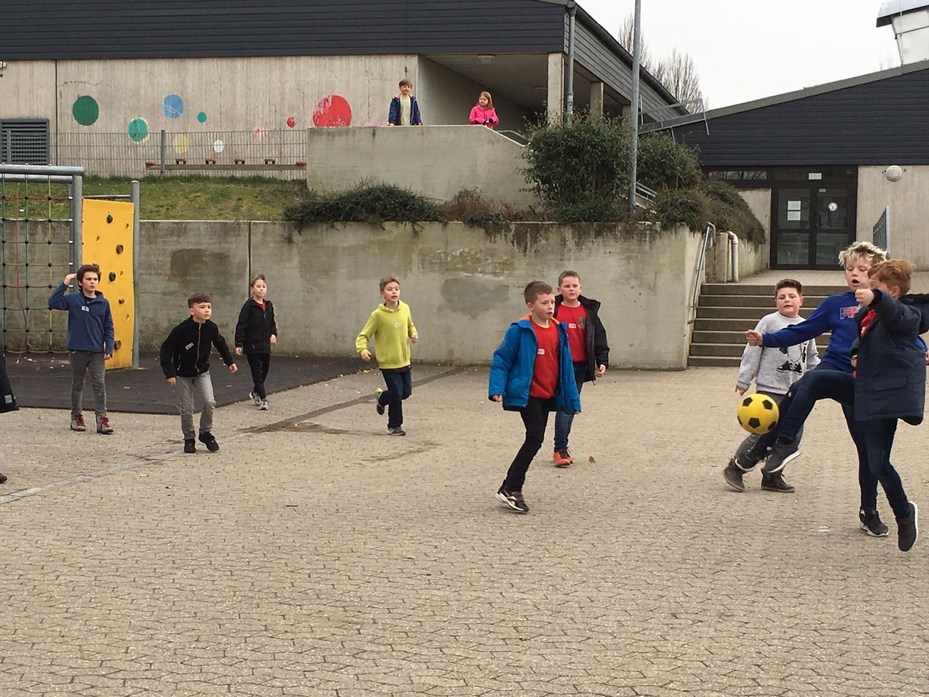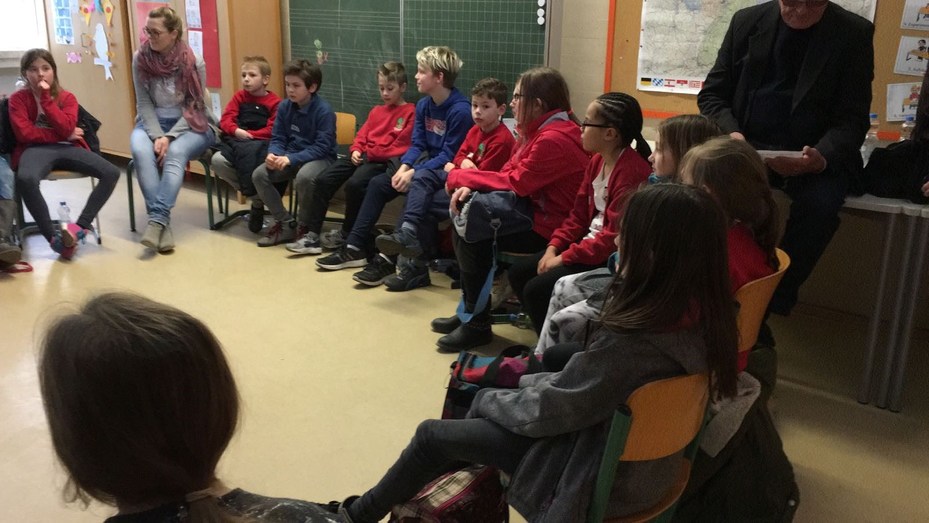 World Book Day
On Thursday 2nd March we celebrated World Book Day by dressing up as our favourite book characters. We listened to stories, read by different members of staff in the morning and in the afternoon Herons and Eagles chose a story to read a few children from Robins, Wrens and Owls. During the day, the children were set a challenge to see how many 'Where's Wally' characters there were - they had to count staff, children and the paper ones hiding in the windows. The children rose to the challenge and 3 children found the correct number, lots of children were very close. Here we are in our costumes - can you spot all the different characters?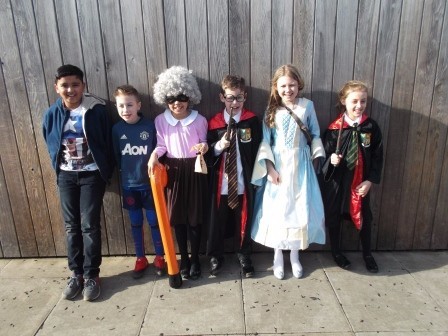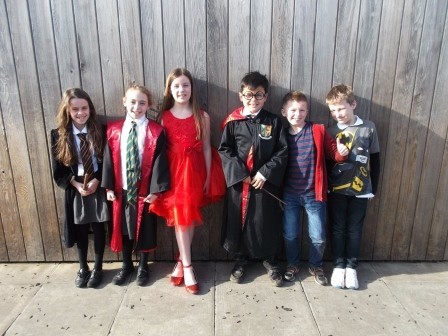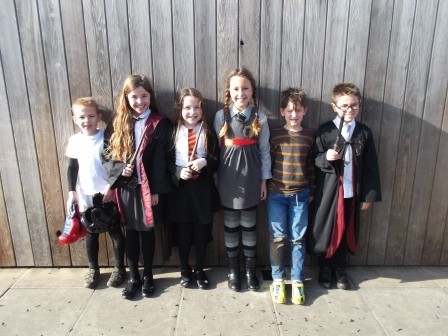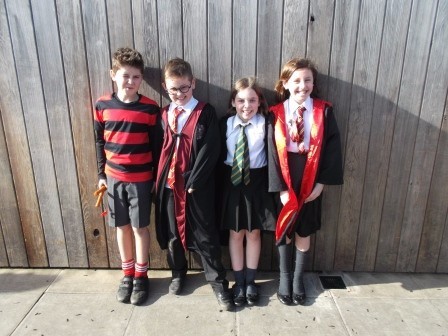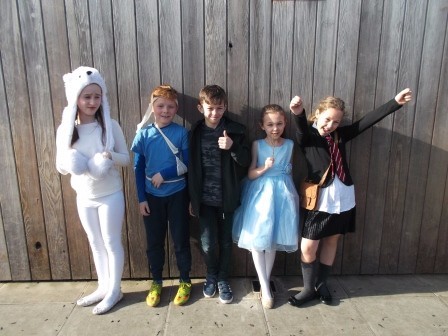 Flitton Moor
We had a great time on Tuesday, osier cutting and planting on Flitton Moor. A huge thank you to Mr Sedgely, Maureen and Liz for giving up their time to come and help us. We were busy coppicing and planting new osier beds. Finally, we extended the tunnel that Eagles, from previous years, had started. Everyone worked so well in the teams they were in, it was great to see - well done Eagles. You can visit Flitton Moor and see the work we carried out. Here we are, hard at work!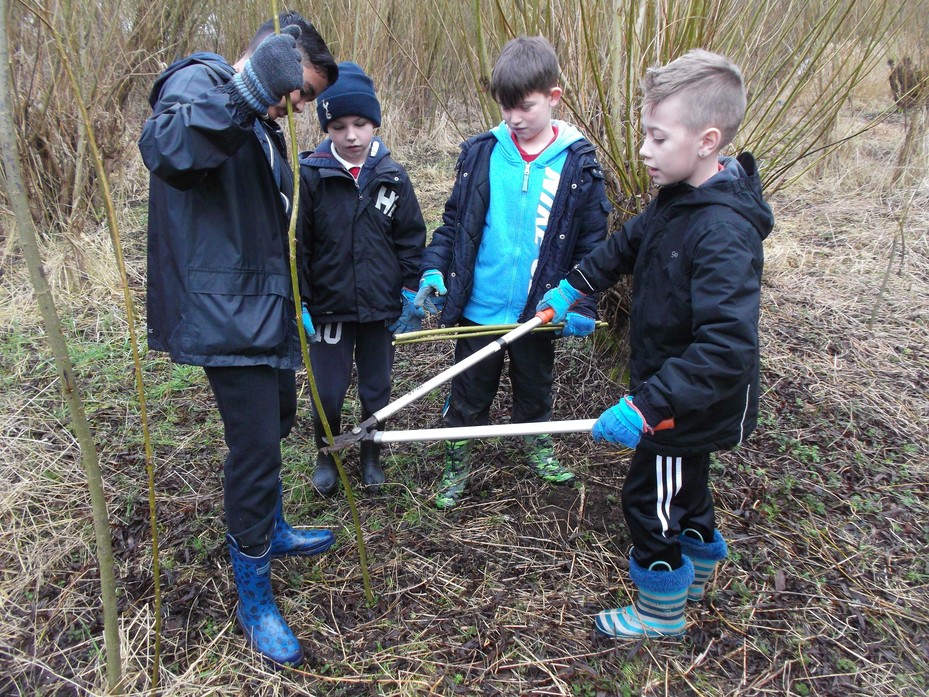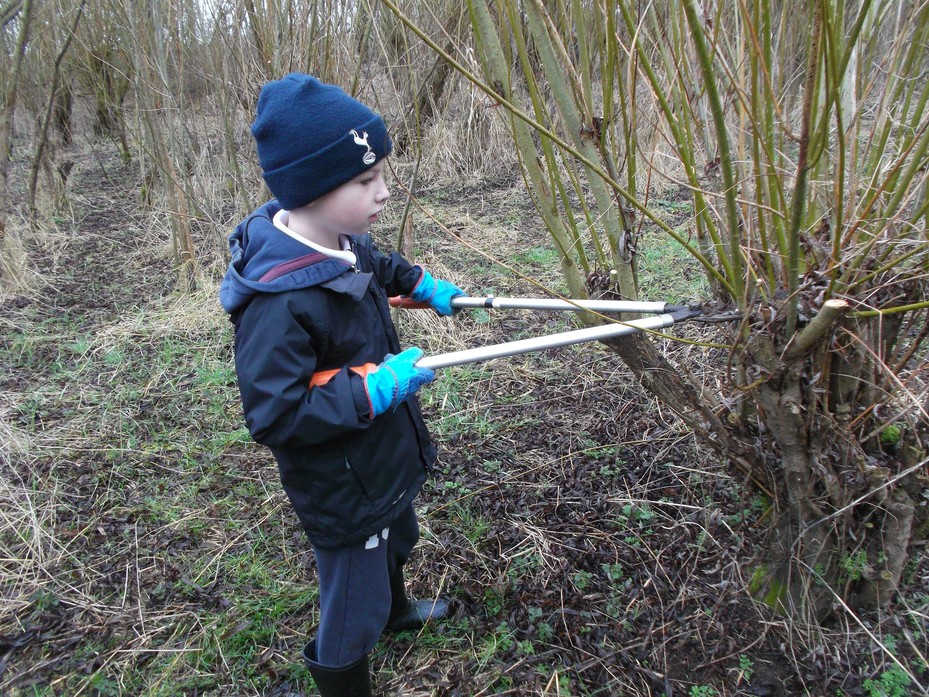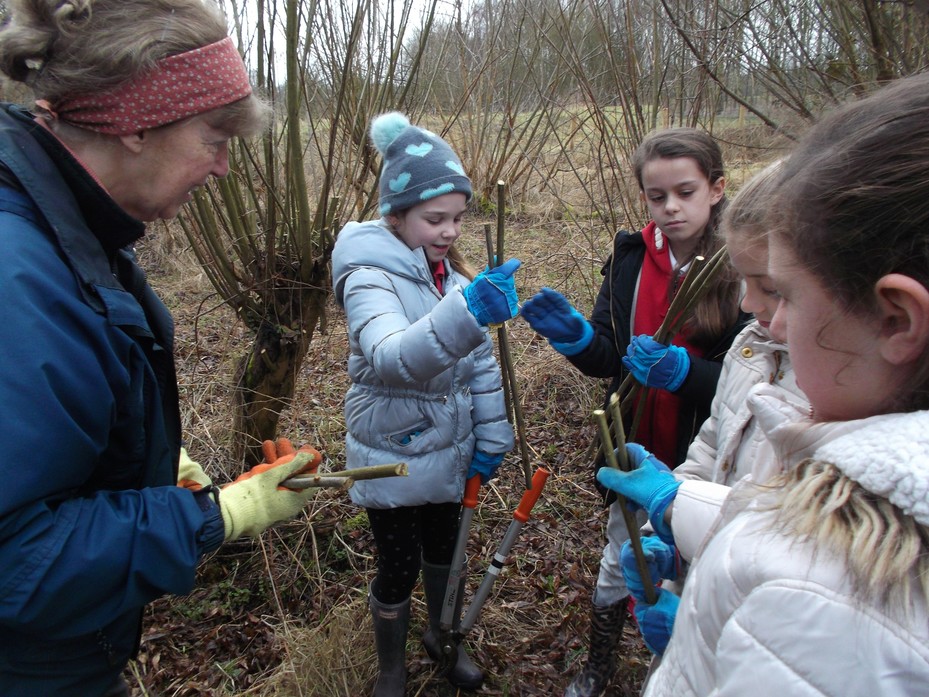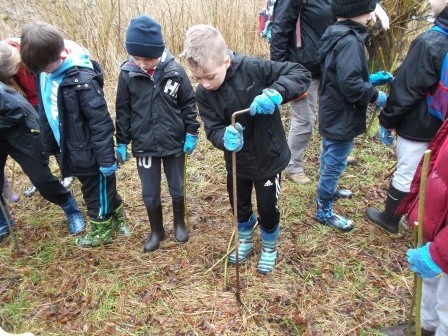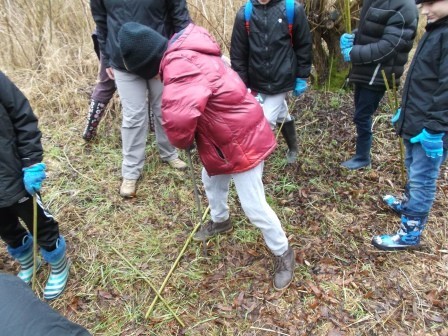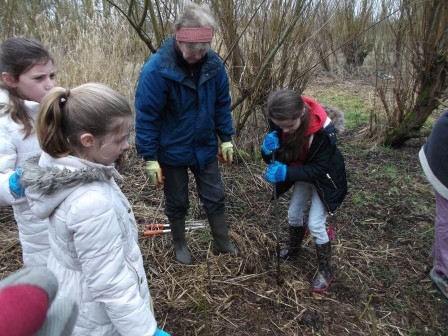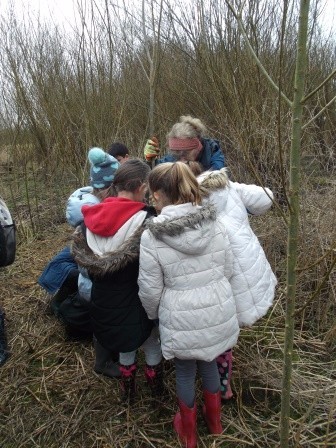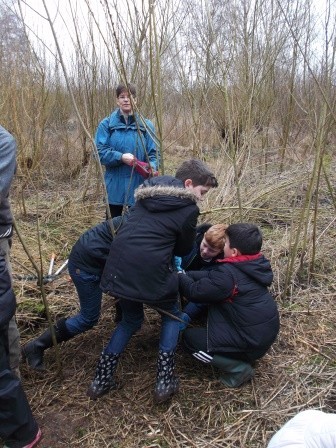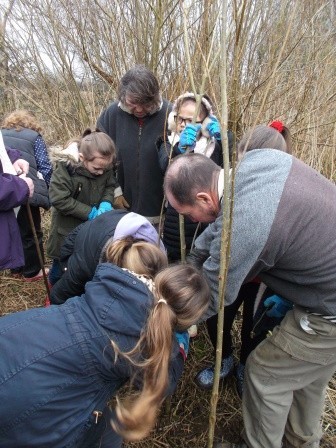 Welcome Back
We hope you had a great half term, we look forward to our trip to Flitton Moor on Tuesday morning. Please drop children at Flitton Moor at 9:15 and we will walk back to school for lunch. Keep your fingers crossed for dry weather please! Please arrive wearing trousers, wellies etc (as explained on the letter) and ensure that school uniform is packed into a separate bag.
Clarineo
We have been working very hard playing the clarineo, there has been a definite improvement since September! Here we are in action playing Stripey Cat Crawl.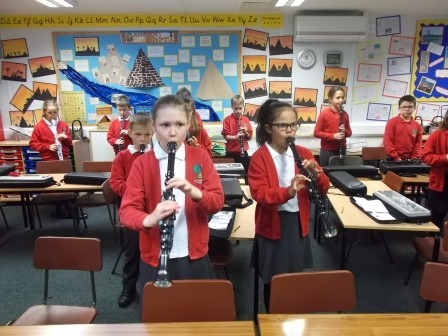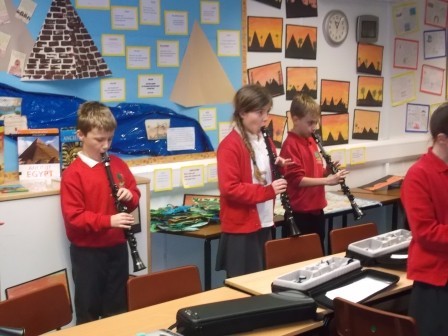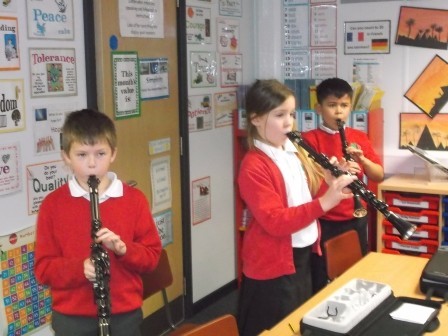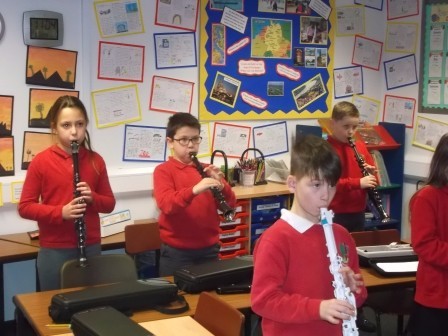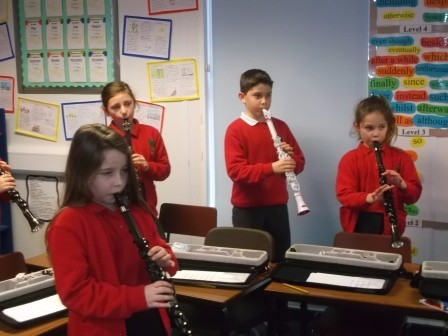 The Digestive System!
What better way to learn all about human digestion than a practical investigation with brown bread, coca cola and a pair of tights?!! It was great fun, very messy and required a lot of squashing, crushing, squeezing and mixing BUT it helped us learn!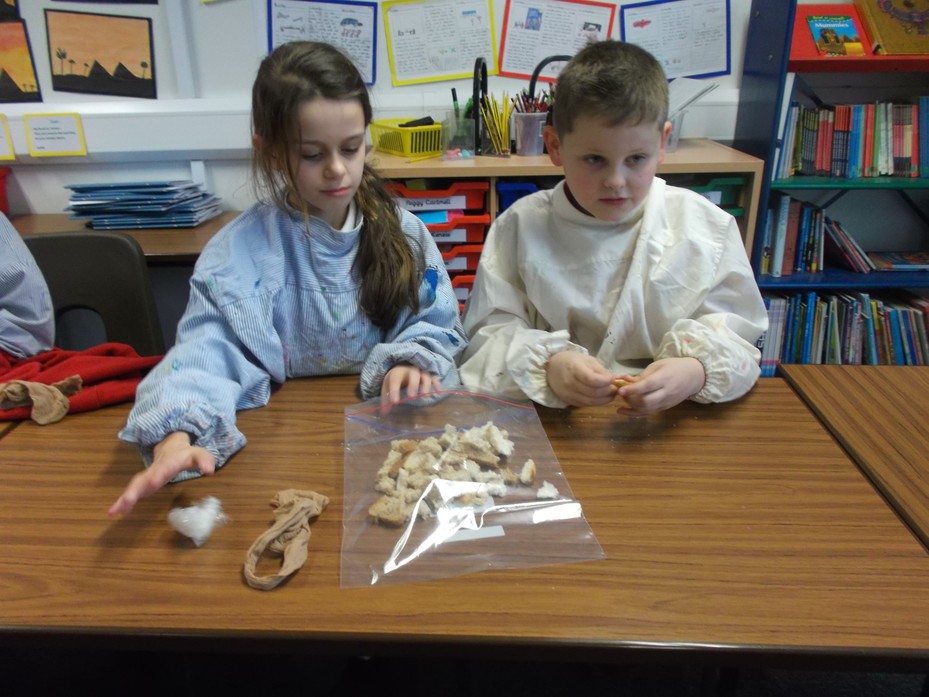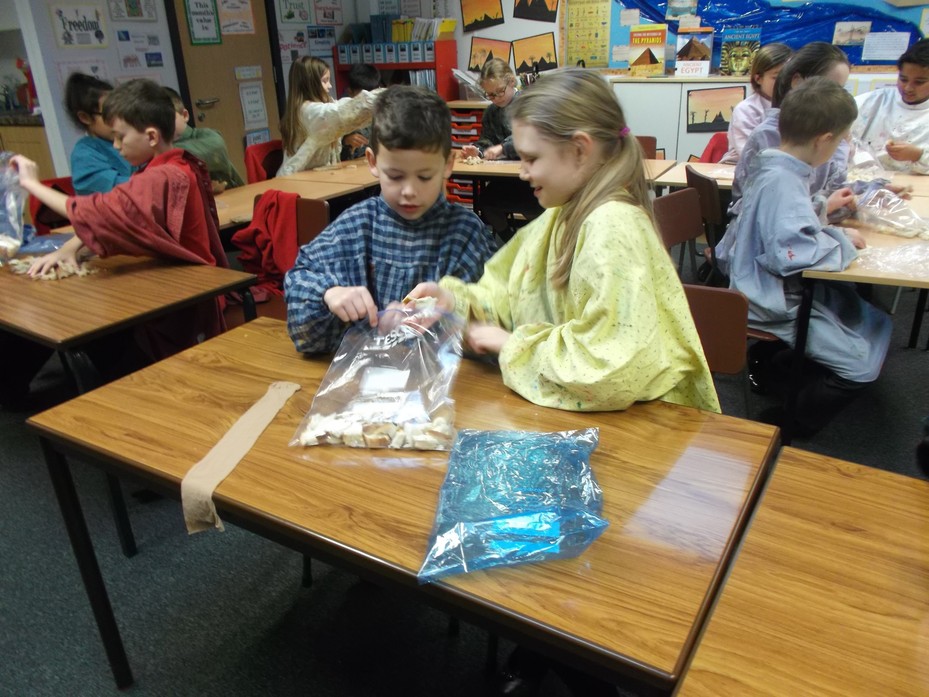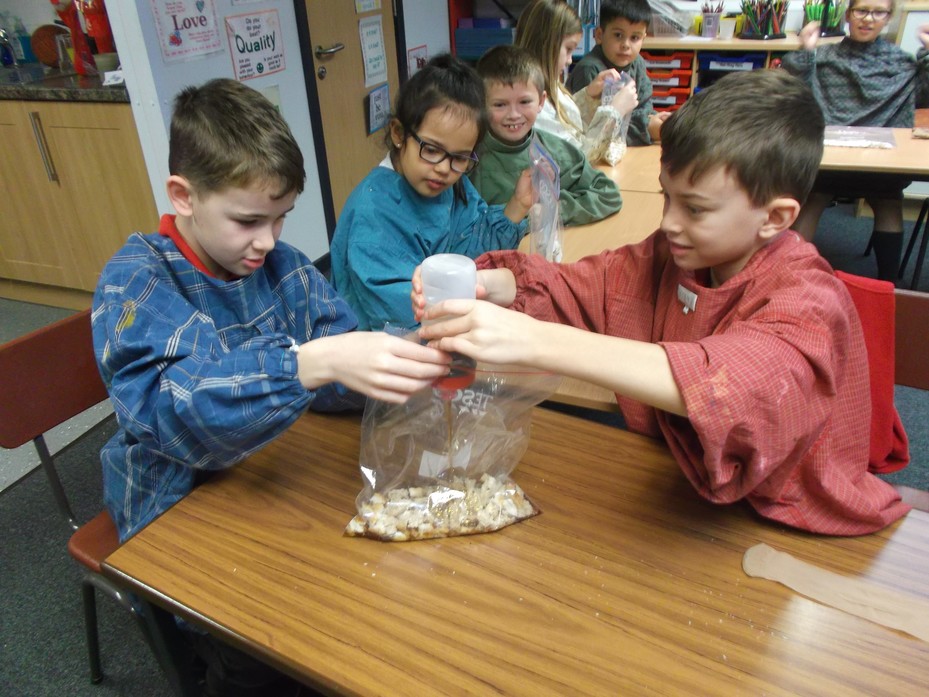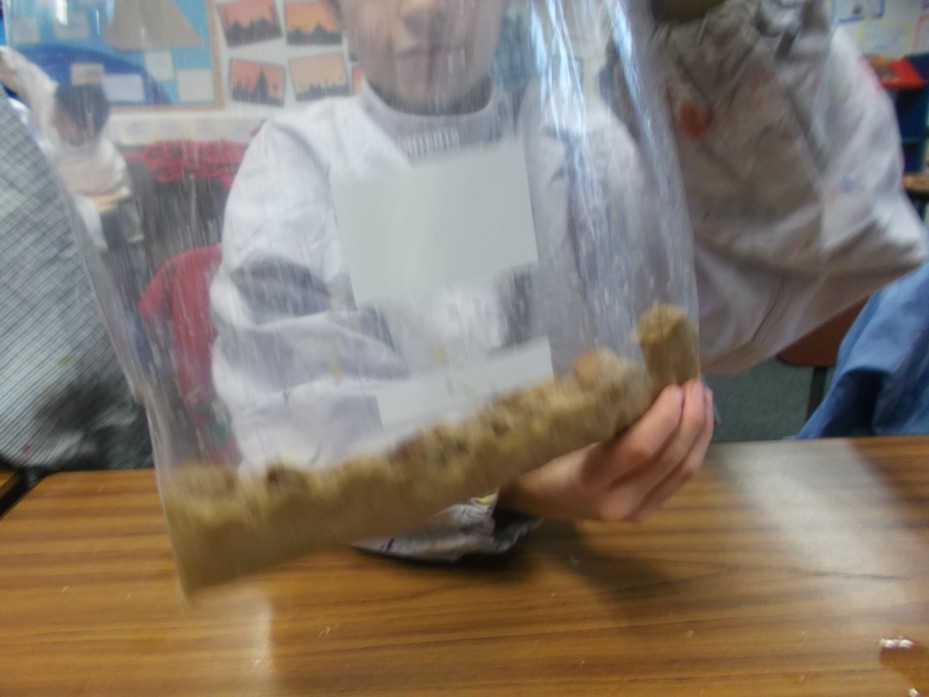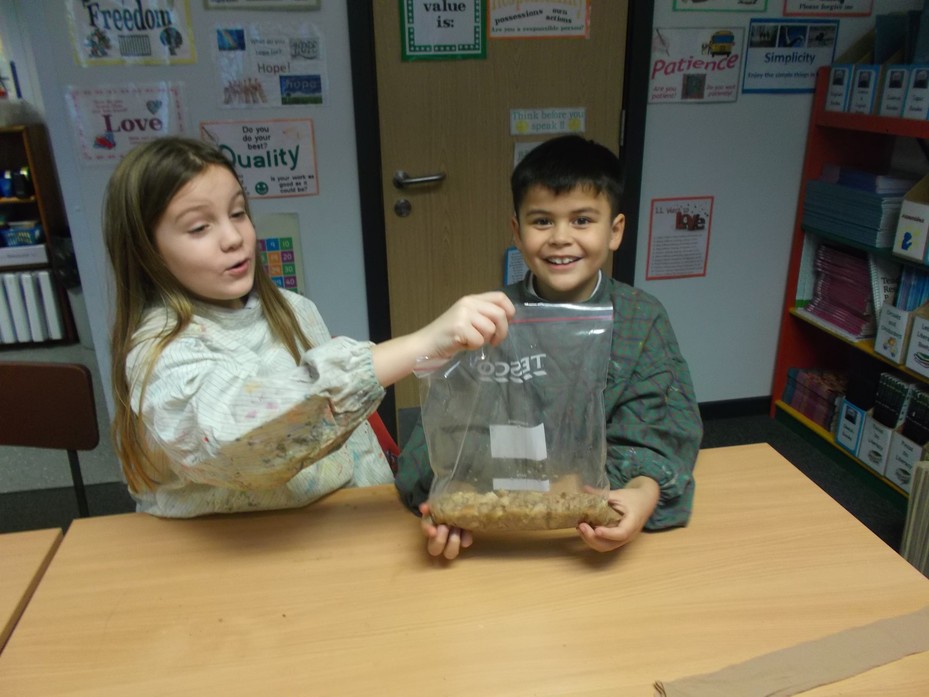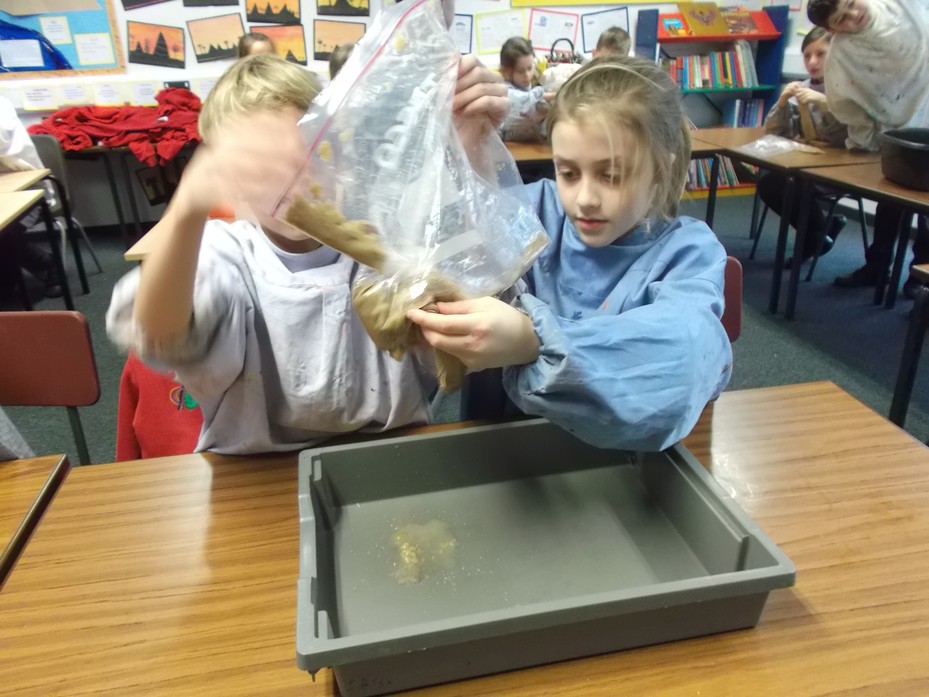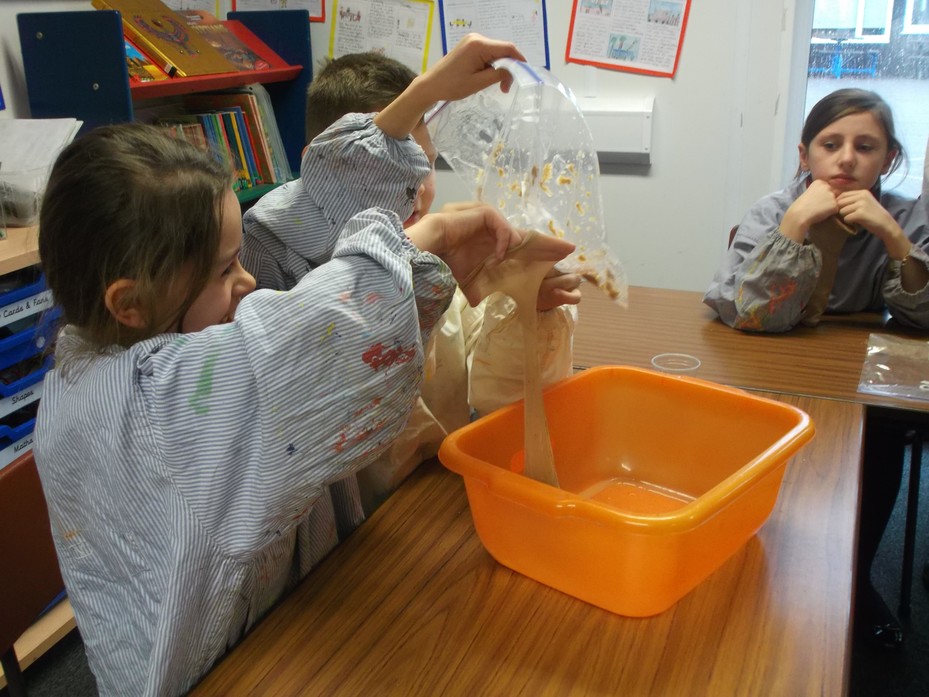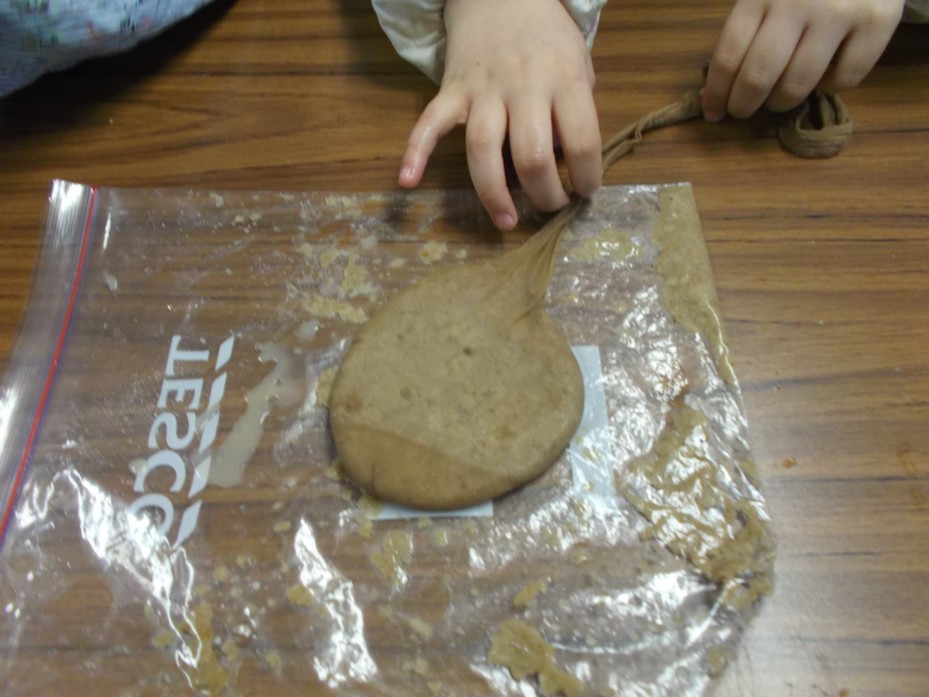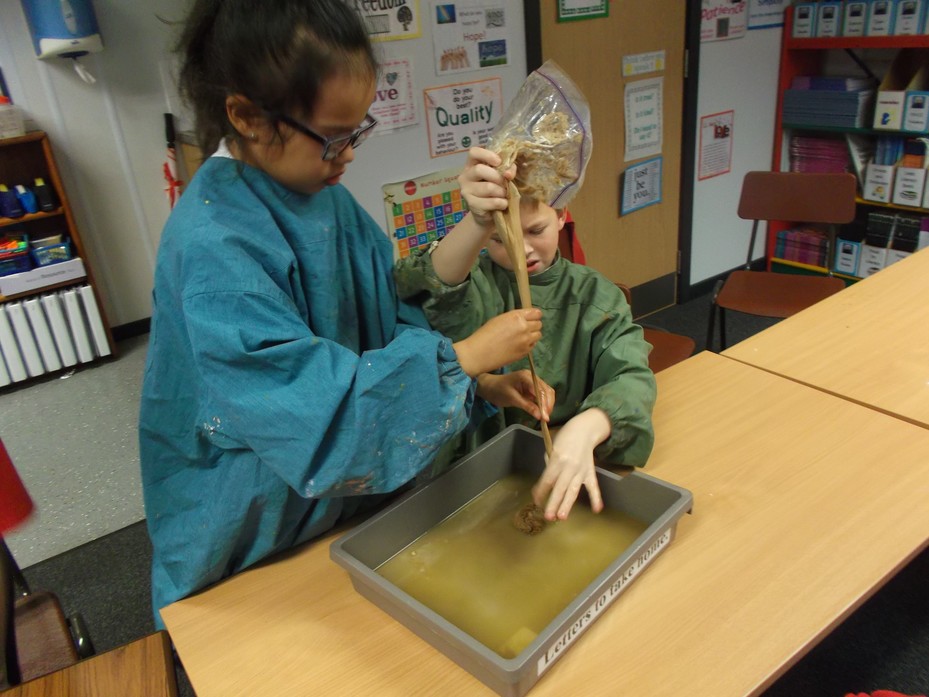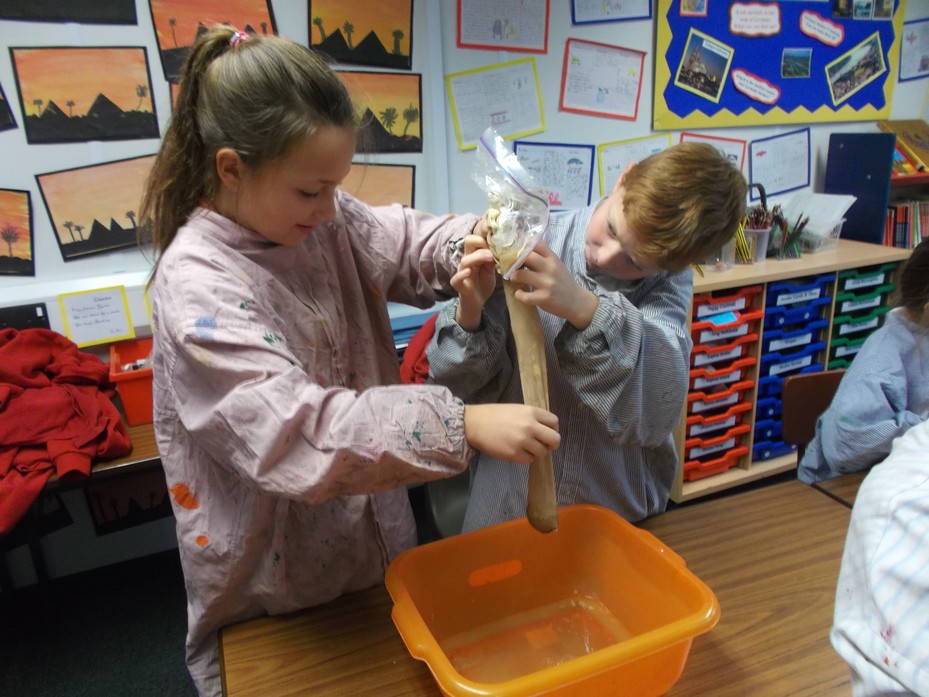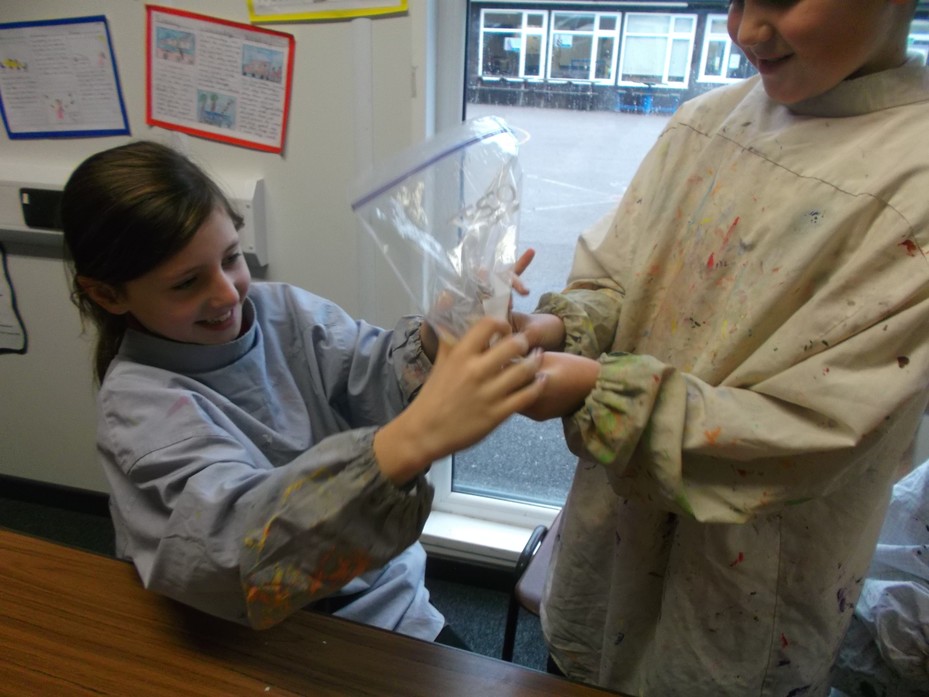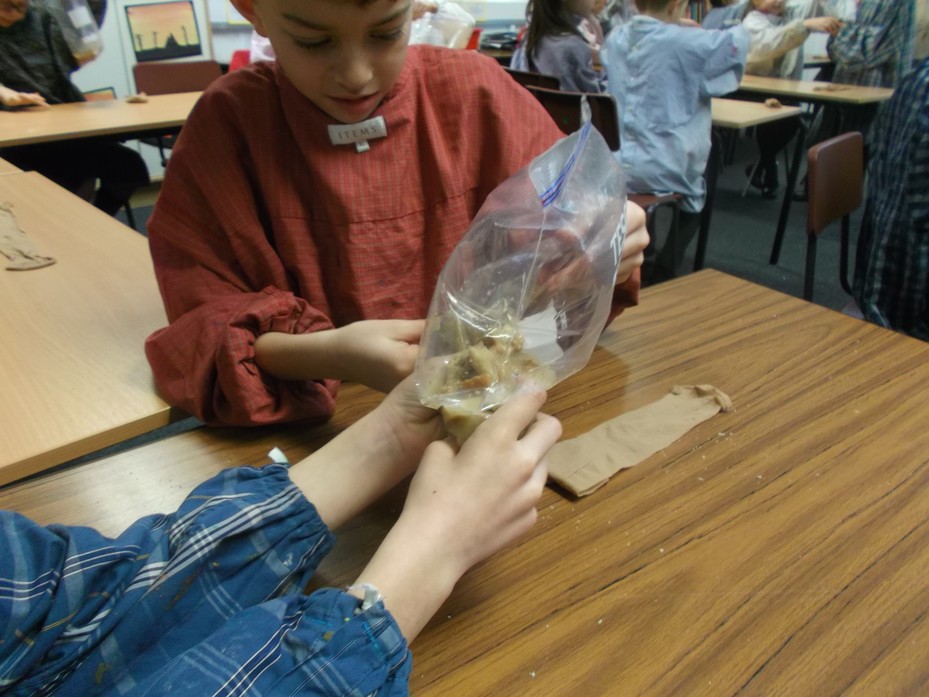 Pneumatic Systems
Before Christmas we were learning about pneumatic systems in Design Technology - using air to make things move! We had a great time experimenting how to open box lids, blowing balloons up and moving things along a surface. We used bicycle pumps, balloon pumps, straws, balloons, boxes and our lungs! We managed to make a box lid pop open by pushing air into a balloon which expanded and popped the lid off the box. Here we are in action!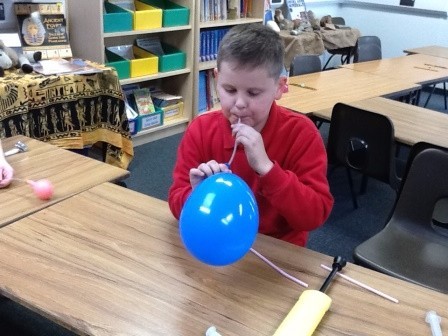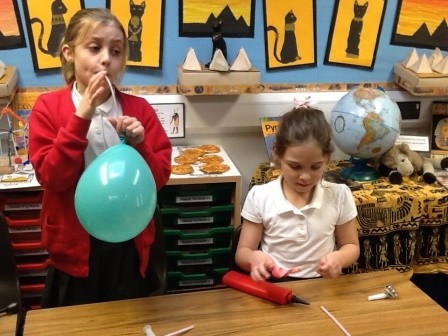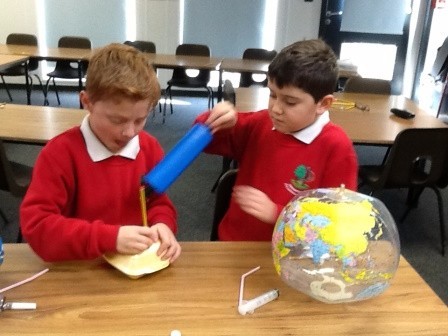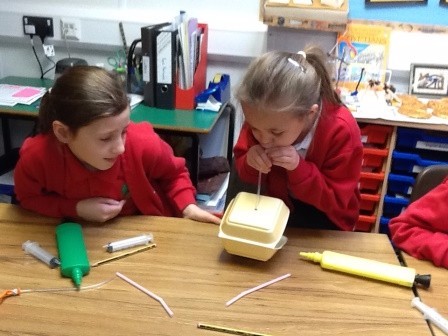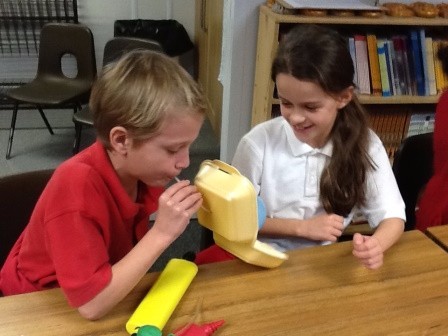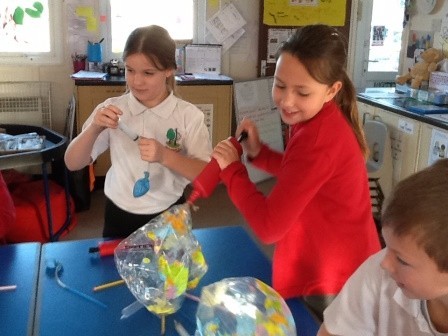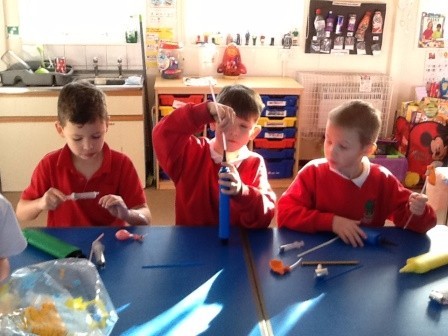 January 2017
Happy New Year! We hope you all had a lovely Christmas, welcome back to a busy Spring Term!
Autumn Term 2016
The Egyptian Nativity
Eagles and Herons have been working very hard on their Christmas play 'The Egyptian Nativity', which tells the story after Jesus was born. Mary and Joseph have to escape from Israel as the evil King Herod wants to kill all baby boys under the age of 2! They travel along the dangerous River Nile to a town called Hermopolis where Jesus becomes the new town carpenter BUT, they have to pass a citizenship test before they can stay! We are so proud of everyone for putting on such a fantastic performance. Well done Eagles and Herons! Enjoy looking at the photos below and in the slideshow at the top of the page.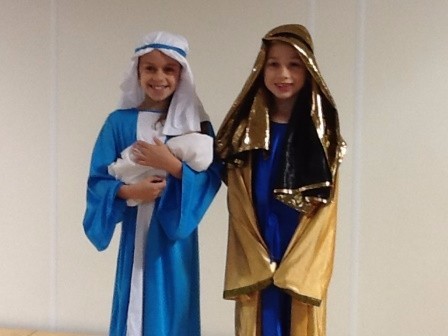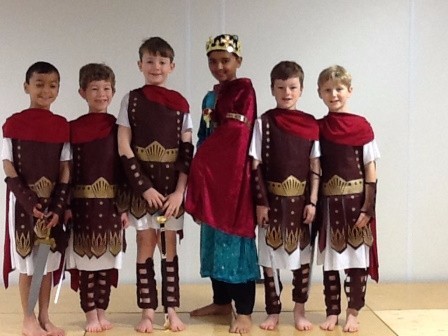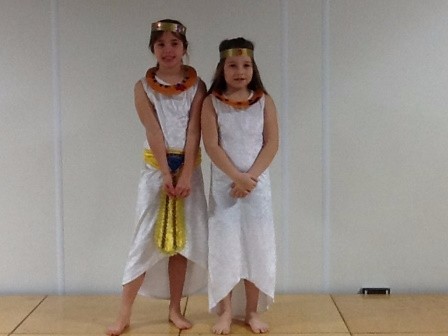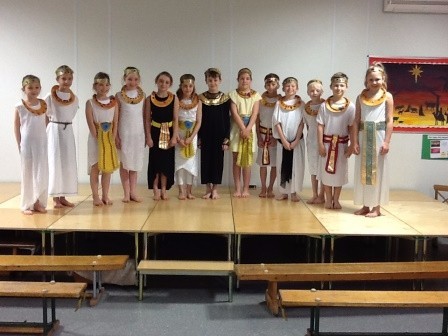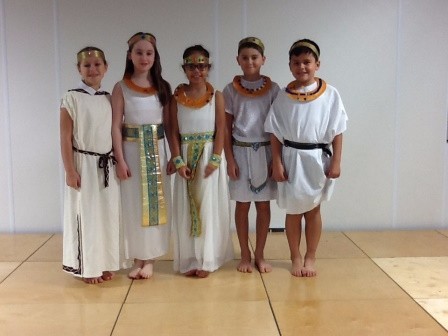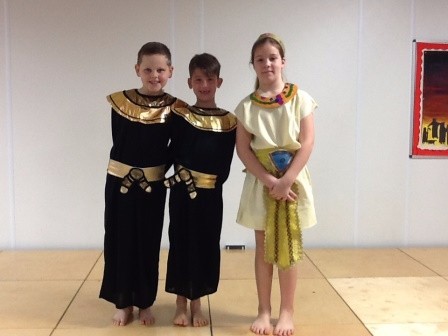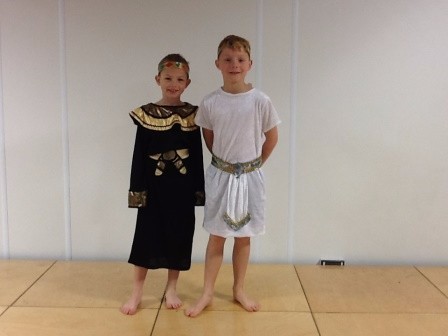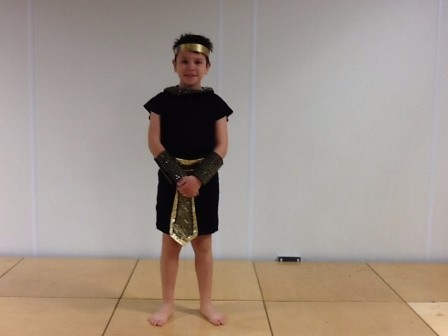 Ancient Egyptian Day
What a fantastic day Eagles, Herons and Dragonflies had on Thursday 10th November. We had an Ancient Egypt day and Portals to the Past came in to work with us. We spent the morning finding out facts about Ancient Egypt, playing an Egyptian board game 'Hounds and Jackals' and also learning about different artefacts and what they were used for. In the afternoon we were learning how to mummify a pharaoh! Wow, we had a brilliant day. Some photos from the day are below and the rest are in the slideshow at the top of the page. Thank you to all the parents for the great costumes!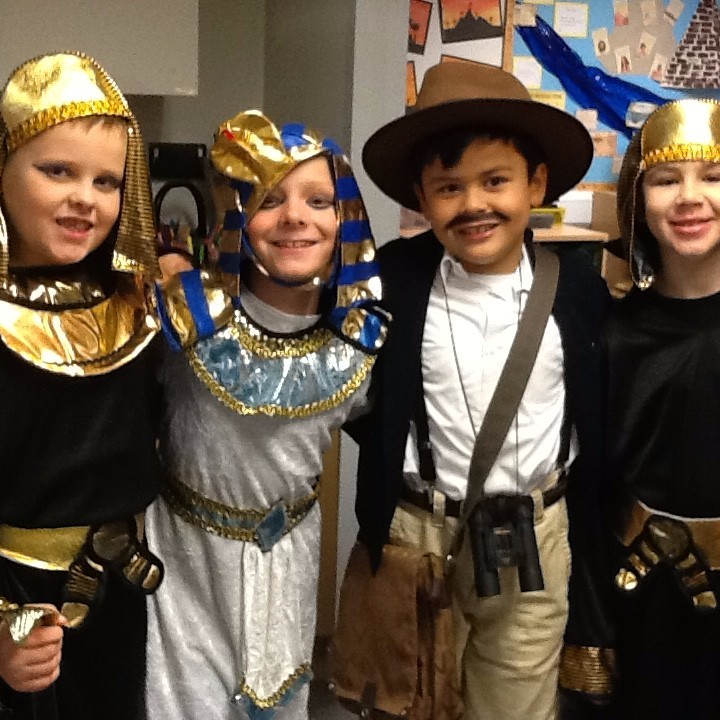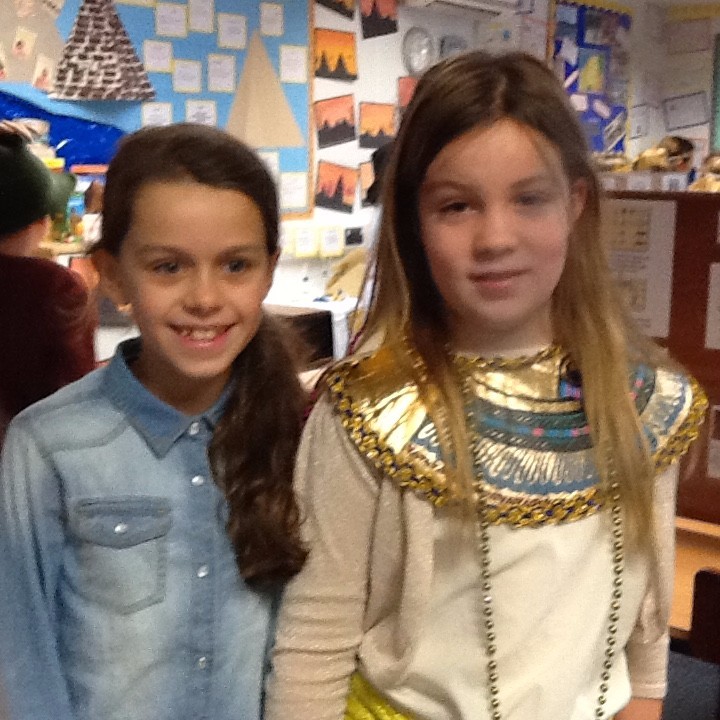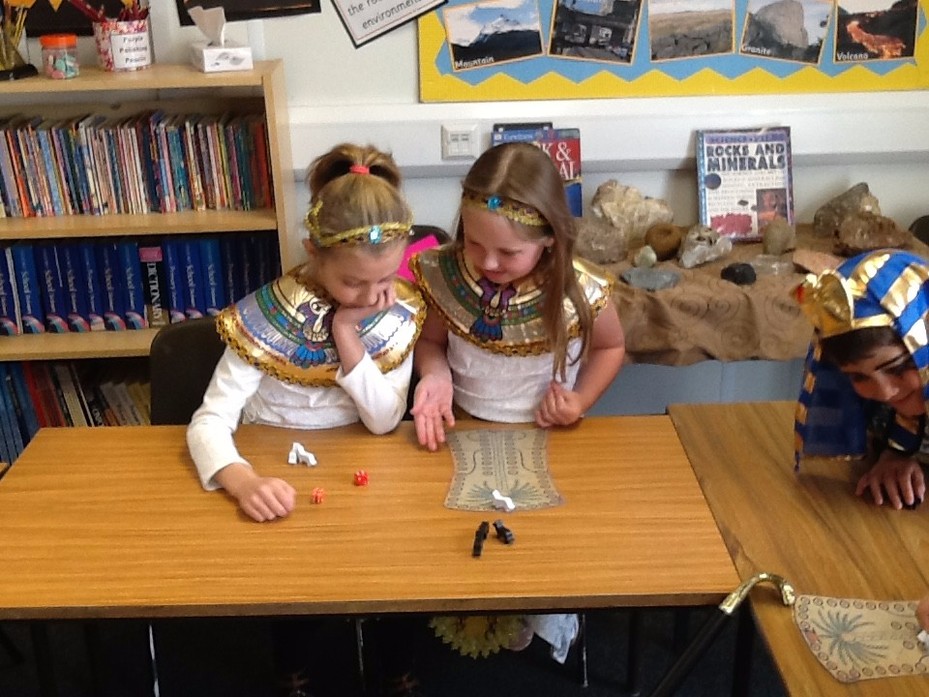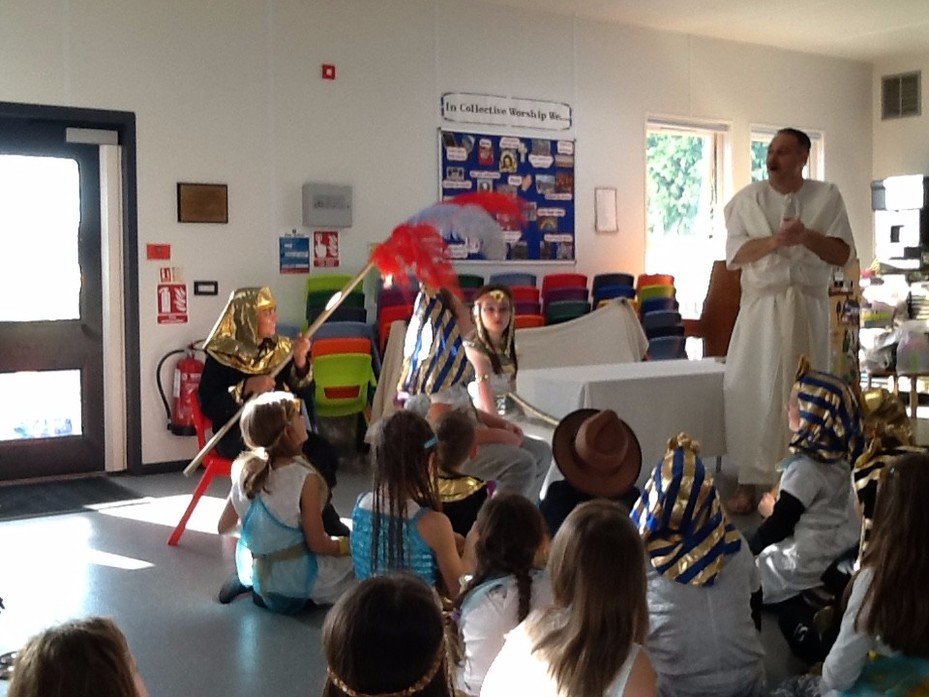 Clay Workshop
We have been very busy learning about the Ancient Egyptians. We have enjoyed welcoming Mrs Houghton into Eagles class to show us how to make Tutankhamen's mask out of clay. The results are amazing - see if you agree!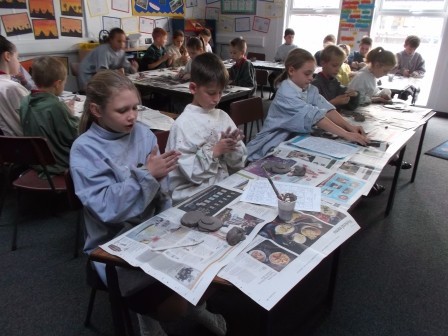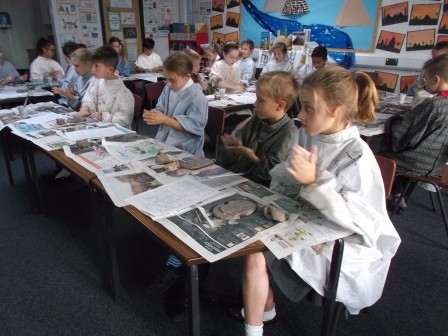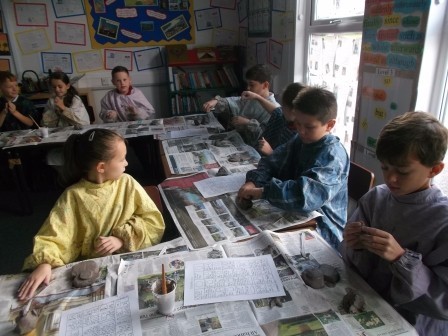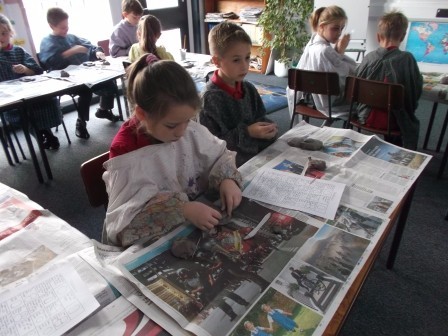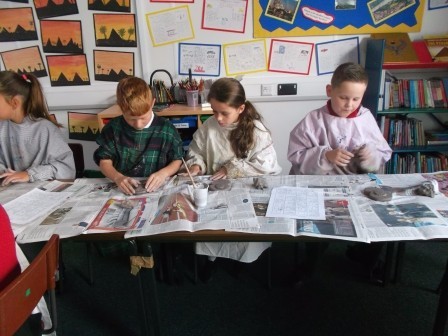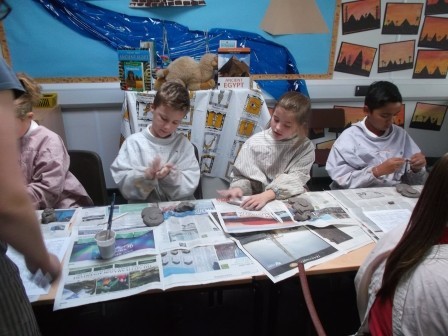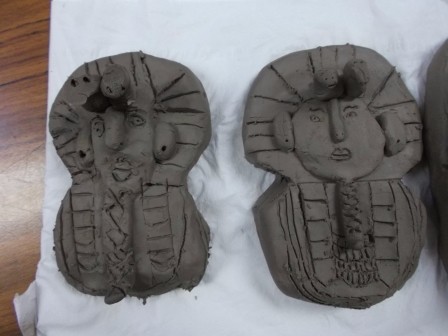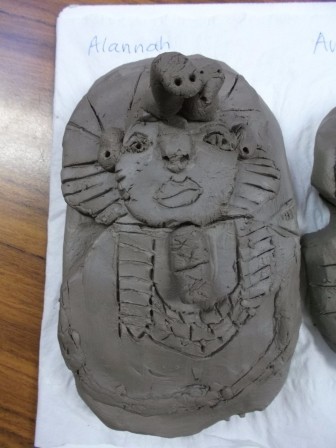 Ancient Egyptian Shadufs
We have been learning about the River Nile and how important it was to the Ancient Egyptians. They made shadufs to help them get water out of the Nile. Eagles had a go at making their own, they were given 4 sticks, some string, a pot, an elastic band and some play dough. They had to use all these items to make a working shaduf! What a busy afternoon with lots of head scratching, sighing and frustration trying to find the best, and strongest, structure. Here they are busy investigating and exploring different ways of making one, they worked together brilliantly.