2017/18
We have been very busy this year in Caterpillars class learning lots of new and exciting things.
When we came back after Christmas we became weather watchers. We set up a weather station in the classroom and recorded the weather and temperature daily. At the end of the half term we analysed the data that we had collected. Unusually for January and February, we found that the most common weather was cloudy and the highest temperature was 14°C. The lowest was 5°C. It might have been a bit different had we been under the influence of the Beast from the East!
We also learned about what causes the different types of weather and had fun creating our own weather forecasts, based on real weather and weather inspired by Cloudy with a Chance of Meatballs.
Since February half term, in science, out unit has been Animals including Humans. The children found it very amusing to match the baby photos to the teachers when we were looking at how humans change over time!
We have learned about the 5 senses and which parts of the body we use for them. The children have carried out experiments for each sense to see how we use them. The favourite so far has been trying to identify different smells. Not surprisingly, the favourite smell was chocolate!
In topic we are thinking about hot and cold areas of the world. We started off by sharing where we had been in the world and what it was like there. We then learned about different climate zones in the world before concentrating on Australia. We have enjoyed learning about Australia, its climate and wildlife. The children were very excited to taste some traditional Australian foods and to make some tasty Anzac biscuits.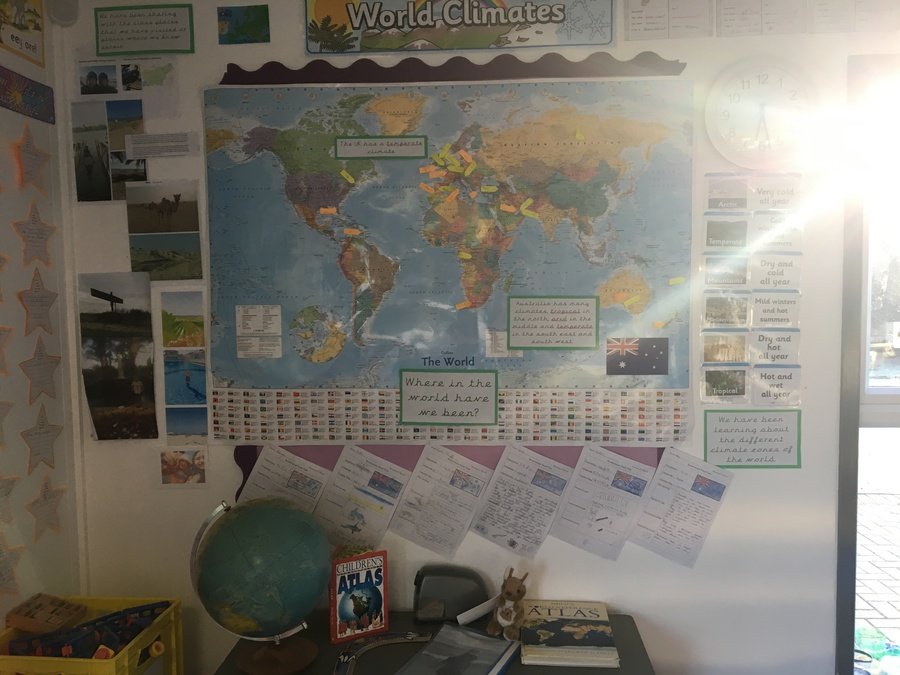 With the Commonwealth Games taking place on the Gold Coast of Australia in April 2018, we also found out about the history of the games. After Easter we hope to have a very special visitor to bring the games to life for us!
The children have worked hard to learn our Easter Chant that they will be performing in our Easter Service. This is a culmination of all of our learning about the Easter story and understanding of why Easter is so important to Christians.
We have been very lucky in our PE lesson this year. In addition to our regular PE lessons with Mr Greig, in Spring 1 Premier Dance came in each week and taught us dances to show our emotions and feelings. In Spring 2 we have been learning Kwik Cricket with Howard Moxon from Chance to Shine Cricket.
In English we have been learning to identify the features of and write, non-fiction texts. The children wrote fantastic fact files about owls and kangaroos. Thank you to everyone for creating some amazing artwork on owls for our English display.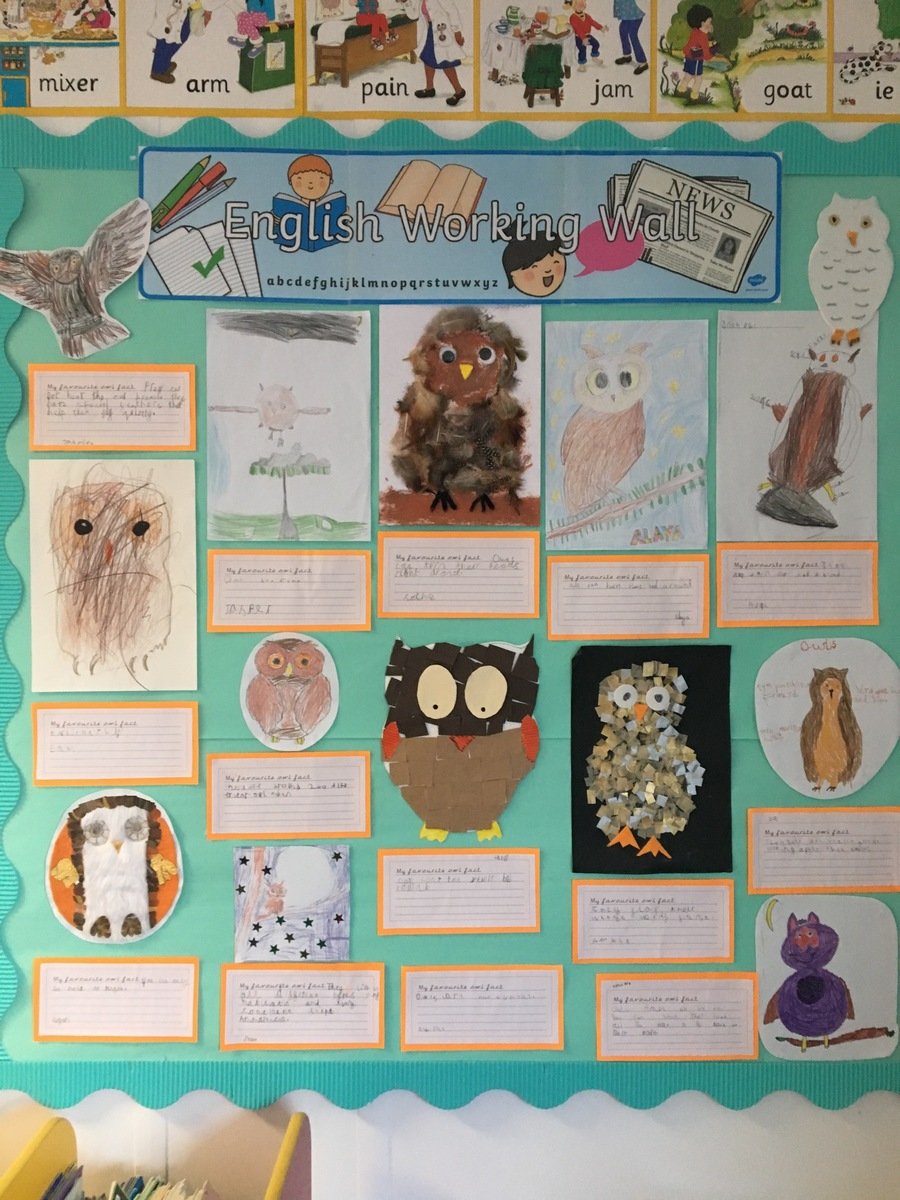 We have just finished the term by making Easter nest cakes and Easter headbands, thinking about what all of the symbols mean.
2016/17
Spring Term
After a very busy Autumn term the Caterpillars have happily settled back into the school routine.
In English we are continuing to focus on phonics, learning more digraphs before moving on to thinking about different spellings of the same sound. Our writing is progressing through our weekly 'Weekend Writing' and we are learning more grammar rules along the way.
In our maths lessons we have been securing our understanding of the core building blocks of number bonds to 10 and place value. This is enabling us to progress to addition and subtraction with 2 digit numbers. We are becoming more fluent in number sentences and will shortly be beginning to learn our 2, 5 and 10 times tables.
We have been looking at different habitats in science and in particular, habitats in our local area to link in to our geography topic of our local area. The Butterflies and Caterpillars really enjoyed a walk in our local area on Monday 23rd January to bring what we have been learning in class to life. We set off from school in our wellies, all wrapped up against the cold, armed with spotter sheets and headed for the footpath on Flitton Road towards Thrift Wood. Along the way we were looking fro habitats and features of our local area. We were lucky enough to Julia Burkett with us who shared her extensive wildlife knowledge with the children.
We saw nests, burrows, dens, animal tracks, lichen and fungi. From the top of the hill (whilst enjoying a welcome snack) we could see views of neighbouring farms, Silsoe village, Flitton village, Pulloxhill and its water tower and Centenary Wood. Unfortunately it was just a little too cloudy to be able to see Barton Hills, Wrest Park, Flitwick and Maulden (all visible on a clear day).
We returned to school just before lunch, rather muddy but with some memorable first hand experiences of our local area. The children produced some fantastic writing and pictures about what we saw which we hope to display around school.
Enjoy looking at the photos of our adventure below!
Thank you to all of you who have sent in photos of the children exploring their local area. We are looking forward to sharing them in class.
Autumn Term
The Caterpillars have all coped with the transition into year 1 well. They are getting used to the routines and being a little more independent, particularly in their writing and maths.
Our topic this term is 'Travel and Transport' and we have already enjoyed a 'planes, trains and automobiles' role play activity. We are looking forward to designing and making our own vehicles in DT and would like to say a big thank you for all of the donations of boxes and plastic bottle tops.
In science we are learning about the properties of everyday materials. We have enjoyed being scientists and carefully carrying out some experiments on different types of paper. The children are enjoying making our own fabric with weaving looms and knitting needles. Next half term we are going to continue to look at fabrics before investigating how we can change the appearance and properties of some materials.
Our topic in RE is belonging and we have been exploring how people show they belong, including performing some wedding ceremonies, complete with blushing brides and nervous grooms! In the run up to Christmas we will be exploring the Christmas story and why it is important to Christians, as well as preparing for our Christmas Play.
The Caterpillars and Butterflies joined together to spend a day thinking about the values that we should be showing both in school and at home. They had great fun creating role plays about how they could show their values in everyday situations, and worked together in teams to show co-operation to get a magic crystal across a swamp. Look out for the fantastic display that we have created as a result of our day!
Keep checking the website for more news about what we have been learning.
The Caterpillars, Butterflies and Ladybirds ended the term with our fantastic Christmas performance 'A Little Bird Told Me'. All of the children worked really hard and really enjoyed learning and performing the catchy songs and showing their theatrical side with the performance.
MK Museum
We all had a great day at the museum. The weather was good, having our lunch outside in the sun and playing with old toys.